A Week of Capricorn, LISTEN and a Survey Reminder
Dear Friend and Reader:
Before I get going with this note, two fast mentions: we resume weekly issues on Friday. Also, we're doing a
subscriber survey
that will take about three minutes of your time and provide us with some useful info.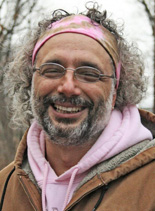 Photo by Dawn Iler.
We have a Capricorn-themed week ahead of us, with the Capricorn New Moon on Friday and Venus entering Capricorn tonight (Tuesday) just before 11:11 pm EST. This is the first New Moon of 2013, and it carries a theme of leaving the past behind once you've said goodbye to it -- fitting for the first New Moon in a New Year.
Throughout this week and a little beyond, another current Capricorn feature is raising questions about relationship structures, especially marriage: does it actually do what it's supposed to do? What is the nature of genuine commitment? What constitutes true sexual and emotional freedom, and can humans at their current level of ethics handle the associated responsibilities?
Amanda explores these themes in
Tuesday's Daily Astrology
feature on the Planet Waves blog, where an insightful discussion has begun. I plan to develop them further in my podcast for
Planet Waves FM
(to be posted Tuesday night or Wednesday).
If you're looking for a longer-range sense of what the astrology of 2013 is indicating for your relationships (as well as your financial picture, creative life and healing/growth agenda), there's still time to pre-order
LISTEN, the 2013 annual edition from Planet Waves
. (That link takes you to the subscriber discount on all 12 signs, or you can pre-order
individual signs here
.) All of the readings for LISTEN include an audio segment and a written reading, plus each sign gets its own theme music (written by Renee Blue O'Connell).
I'm reaching the end of the written portions for the 12 signs of your LISTEN readings -- right on schedule, and my proofreaders tell me they're coming out beautifully. I feel like I've found a nice groove with them this year, and it's coming through in the writing. When you pre-order LISTEN, we email you access to the readings as soon as they're completed -- and you get the best price for all 12 signs. It's perfect if you want to read your Moon and rising signs, or the Sun signs of your loved ones.
One last point of business, while I have your attention: if you have not yet taken our very quick and easy
survey about the 'astro-news brief' sections
in the Friday issues, I'd appreciate it if you could do so now. We'll remind you again this Friday, Jan. 11, when we send the first full regular issue of 2013 (complete with your weekly horoscope) but the sooner we get your input, the sooner we can start using it to shape the content you receive in your Friday mailings.
Thank you, and I'll see you again on Friday.
Lovingly,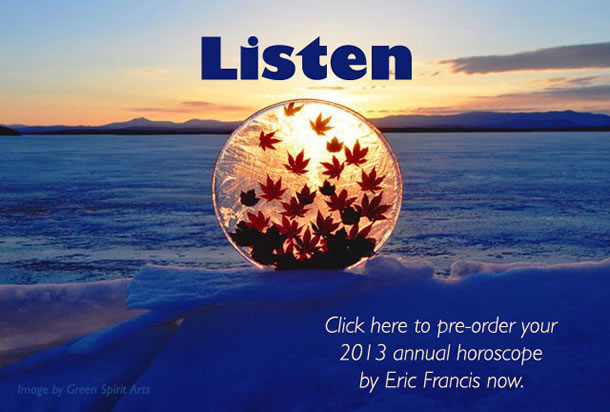 To unsubscribe,
click here
e Wiki
|
Friends
|
Editors
Contact Us
Copyright © 2013 by Planet Waves, Inc. All Rights Reserved. Other copyrights may apply.
Some images used under Fair Use or Share Alike attribution.