Moonshine Horoscope; Listen to Your Astrology
Dear Friend and Reader:
It's been a week since I finished LISTEN, your 2013 annual readings. Each year it feels like I teach myself astrology from the beginning. I began this year in July, casting many charts per sign and gradually allowing the themes to percolate through.
I think I've come up with something in tune with your life, and with the times. I speak about rising to the personal challenges of being alive now, when so much is changing. I focus on personal growth, your creative work and your relationships.
The response we've been getting demonstrates that the time, patience and work were all worth it. LISTEN includes an extended written report for your sign and rising sign, as well as two 40-minute recorded readings. Each sign takes me about 12 hours of research, writing, editing and recording. Subscribers can get all of the signs for
one discounted price
, or
individually
. I do recommend you work with both your Sun and rising signs.
Many features on the LISTEN site are available to everyone at no charge. You're
invited to visit
and read the articles and check out the resources.
Here is your
Moonshine horoscope
by Genevieve Hathaway. Moonshine will now be published twice a month -- right before the Full Moon and then again right before the New Moon.
Monday I posted an article about
the nature of Aquarius
. If this is your sign or you're curious about it, I suggest you check out your
sign description
.
Elisa Novick
revisits the glen of old-growth trees with whom she has a deep spiritual relationship, sharing more of their wisdom with us.
Sarah Taylor's
Weekend Tarot Reading
features the card Lust for the second week in a row, carrying the message that eros does not run counter to our higher natures, but is equally divine.
We will be back Friday with the February extended monthly horoscope.
Lovingly,

PS -- Just a reminder that the
LISTEN homepage
has many free features available to all readers, including articles by many authors, and a resources area.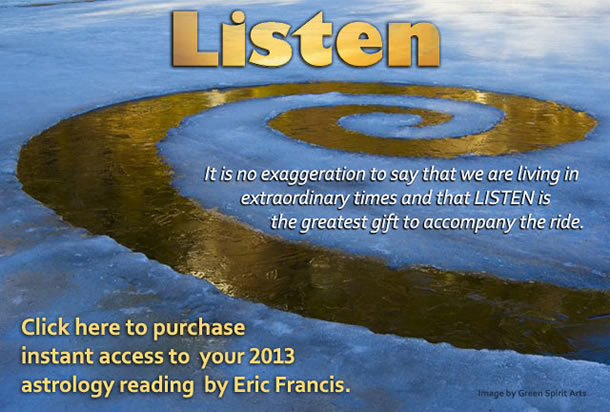 To unsubscribe,
click here
e Wiki
|
Friends
|
Editors
Contact Us
Copyright © 2013 by Planet Waves, Inc. All Rights Reserved. Other copyrights may apply.
Some images used under Fair Use or Share Alike attribution.