Moonshine Horoscope -- And the Current Pisces Sky
Dear Friend and Reader:
Today we have Genevieve Hathaway's
Moonshine Horoscopes here
, written for the Pisces New Moon in one week. This is a horoscope written for your Moon sign (there are instructions on that page for how to find yours out), but you can also read them for your Sun and rising signs.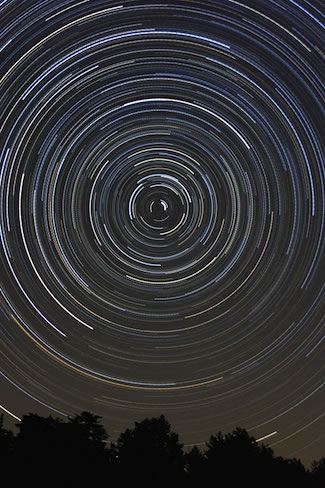 Star Trails Over Mount Parnona (or is it a swirling school of fish?). Photo by Anthony Ayiomamitis.
In Monday's Daily Astrology feature on the Planet Waves blog, Eric wrote about
retrograde Mercury's conjunction to the Sun
in Pisces: a moment of possible revelations about yourself and potential leverage for expressing yourself.
He also explores Venus and Chiron in Pisces (exact today), a highly sensitive moment about
biophilia
-- connecting with nature and with each other, and connecting sex with love.
I've continued the theme in today's Daily Astrology post, which extends our experience of
biophilia
to the
conjunction of retrograde Mercury with Venus
. Exact tomorrow in Pisces, it brings the ability for intimate communication to our experience of intimate communion.
This looks like a perfect moment for making elegant, nuanced art, music or writing -- or engaging in truly understanding, relationship-building conversations. Len Wallick also offers his take on the Mercury-Venus conjunction later today on the blog.
This Pisces sky continues to be a busy place, rich with opportunities for self-understanding and creative exploration. Eric will be back later this evening with his regularly-scheduled broadcast of
Planet Waves FM
to take us even deeper into these waters. Once it has been posted (usually by 8 pm EST), you can
find that program here
.
Finally, if you haven't yet, please visit our new
Facebook business page
and click "like." This is only intended as a request for existing Facebook users who actually enjoy using it. We have been doing very well spreading the word about Planet Waves on Facebook and appreciate your help.
Yours and truly,

To unsubscribe,
click here
e Wiki
|
Friends
|
Editors
Contact Us
Copyright © 2013 by Planet Waves, Inc. All Rights Reserved. Other copyrights may apply.
Some images used under Fair Use or Share Alike attribution.