New York, June 11, 2013 | View as Webpage | Customer Service: Chelsea (206) 567-4455
This Week on Planet Waves FM: the NSA Leak --
and Trying to Understand the Overwhelming
Dear Friend and Reader:  
In this week's broadcast of
Planet Waves FM
, Eric will be exploring some of the spiritual questions and the 'meta' level of last week's revelation that the National Security Administration has been collecting the phone call records of millions of U.S. citizens, as well as emails and records of Internet use by those in other countries.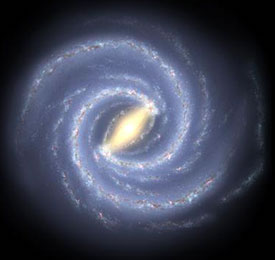 Last week the NSA was revealed to be wire-tapping all messages coming from the Milky Way galaxy. Ok, not really -- but is that next?
Eric will also take a look at the chart of Edward Snowden in this broadcast. Snowden is the 29-year-old former CIA employee who has publicly claimed responsibility for leaking this monumental information to the public.  
Planet Waves FM
will also cover the growing stellium of planets in Cancer and the upcoming Mercury retrograde in that sign (Mercury entered its 'echo' phase on Sunday). The program generally posts by 8 pm Tuesdays, often earlier.  
For other perspectives on the energy you may be feeling, try
Monday's Daily Astrology
post, in which Eric touches on the sense of 'walking on the edge' that can come with a Sun-Pholus opposition, as well as the "invitation to empathy and service" being extended by the planets in Cancer.
Also on Monday, we published an article asking
how you deal with the pressure
symbolized by the Sun's aspects to Pholus and Eris; chances are you have more options than you think, and some of them are actually productive.  
In
today's Daily Astrology
, the Jupiter-Galactic Center prompts the question, "What do you do with something so big you can't understand it?" Many people don't bother trying; is that how we've gotten where we are now?  
Yours & truly,

Amanda Painter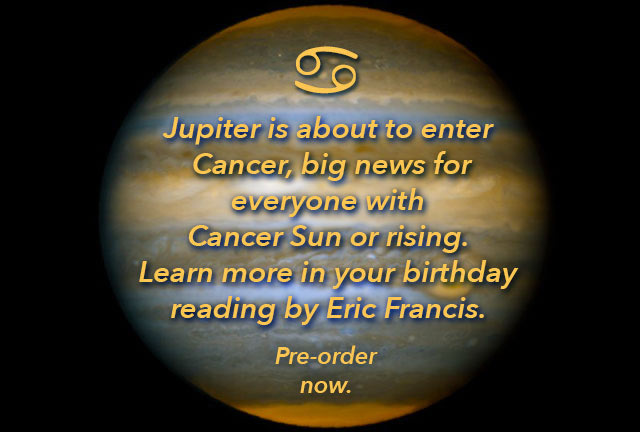 Note to our customers: $19.95 is the pre-order price. Once the reading publishes, the price will increase to $29.95.
To unsubscribe,
click here
e Wiki
|
Friends
|
Editors
Contact Us
Copyright © 2013 by Planet Waves, Inc. All Rights Reserved. Other copyrights may apply.
Some images used under Fair Use or Share Alike attribution.