Tuesday, July 9, 2013 | View as Webpage
| Customer Service: Chelsea (206) 567-4455
Manifesting Lilith, and Mercury conjunct the Sun
Dear Friend and Reader:  
Lilith is a topic that's finally getting some attention from astrologers and spiritual teachers. This week's
Planet Waves FM
includes an interview with San Francisco-based astrologer Chani Nicholas on the Lilith archetype as it manifests in the lives of men and women. The discussion is about going beyond biblical models of gender identity and reaching something more elemental to who we are.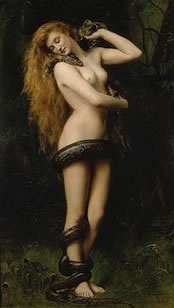 Lilith by John Collier; held in the Atkinson Art Gallery, Southport, England.
It's a perfect follow-up to yesterday's New Moon in Cancer, which was conjunct the asteroid Atlantis -- as fitting a symbol of our times as you'll find.
If you were busy with holiday travel or other activities over the weekend, today would be a great time to review the
horoscopes Eric wrote
for this week, since the New Moon is still unfolding.
You can also check in on your resonance to this New Moon with Eric's installment of the
Daily Astrology column from Monday
, in which he writes, "This is a 'get real' moment. It's not just about getting real vis-a-vis the global situation we face, but also getting real with ourselves and the people close to us."  
In
today's Daily Astrology
, we've covered retrograde Mercury's conjunction to the Sun in Cancer -- which is today, and which is making an interesting aspect to the minor planet Juno. This configuration is adding up to a "what gives?" moment regarding how your relationships exist in the context of the people that surround them.  
Given the astrological context today, you won't want to miss Eric's broadcast of
Planet Waves FM
later this evening, usually posting by 8 pm EDT.
It sounds like a perfect beginning to this week.  
Yours & truly,


Amanda Painter
P.S.
If you have your Sun, Moon or rising sign in Cancer, be sure to check out Eric's birthday reading for Cancer. Focused on the incredible activity in your sign this year -- and more -- it also makes a perfect gift for your favorite Cancer loved one. You can hear an audio preview here.

To unsubscribe,
click here
e Wiki
|
Friends
|
Editors
Contact Us
Copyright © 2013 by Planet Waves, Inc. All Rights Reserved. Other copyrights may apply.
Some images used under Fair Use or Share Alike attribution.