Tuesday, July 30, 2013 | View as Webpage
| Customer Service: Chelsea (206) 567-4455
This Week on Planet Waves
Dear Friend and Reader:  
One week from tonight is the Leo New Moon. That chart is heavy on the fire and water, with clusters of planets in Leo and Cancer, and it has a strong message about 'service'. Eric will be discussing the Leo New Moon in his
Planet Waves FM
broadcast, which usually posts by 8 pm EDT Tuesday nights.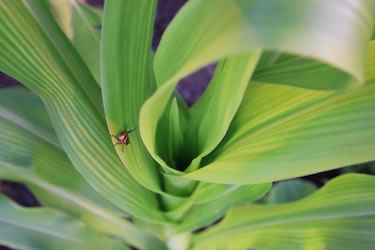 Beetle on young corn. Photo by Amanda Painter.
He'll also be introducing this Friday's feature article, the result of a three-year investigation involving one purported conservation group's efforts to steal part of the Grandmother Land (if you've been a PW member for a while, you've seen Eric's photos of this beautiful area).
And finally, in another twist on 'service', Eric will be talking about the discussion surrounding three sex-scandalized politicians -- Anthony Weiner (NYC), Elliot Spitzer (NYC) and Bob Filner (San Diego).  
If you've been seeing mention on the Internet about a "Star of David" configuration (also being referred to as a "grand sextile," among other terms) and have wondered what Eric's take on it might be, check out
Monday's Daily Astrology
post. "If nothing else," writes Eric, "it represents a moment of stability (the grand sextile), and some tension (the Sun's various aspects) and some opportunity to weave together the pattern of your life in a conscious way."  
In
today's Daily Astrology
, we've developed one leg of the grand sextile configuration in tandem with another piece of the sky. There seems to be a question regarding how the idea of 'cosmic love' may be a factor in re-patterning your life right now.  
Finally, in Len Wallick's column today, he addresses the give and take of the current Venus-Mars configuration. That will post to the Planet Waves blog at about noon EDT.  
Yours & truly,

Amanda Painter
To unsubscribe,
click here
e Wiki
|
Friends
|
Editors
Contact Us
Copyright © 2013 by Planet Waves, Inc. All Rights Reserved. Other copyrights may apply.
Some images used under Fair Use or Share Alike attribution.