Tuesday, Aug. 13, 2013 | View as Webpage
| Customer Service: Chelsea (206) 567-4455
This Week: Something About Juno, and Venus
Dear Friend and Reader:
So far, it's a quiet week in August, and even the Washington technocrats are sipping Merlot or Kool Aid in their hideaways at Cape Cod, Lake Tahoe or Rio Rancho.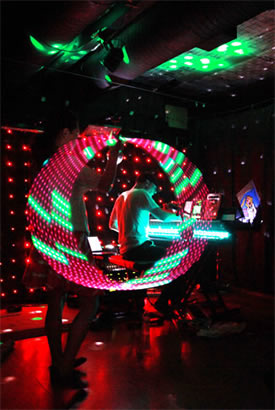 Bujak performs at Backstage Studio Productions, Kingston, NY. Photo by Eric.
In
the most recent Daily Astrology
, I write about Mercury opposite Juno (exact today), which forms a grand cross pattern with the lunar nodes. This is a karmic statement -- what squares the nodes is the topic to address; the thing without which we cannot easily move forward. 
I write: "Remembering what we learned about Juno around the end of last year, which I covered in two articles in the subscriber series (
Something about Juno
, and
The Mayans, Juno and the Abyss
), we have a chart element that represents what typically goes unsaid and gets mired in jealousy and resentment. Juno is currently retrograde in Aquarius, suggesting that there is an impediment based on what you think others will think you will think, if you say something that's true -- especially about your ideas of relationship."
Apropos of that theme, I also cover Venus ingressing Libra Wednesday, which begins an adventure all its own -- Venus moving through the Uranus-Pluto square.
I will cover these and other topics on tonight's edition of
Planet Waves FM
, which posts by 8 pm EDT. Since it's (so far) a quiet week in the news, I'll be able to focus on the current astrology. Tonight's program will feature music by
Jeff Bujak
.
Reminder to readers in the Hudson Valley:
Chronogram
 magazine will be hosting a block party along the last block of Wall Street to celebrate 20 years of publication on Saturday, Aug. 17. There will be a Tarot Fair sponsored by Planet Waves in the storefront at 302 Wall Street. Hope to see you there.
See you with a regular edition of Planet Waves on Friday.
Lovingly,

To unsubscribe,
click here
e Wiki
|
Friends
|
Editors
Contact Us
Copyright © 2013 by Planet Waves, Inc. All Rights Reserved. Other copyrights may apply.
Some images used under Fair Use or Share Alike attribution.