New York, Nov. 26, 2013 | View as Webpage | Customer Service: Chelsea (206) 567-4455
This Week on Planet Waves -- and your Moonshine Horoscopes
Dear Friend and Reader:  
Mercury in Scorpio enters new territory Wednesday for the first time since its retrograde, which ended earlier this month. It does so after having made a conjunction to Saturn, which acted like a barrier between the old and the new (as Saturn often does). Infinitely curious, Mercury in Scorpio is the image of considering everything that's off the usual menu, and/or taboo -- the perfect complement to holiday get-togethers.
Black oak in Yosemite National Park. Photo by Amanda Painter.
Other factors this week are reminders to keep your mind on what matters and not to get obsessed over or dragged into petty discussions or debates. Remember the larger scenario, and let the facts speak for themselves. That said, where travel is concerned, the details are everything right now, particularly with large swaths of the U.S. experiencing the first winter storms. Leave yourself plenty of time, travel with cash and warm clothes, and make sure you have Plans B and C thought through.  
Genevieve Hathaway's
Moonshine horoscopes
for the Sagittarius New Moon are ready for you now. The Sag New Moon is Dec. 2 or Dec. 3, depending on your time zone.
In tonight's
Planet Waves FM
, Eric looks at 2014 astrology, the Sagittarius New Moon, and the nuclear deal with Iran. His musical guest is Jessica Montague. The program posts by 8 pm EST.  
Today's Daily Astrology
column asks where the balancing point is between self-evolutionary power and the urge to nourish others in relationships (Pluto square Ceres); and between an excess of self-preservation/ambition and excessive spending/eating/care-taking (Venus opposite Jupiter). It's the familiar question of individual desire versus familial obligation.  
If you keep feeling compelled to 'fix' things that might not really need to be fixed today, check in with
Monday's Daily Astrology
column. We began the week with a Mercury-Saturn conjunction in Scorpio, and Mars in Virgo still is not making any major aspects to major planets. Both situations can make it easy to get a little small-minded or obsessive.  
In Len Wallick's column today, he considers the parallels between Mercury as it leaves its last water-sign sojourn of 2013, comet ISON as it approaches the Sun, and the life of Jimi Hendrix -- asking, after this year of growth in your life, how will you apply it?  
Yours & truly,


Amanda Painter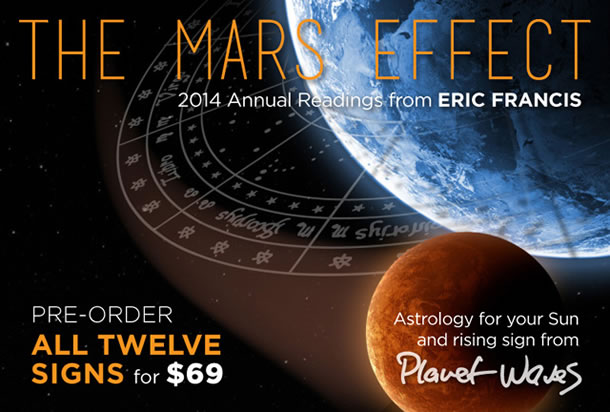 To unsubscribe,
click here
e Wiki
|
Friends
|
Editors
Contact Us
Copyright © 2013 by Planet Waves, Inc. All Rights Reserved. Other copyrights may apply.
Some images used under Fair Use or Share Alike attribution.