New York, Dec. 31, 2013 | View as Webpage | Customer Service: Chelsea (206) 567-4455




The Capricorn New Moon -- and Your Moonshine Horoscopes



Dear Friend and Reader:
 
I hope the recollection of your joyful accomplishments in 2013 are weaving together with the year's hard-won lessons, and that together they are opening the door to a New Year full of promise and potential.

Tomorrow, Jan. 1, kicks off the dynamic astrology of 2014 with the Capricorn New Moon: a perfect astrological 'restart button'. This will be a New Moon and a New Year's Day that ushers in some very real, tangible changes, both personally and globally.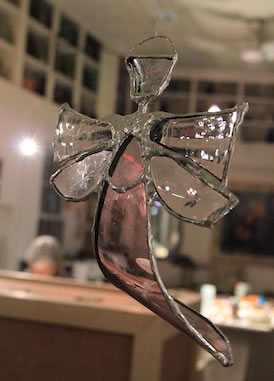 Glass angel by Laura Fuller, Portland, Maine. Photo by Amanda Painter.

Before I go over our coverage of this astrology, I want to remind you that today is the last day to pre-order individual signs of The Mars Effect for $19.95. Tomorrow, the price will increase to $29.95. As a member, you may still order all twelve signs for $79.

Genevieve Hathaway's Moonshine Horoscopes for the Capricorn New Moon interpret this astrology for each of the 12 Moon signs.
 
Today's edition of Planet Waves FM, which will be posted at noon EST, looks at the Capricorn New Moon that's exact on New Year's Day. This unusual alignment includes a close grouping of the Sun, Moon, Mercury and Pluto, as part of a grand cross with Mars, Jupiter and Uranus. Well, not unusual -- actually rare.

Eric explains the connection of this event to the upcoming April 23 version of the grand cross and the U.S. chart, and describes a few ways to turn this alignment into leverage and positive momentum in your personal life.

In the last segment he gives a news roundup from Fukushima, addresses rumors currently circulating about units 3 and 4, the Japanese secrecy law and the Japanese journalist who told the truth about the "nuclear village," fought back against a libel suit and won.
 
On the Planet Waves blog, today's Daily Astrology post considers Mercury's involvement in the cardinal grand cross / New Moon configuration. Mercury rules the mind; what do you really know? It also rules the news; what are the events of the world suggesting about this astrology?
 
The main message for this New Moon and grand cross looks like 'taking a big leap forward'. Monday's Daily Astrology column goes on to outline some of the individual planetary threads being woven together under that umbrella theme. If you haven't already started paying attention to what's asking to be noticed, consider opening your eyes to it now.
 
Len Wallick's column publishes at noon today. He gives a look back at how 2013's signature aspects give way to the astrology of 2014. Some continue to develop, some have passed the baton to you; all of it indicates you belong here at this moment, participating as only you can in the year to come.

On behalf of everyone at Planet Waves, I wish you a happy and prosperous New Year.
 
Yours & truly,



Amanda Painter




To unsubscribe,

click here e Wiki

|

Friends

|

Editors Contact Us Copyright © 2013 by Planet Waves, Inc. All Rights Reserved. Other copyrights may apply. >>
Some images used under Fair Use or Share Alike attribution.