New York, Jan. 3, 2014 | View as Webpage | Customer Service: Chelsea (206) 567-4455




At the Still Point of the Turning World



Dear Friend and Reader:

Most years, the change of the civil calendar is more like a blur than a point of demarcation. We might count down the New Year, watch the ball come down on TV and toast to health, love and wealth -- but the astrology is not usually sensitive to the civil calendar.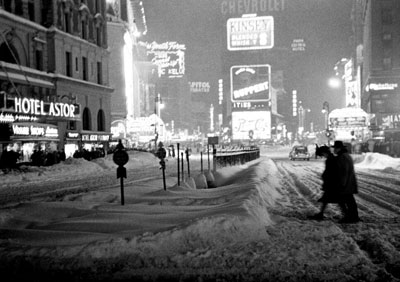 Times Square during the 1947 blizzard. Photographer unknown.

There are actually numerous 'new year' events in different cultures, spanning from autumn to mid-winter, and most of them have some connection to planetary movements. This year, the civil calendar we use coincided with a major event on New Year's Day -- the Capricorn New Moon.

This would be significant on its own, though what we got was a New Moon conjunct two planets, Mercury and Pluto, as well as square two planets, Mars and Uranus, and then opposite Jupiter. I've left numerous smaller planets out of this description (of which there were plenty) and just covered the better-known influences. The seemingly minor influences tell an interesting story, such as how this is really a struggle about narcissism and self-interest coming up against the necessity to think collectively.

What we had was a New Moon in the midst of the Uranus-Pluto square; which is now a grand square, because Mars and Jupiter are involved. Think of this as a setup with the Earth in the middle of a crosshairs. I don't recall a grand square (sometimes called a grand cross) this powerful since the one on Aug. 11, 1999, for which I wrote the article Thinking of You on Judgment Day.

In case you have not happened upon any of my other explanations of this aspect, I'll take another try at explaining it. We are in the midst of a generational aspect -- the Uranus-Pluto square. This spans from 2012 through 2015, but with a several-year warmup starting around 2008 and a cool down that will extend to the end of the decade.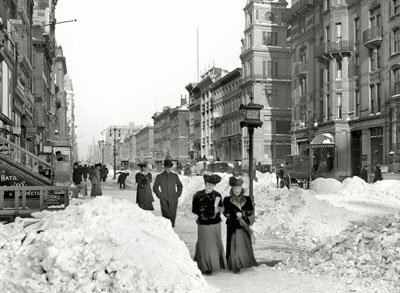 Not a blizzard on Halloween -- rather, Fifth Avenue under snow, New York City, c. 1905. Photographer unknown.

2014 is the peak of this astrology; here is why. These generational aspects can fade into the background and drive along 'life as normal' even if the new normal is really weird. Then every now and then during one of these eras, there is a planetary alignment grouped around the generational aspect that brings it to the forefront. Suddenly it's really obvious what is happening. It's like you wake up one day and figure out who you are, where you are, and what is happening around you.

Often this happens because something personal enters your consciousness. You might be someone who doesn't pay attention to politics or the news, someone who tries to ignore technology as much as you can, and just live your life. Yet then the wide-ranging astrology can reach into your personal world. You have to make a decision; you figure out that it's time for a change; you're confronted with a situation; your own restlessness catches up with you.

We do a lot of stuffing down of our feelings in our society, and it's not been until recently that I've noticed this trend starting to slow down or reverse. There's only so much room to stuff down your love, your anger, your desire, your creative impulses. At a certain point you must do something that you regard as more meaningful. Even if you live from day to day, on some level you recognize that time, or your time in this body, doesn't last forever, and therefore you must start exercising your options.

You may find yourself making decisions that you've put off for years or for decades. Try to do that compassionately. It's natural to feel some anger or resentment at having delayed for so long, and yet at a certain point you will have to let that go in order to fully enter the moment. I suggest you do that all as a fully conscious process.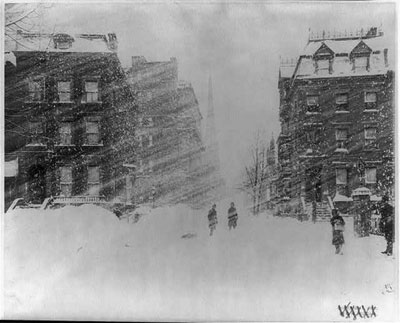 In the blizzard of 1888, the streets disappeared and the snow came down almost horizontally. Imagine being trapped at work, several miles from your home. This was the plight experienced by thousands of New Yorkers (and others throughout the northeast) that Monday.

The New Year's Day New Moon alignment comes with a message that 2014 will be a year with its own distinct character, one that will be unlike anything we've experienced before. The grand cross repeats in a more focused, more potent form on April 23, and will be immediately followed by a solar eclipse in Taurus. The April 23 version of the grand cross aligns exactly with the Sun in the main chart for the United States, so you might say that this is the year the astrology comes home.

I've been researching this for months with my writing team and we have some special coverage planned for you, taking the story of April 2014 all the way back to the early days of American history. I believe that April 2014 will fit that pattern, which means that the months surrounding it will be especially unusual as well. It's fair to say: you can think of yourself as living in a different country, a different phase of history, a different quality of space and time, than you were one week ago.

In light of all of this, I am now completing the THE MARS EFFECT, your 2014 annual readings. I have about two weeks' more work till these are done, and they are coming out beautifully. The audio -- about 70 minutes per sign, in two readings, is finished and posted; the articles are coming in; and my sign readings are moving along. Watch my Facebook page for previews as I go through the interpretations, and watch Planet Waves FM for free audio previews (and many great new podcasts) as well.

In this edition of Planet Waves, our news team has gone wild catching you up on the main events that transpired over the holidays, while we were on break. I've written an astrology interpretation of 2014 in the SKY section, and we have the January monthly horoscope for you as well.

I have often wondered what it would have been like to cover the Uranus-Pluto conjunction in realtime during the 1960s; I've wondered if astrologers were getting the message, and how they might have conveyed it to others, without the benefit of the Internet.

In any event, we are here for you now, with in-the-moment coverage of the peak of the Uranus-Pluto square, broadcasting on every channel with the hottest news team in astrology.

With love,



PS -- Today would be the 122nd birthday of J.R.R. Tolkien. I know many people are going to see that derivative film from The Hobbit. If I may recommend something authentic -- here is some of Tolkien's writing on the subject of Atlantis, read by British actor Martin Shaw.

Section Writing and Editing Credits: News items below are written and edited by a team consisting of Hillary Conary, Anne Craig, Eric Francis, Elizabeth Michaud, Amanda Painter, Susan Scheck, Chad Woodward and Carol van Strum. Page assembled and coded by Anatoly Ryzhenko. Special thanks to the Fact Checkers List, which goes over each edition on Thursday night -- and to our main astrology fact-checker Alex Miller, and Amanda, who goes over all their suggestions. Our editions are also proofread and fact-checked by Jessica Keet.




Know Yourself: 2014 Astrology



The spiritual path is sometimes described as a quest for one's true identity, one's true self. Some consider this an inner meeting with what Quakers call 'inner light' -- the connection to one's god-source that doesn't depend on external circumstances or personal history. It's a kind of birthright that we all possess, connecting to a source that speaks as loudly as you're willing to listen.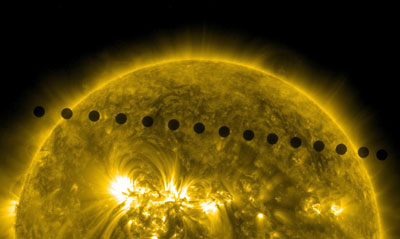 Venus will not transit the Sun as it did in 2012, shown here in a composite photo; but its current retrograde should be no less instructive astrologically. Image: NASA/Solar Dynamic Observatory.

Yet along the way to finding that light or tangible connection, most people must move through, explore and seek to understand a lot of inner material -- the remnants of personal and collective history, damage that has been done, incomplete situations and relationships we don't understand. I think that most discover along the way to their spiritual destination that it's necessary to explore what it means to be human. That's what we get through much of 2014, in a rather dramatic way.

A series of astrology events distinct to 2014 describe how that translates to exploring and rearranging your relationship to your gender role and identity, how you think about relationships to other individuals and perhaps most of all, how you relate to your family and corporate institutions.

First, it's worth stating that what happens in 2014 is unprecedented, at least going back 50 years or so. We are in the midst of experiencing astrology reminiscent of the mid-1960s, which is now about to come to its peak. As far as anything in recent memory, I would say that what we're about to experience is as influential as the 1999 to 2002 phase, only condensed within one calendar year.

The long-standing Uranus-Pluto square spans from Aries to Capricorn. Uranus is in Aries, making a square to Pluto in Capricorn. I've been calling this the 2012-era aspect. The exact contacts began in mid-2012 and go through early 2015. This aspect has the world feeling like a less stable place than usual, closer to the edge, and many people are feeling the shockwaves.

In 2014 this slow-moving aspect pattern reaches a peak. Part of what's spurring this along are the respective retrogrades of Venus and Mars.

Venus is currently retrograde in Capricorn. This began the same day as the Capricorn solstice and ends on Jan. 31. Venus is retrograde least of all the planets, just over 7% of the time. This is a deeply personal transit, set within a sign that, among other topics, covers family structure, government and corporations.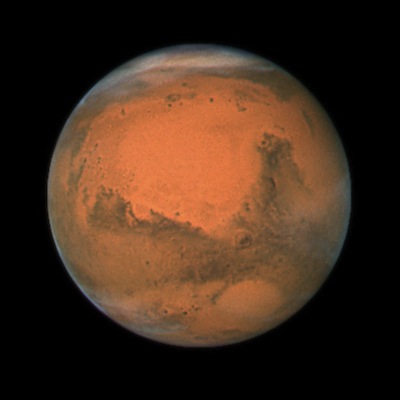 Mars is looking prettier already in beauty-loving Libra. Actually, this Hubble Space Telescope photo dates to 2007. Photo: NASA/UPI/Landov.

Venus retrograde is one of those conditions that tends to evoke the past -- as does the sign Capricorn. Old lovers and friends can reappear from the mists of time, or you might find yourself visiting old places or remembering things that you have not thought about since you experienced them. In Capricorn this can feel nostalgic, or like family karma is being stirred up (and it may be, especially with Pluto in the neighborhood).

Yet there is also a search for the inner feminine with this retrograde. What does it mean to be a woman, and to be female? What were you told you had to feel, or be, by your family? What were you told a woman is, and what roles were you told women should be assigned? If you find yourself questioning conventional wisdom, you have some astrological guidance.

Mars will also be retrograde, starting in March and ending in May -- though the process is already well begun, because Mars has entered the degree range where the retrograde will take place. This will be happening in Libra. To me it looks like Mars retrograde will stir the pot on personal relationships. The message is, come out of the role you play, and be the person you are. In this way, your relationships can become a forum for self-knowledge.

Mars retrograde will confront many people with the syndrome of a relationship being a way to hide from the world. All the usual balances will need to be rearranged; Mars will leave little that can be taken for granted. Those who emerge from the shell of a security-based relationship are likely to find themselves in a wild world, wanting some genuine adventure.

On the way to that point, you may find yourself figuring out what you mean when you say the word 'secure', and you may notice that the world around you is far more uncertain than you imagined. That uncertainty is your friend and ally on the way to self-knowledge. You cannot learn about yourself while you're too certain of anything. A space of not knowing has to open up so that there is a space for the new knowledge to go.

In this regard you might say that the prerequisite of gaining knowledge is not knowing. The prerequisite of feeling safe and grounded is feeling insecure. And sometimes, what comes before love is recognizing what love is not.




Fukushima: What You Have Not Read About Yet



News out of Fukushima has been difficult to come by. After the spent fuel removal supposedly began in Unit 4 in November, the media went even more silent than usual. That in turn has been fomenting all kinds of speculation, some of which turns out to have a factual basis.

The Internet has been abuzz over speculations that a meltdown is occurring in the spent fuel pool of Reactor 3. TEPCO, the utility that owns the plant, officially reported on four separate days in December that steam was seen rising from the wreckage of the Reactor building.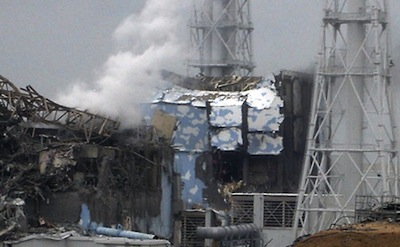 A March 2011 photo shows damage at the Fukushima Reactors 3 and 4, released by Tokyo Electric Power Co. Photo: AFP.

An article published by Turner Radio Network began circulating, warning residents of the West Coast of the United States to begin preparation for the possible arrival of a radioactive plume. The article suggested immediately purchasing respirators, self-adhesive weather stripping and duct tape for windows, and to avoid outdoor exposure for several days.

The Reactor 3 nuclear core went into meltdown on March 13, 2011, after an explosion caused by a hydrogen buildup. The exact status of the melted core is unknown and it is speculated to have melted entirely through the containment vessel. Following the 2011 explosion, a large plume of radiation was emitted, and was carried to the U.S. on wind currents at that time.
 
TEPCO has not been clear about what's causing the rising steam. Extremely high and lethal levels of radiation in the building prevent anyone from getting close enough to find out. Remote-controlled cranes and equipment are being used to remove debris and rubble from the damaged Reactor building, a process that began, unbeknownst to the public, on Dec. 17, 2013. (This is not the same as the removal of fuel from Reactor 4, which Planet Waves covered here.)

According to TEPCO, the steam is being emitted from the fifth floor of the building. Currently, 566 used and unused fuel assemblies sit in the spent fuel pool of Reactor 3. Some reports claim the Reactor 3 storage pool also contains highly dangerous MOX fuel, which consists of mixed uranium and plutonium oxide; however, there is conflicting data about whether there is MOX fuel in the pool or not. According to the TRN article, experts warn that the rising steam "could be the beginning of a spent fuel pool criticality," meaning that there could be an atomic reaction starting in the spent fuel pool, where it cannot be contained.



This Article is Continued on its Own Page





Poverty Winning the War on Poverty



For some Americans, the Great Recession was over by the end of 2013. Wall Street was breaking records, manufacturing output had grown for seven straight months, construction spending was up six percent from last November till this one, and the housing market was up in a number of places, even battered Detroit.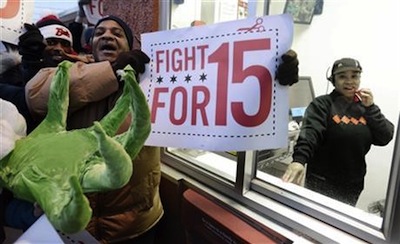 Demonstrators, including one in a giant Grinch costume, outside a McDonald's in Chicago last month campaigning for $15 per hour for fast food and retail workers. Photo: Paul Beaty/AP.

But those numbers, and the falling unemployment numbers, don't begin to tell the whole story. Some 50 million Americans -- about one in six -- still live in poverty, 50 years after President Lyndon Johnson declared "war" on it. A 2011 report from the Congressional Budget Office (CBO) indicates there's been a steady growth in inequality for several decades: the wealthiest 1% had a 275% increase in income since 1975, while the poorest 20% saw an increase of only 18%.

The non-partisan CBO identified one of the causes as less redistribution of wealth by the government, and another as wage gaps. In 2012 a Fortune 500 CEO took home 354 times as much as the average worker, as compared to a 24-to-1 ratio that existed in 1965.

The game is rigged, and powerful Republicans have aligned themselves with the wealthy in attempting to stomp on the losers, without much pushback from Democrats. Supplemental nutrition assistance program (SNAP) benefits dropped in November, and there are more cuts coming in the farm bill expected to pass in mid-January. Extended federal unemployment benefits for 1.3 million people were allowed to expire on Dec. 28, although Congress is expected to discuss reinstating those when it reconvenes Jan. 6. There are still 2.9 seekers for every available job.

And many of the available jobs don't pay anywhere near a living wage. Fast food and retail employees make so little that they are eligible for food stamps and Medicaid. Efforts to raise the federal minimum wage from $7.25 have gone nowhere fast, although 13 states have taken the initiative to do so on their own.

Impairing the political will to change this mess is the insistent drone of agitprop from the far right, well-funded think tanks that serve the 1% by preaching Blame the Poor sermons daily. Congressman Paul Ryan told a Heritage Foundation forum that poverty can only be cured "eye to eye, and soul to soul. Spiritual redemption -- that's what saves people."

Spiritual redemption may be what would help Ryan and his ilk, but what actually helps poor people is -- surprise! -- money.




Passengers Rescued from Stranded Ship



A rescue helicopter from the Chinese ship Xue Long ("Snow Dragon") has succeeded in airlifting 52 travelers from the immobilized ship where they'd spent the past nine days, flying them to the Aurora Australis, an Australian icebreaker that will take them back to port.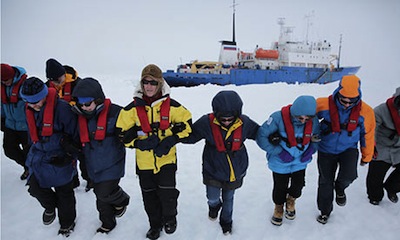 Passengers from the Akademik Shokalskiy stomp flat an area of ice for the helicopter evacuation. Photo by Laurence Topham, video producer for The Guardian, who was stuck on the ship.

The trip was intended to commemorate history, and it did so rather more perfectly than intended. Things didn't go smoothly in 1913, when Sir Douglas Mawson made his most famous explorations of Antartica. He lost two of his companions on a mission into the interior; he and his crew of scientists and naturalists got back to Australia a year late.

The voyage of the Akademik Shokalskiy, a Russian-owned research ship that sailed from New Zealand in early December, turned out rather epic in its own right. On Christmas Eve, the Antarctic ice commemorated its untamed self when the ship got thoroughly stuck. Expedition leader Chris Turney, 51 other passengers -- mostly scientists and researchers, with a handful of tourists -- and 22 crewmembers spent the holidays trapped in such thick ice that three rescue attempts failed.

In contrast to the experience on the stranded Carnival cruise ship last year, passengers and crew never seemed to lose their spirit of adventure, tweeting Christmas greetings to the world and saying they were pretty much fine. The crewmembers have remained with the ship, said to be well stocked, and will wait for navigable seas.

Fox Business host Stuart Varney has suggested that a ship becoming stuck in Antarctic ice definitively disproves global warming -- ignoring the fact that the ship was pinned to the shore by old ice that had broken free and had been pushed by strong winds.




Is 'Smart Farming' Really a Smart Choice for Farmers?



Someone's collecting enormous amounts of data about life down on the farm -- climate conditions, crop growth, even how farm equipment is steered. It isn't the NSA, but close enough. Monsanto, John Deere and DuPont Pioneer are all buying or investing in data collection companies that analyze trends and transmit directions automatically to the farm. Real-time farming decisions that used to depend on farmers' good judgment and years of experience are being replaced by corporate 'predictions' -- and some farmers don't like that at all.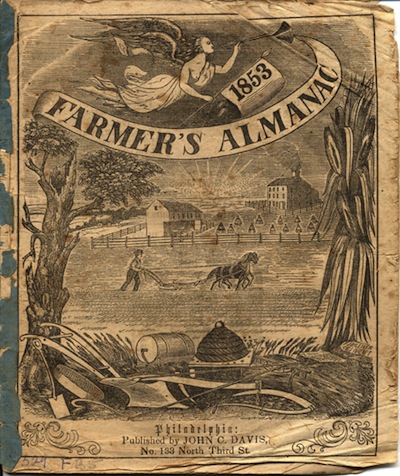 Data collection and analysis has come a long way since the Farmer's Almanac (which is still published) first began offering long-term weather predictions to farmers.

Last October, Monsanto purchased Climate Corp., a climate data acquisition firm, for almost $1 billion. Climate Corp. models weather data -- the most critical information for farmers -- and makes recommendations, such as planting on certain dates. This data is available to farmers by purchasing 'prescription services' from Monsanto.
 
Monsanto and industry analysts believe this kind of 'smart farming' has its benefits, allowing farmers to control crop yield with greater precision. Farmers' groups such as the Grower Information Services Cooperative (GISC) are alarmed over the potential loss of operational and economic control.
 
The big questions are: who will own this data; who will profit from it; and ultimately, who will control business decisions on the farm?
 
In the 1990s, farmers began collecting field data and uploading it manually to their computers. Now, using 'smart' devices, the data can be uploaded directly to a corporation, sometimes without the farmer's knowledge, if they subscribe to its services. Then the question is: does that information become proprietary, and when? And can the farmer access it in a non-proprietary form?
 
The prescription services combine vast amounts of data on soil fertility and crop yields from thousands of farms -- yet much of this information is considered confidential by individual farmers. Once accessed by Monsanto, what is to stop it from discovering what makes a particular farm competitive?
 
"If you inadvertently teach Monsanto what it is that makes you a better farmer than your neighbor, it can sell that information to your neighbor," said John McGuire, an agriculture technology consultant. And if the corporation gathers enough information, "it opens the door for Monsanto to say, 'We know how to farm in your area better than you do,'" he said.
 
Monsanto estimates prescription services to be a $20 billion market, but success depends on whether and how many farmers buy their services, and whether it can deliver profitable farming and business strategies. Whether Monsanto's bet will pay off is "tough to validate," said Paul Massoud, an analyst with Stifel Nicolaus.
 
Instead of partnering with Monsanto, GISC is urging farmers to organize and place their data in its central repository, thereby retaining legal and technical ownership of it.
 
"Growers need to be proactive in how their information is managed," said Mark Cox, controller and communications director for GISC. "Otherwise all that economic power will consolidate to these corporations and the grower will be at even more of a disadvantage. We don't want the grower to become a tenant on his own farm."
 
In the end -- as with everything else Monsanto -- it's not about the farmers' wellbeing or efficiency; it's about its own bottom line.
 
"Monsanto's scheme does not really represent farmers embracing data analytics, but Monsanto embracing it to better sell the seeds it wants to sell with a pseudo-scientific rationale," said Bill Freese, an expert on agricultural biotech and a science policy analyst with Center for Food Safety.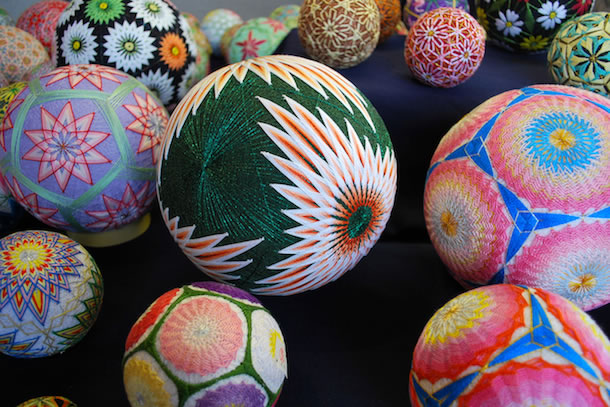 Traditionally, creators of these ornate balls would tuck a handwritten note of good wishes for the recipient into the center, which would remain secret. Sometimes a noisemaker, such as bells or some rice, would be placed inside for more fun when the balls are played with. Curious to give it a try? You can find step-by-step instructions here and here. Photo: NanaAkua.

Hoping You Have a Ball in 2014!



Originating in China and introduced to Japan in the 7th century A.D., temari are handcrafted, highly prized and cherished embroidered balls made from scraps of old kimonos, given by parents to their children on New Year's Day. They symbolize the wish that the recipient enjoy good fortune and happiness, and often represent a pledge of deep friendship and loyalty between giver and recipient.
 
The 92-year-old grandmother of NanaAkua, a graphic designer from Japan who photographed the balls above, learned the demanding craft -- which requires specific training and testing  -- in her sixties. She now has more than 500 unique designs to her credit. You can see a few more of them here, or an entire gallery of 486 photos here.








Many New Updates to Planet Waves FM



I've posted a number of new updates to Planet Waves FM, including the finale edition for 2013 that covers the Capricorn New Moon in detail, as well as audio previews for The Mars Effect (two are up; more are coming) and a series of New Year's interviews conducted on the street in Kingston, New York.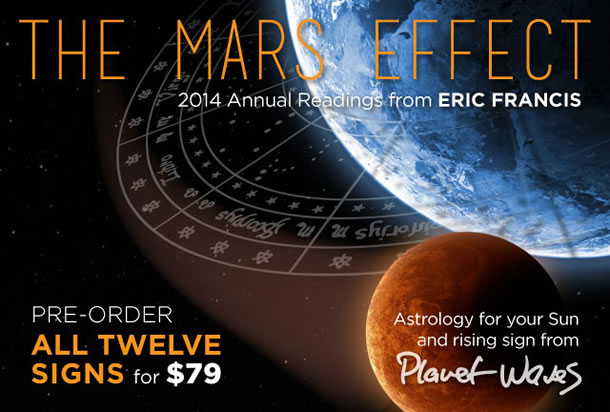 Have you pre-ordered your 2014 readings by Eric Francis yet? The Mars Effect (our 16th annual edition!) will be out in January, and will include in-depth audio and written readings for your Sun, Moon and rising signs. We always receive a flood of positive feedback for these readings, and it shows just how meaningful they are. One customer wrote, "I'm so grateful to you for the illumination and the reassurance this reading has bestowed." We're offering you a special package price of $79 for all twelve signs, available only to current Planet Waves members. Or you may purchase individual signs for $29.95.








Your Monthly Horoscopes -- and our Publishing Schedule Notes



Your extended monthly horoscopes for January are published below in this issue. We published Moonshine for the Gemini Full Moon Tuesday, Dec. 10. The Moonshine horoscopes for the Capricorn New Moon were published Tuesday, Dec. 31. Please note, we normally publish the extended monthly horoscope on the first Friday after the Sun has entered a new sign; Inner Space usually publishes the following Tuesday.




Planet Waves Monthly Horoscope -- January 2014, #981 | By Eric Francis




Aries (March 20-April 19) -- You're figuring out that you're capable of great things. Yet none of it will be possible without fostering cooperation. There is, of course, the danger of giving away your power to others by depending on them for the completion of your goals, so you need to know about that potential pitfall and remain in full alignment with yourself. That means being the primary authority in your life. Cooperation is a peer-to-peer enterprise, a consultative role, an exchange of ideas, but without the competition or authority stuff that we're so accustomed to in nearly every facet of existence. This is a seed moment for you, particularly where your work and your contribution to society are concerned. If you've been having ideas that you believed could change the world (and it looks like that's been true for years) this is the time to act on them. The gift of the present moment is twofold: one facet is the birth of a new kind of confidence, despite whatever confusion you may be feeling. You are starting to trust that you can have an actual impact. Another is discovering evidence that you were on the right path all along. You have already learned most of what you need to know, and what you gained in the past is one of your greatest resources today.


Looking for an in-depth reading for the coming year? Pre-order THE MARS EFFECT, your 2014 annual readings, for a special rate of $79 for all twelve signs. It's a great package of audio and written readings (plus bonus articles) that gives you access to your Sun, rising and Moon signs (and those of your loved ones). You may also pre-order individual signs for $29.95 here.




Taurus (April 19-May 20) -- Faith is your rock, or said another way, the axis around which your world turns. Yes, you may have your doubts. They will come and go. But they are part of the 'turning world' rather than the beam of faith around which it spins. Despite many challenges and the demand to call yourself fully present for everything you do, you've maintained a steady course of growth, of achievement and living in the moment rather than being lost in ancient history. Your chart suggests that you've been burrowing your own path through the remnants left to you by many ancestors whose combined influence has added up to little more than a reason to pretend you don't have the strength to do what you came to the world to do. Once you admit that you possess actual faith in yourself, you will see your doubts in perspective, and they will be far less meaningful. The one element that is calling for a special focus is the exchange of resources angle of your chart -- the zone where you share a field of influence with another person, often in intimate situations. You seem to come up against one circumstance after the next where there is a question -- though as you're probably learning, the solution is always spiritual. Love, forgiveness and understanding will light your way.


Looking for an in-depth reading for the coming year? Pre-order THE MARS EFFECT, your 2014 annual readings, for a special rate of $79 for all twelve signs. It's a great package of audio and written readings (plus bonus articles) that gives you access to your Sun, rising and Moon signs (and those of your loved ones). You may also pre-order individual signs for $29.95 here.




Gemini (May 20-June 21) -- The edgy quality of your charts may be a reminder of the fragile, transient nature of existence, and this is summoning you into unfamiliar territory. That alone would be a value -- the waste of time that the world withstands is a terrible loss, and most of it involves denial about beginnings and endings. You seem to be fully aware that time is transient and that relationships are experiences that exist only in the moment we notice them. With the world moving so fast, there is precious little time to waste. Many factors in your astrology have drawn you out to a region where you will feel better addressing people about what actually matters than you will engaging in any form of diversion or games. While superficiality is smothering consciousness, you are being confronted with facts about yourself that are calling you to engage fully with reality. This translates directly to having a respectful relationship with the unknown, and that which you don't understand. It no longer serves you to do anything else -- there are great rewards possible when you focus only on what is true. You may think this requires more courage than you have; courage is an option you can choose, and is almost always helpful. Meanwhile, I suggest you use curiosity and persistence as your main assets on this quest.


Looking for an in-depth reading for the coming year? Pre-order THE MARS EFFECT, your 2014 annual readings, for a special rate of $79 for all twelve signs. It's a great package of audio and written readings (plus bonus articles) that gives you access to your Sun, rising and Moon signs (and those of your loved ones). You may also pre-order individual signs for $29.95 here.




Cancer (June 21-July 22) -- It's time to reclaim the young person you are inside -- or be aware that little kid is claiming you. Recent years of your life have come with a maturity campaign, which has been a necessary part of your growth and have contributed significantly to your wellbeing. Yet at the same time, your chart illustrates a moment when you're on a dare to make an impression on the world, to define your own terms and to be free from needless authority. One of the ways you render external authority as pointless is to take over the process yourself, which accounts for the value of your drive to be a mature adult. Without some discipline, you cannot get very much done. Yet the child in you wants to come out. There are a few ways that can happen -- remembering what gives you the most pleasure in life, and doing those things, are among them. There is also a relationship encounter that will open the door to the playful, loving child that you are. This experience will call for a blend of maturity and thirst for freedom. The door is opening into a realm where all your relationships can deepen, as if you've mysteriously walked into common ground you didn't know existed. It always has -- you are opening up to it in a new way.


Looking for an in-depth reading for the coming year? Pre-order THE MARS EFFECT, your 2014 annual readings, for a special rate of $79 for all twelve signs. It's a great package of audio and written readings (plus bonus articles) that gives you access to your Sun, rising and Moon signs (and those of your loved ones). You may also pre-order individual signs for $29.95 here.




Leo (July 22-Aug. 23) -- Focus on your health, which will mainly require managing your work responsibilities and your stress level differently than you currently do. You need to make some structural changes, including to your schedule and possibly to your physical work space. This is a quality-of-life issue, and you have the focusing power and determination to make real, lasting changes that help you and will improve your efficiency. If you're facing puzzles or questions, most of the solutions or answers seem to be hiding in plain sight. One thing that may not be so obvious is addressing certain issues that are still hanging out in your life from early childhood. This may include insecurities that you've never quite been able to get a handle on, as well as the residual conditioning of being burdened with more than was appropriate for a child. These matters have a way of hanging on and sometimes become more challenging to address as time goes on, though the astrology of this time in your life is centered on making a clean sweep emotionally, as well as making sure your physical space is up to the task of supporting your life. It would be simpler to say take a holistic approach, where every aspect of your life, and every person in your life, is supportive of all the others.


Looking for an in-depth reading for the coming year? Pre-order THE MARS EFFECT, your 2014 annual readings, for a special rate of $79 for all twelve signs. It's a great package of audio and written readings (plus bonus articles) that gives you access to your Sun, rising and Moon signs (and those of your loved ones). You may also pre-order individual signs for $29.95 here.




Virgo (Aug. 23-Sep. 22) -- There is no question that relationships remain the focal point of your life this year, though the theme brings a deeper focus on sexuality. I would describe this as seeking a purpose rather than treating it as something that's just there, or that can be taken for granted. Most people don't consider the notion of existing with a sexual purpose, though they also don't consider how disorienting the lack of one can be, and how it leads directly to giving away one's power. You will begin to make discoveries the moment you make the commitment to doing so, and harness your creativity and life-force energy as you make contact with how real and how vital these themes are for you. The connection point to your relational experiences may seem intuitive or obvious, though it's worth stating. What is healing and empowering to you will either strengthen the people in your life, or have a way of repelling them. You've needed to overcome the fear of that particular effect for a while; now you've reached the point where you must be in harmony with the people with whom you're intimate, because you are now capable of embracing them more deeply than ever. To do this safely and honestly, having a sense of purpose, and sharing it openly, is essential.


Looking for an in-depth reading for the coming year? Pre-order THE MARS EFFECT, your 2014 annual readings, for a special rate of $79 for all twelve signs. It's a great package of audio and written readings (plus bonus articles) that gives you access to your Sun, rising and Moon signs (and those of your loved ones). You may also pre-order individual signs for $29.95 here.




Libra (Sep. 22-Oct. 23) -- Let this be the year you succeed at not making the same mistakes as in the past. Mistakes are excellent learning laboratories, though for that purpose, usually one or two tries is sufficient. This is your time to learn from past errors in judgment or less-than-careful decisions, whether they happened recently or in the distant past. Mars in your sign for most of the year will give you plenty of opportunities to review; so too will the retrograde of Venus that began recently. So much historical data may be bubbling to the surface that you may be overwhelmed. But it's all going to boil down to one thing, which is how you make decisions. I am familiar with the special struggle that many born under your sign personally describe. It's not that you don't make up your mind; it's about how you hesitate before doing so. That hesitation is different than considering the factors involved in a particular choice. These days, you're likely to be pushed in some direction by circumstances or by someone close to you if you don't choose a direction of your own. Though this may temporarily relieve the burden of making the decision, it doesn't take away responsibility for the consequences. You know what is right for you. You always have and you always will. Trust that.


Looking for an in-depth reading for the coming year? Pre-order THE MARS EFFECT, your 2014 annual readings, for a special rate of $79 for all twelve signs. It's a great package of audio and written readings (plus bonus articles) that gives you access to your Sun, rising and Moon signs (and those of your loved ones). You may also pre-order individual signs for $29.95 here.




Scorpio (Oct. 23-Nov. 22) -- You may be feeling like you're under some strange pressure, which on one level feels like the necessity to get control of your life. On another level you're being pushed to cut loose, and to dive into your passions, your fears and the desire that you've spent so much time denying. So what do you do, hold fast or let go? Saturn in your sign is providing a boundary. Though it may feel like you have to make necessary changes, Saturn's real message is about getting to know yourself. Meanwhile, Mars, your ruling planet, will be spending much of the year in the zone of your chart where you conceal your deepest feelings, needs and anxieties. Unless you follow Mars into that mysterious realm, you may feel like you've 'gone missing'. If that happens, take it as a message to look within rather than obsessing over circumstances, other people or external responsibilities. You will get your work done; you will keep your promises. The time has come to keep a promise to yourself, which is to clarify your inner relationship as your top priority. Though many would think this idea as comprehensible as Mandarin, you know this already. The calling to absolute self-honesty has been nagging you very nearly forever, and it's high time you answer.


Looking for an in-depth reading for the coming year? Pre-order THE MARS EFFECT, your 2014 annual readings, for a special rate of $79 for all twelve signs. It's a great package of audio and written readings (plus bonus articles) that gives you access to your Sun, rising and Moon signs (and those of your loved ones). You may also pre-order individual signs for $29.95 here.




Sagittarius (Nov. 22-Dec. 22) -- Your life is not as complicated as it seems. It's true that your sign is currently hosting one of the most impressive collections of planets I've ever seen (all of them 'minor' planets, but no less potent). You are indeed facing many deep spiritual issues, and it will help you to see them that way rather than as psychological. The prevailing theme of the next few seasons is about how you invest your life into the lives of others. It's necessary to learn a mode of sharing with others that is not a general partnership/total surrender but rather a limited partnership on certain topics or themes. I don't mean to imply being partially committed. I mean being wholly committed in specific ways, such that you are able to reserve enough of your time, space and vital force to create your own existence the way you want it. As you may know, it's also time to get serious about money. It may seem like some great mystery how to acquire or concentrate the stuff, but it's actually a practical matter based on specific skills. Make a point of acquiring those skills at the same time you do something more fundamental, which is make sure you don't violate your own values or principles. There is no conflict here -- they are really the same thing.


Looking for an in-depth reading for the coming year? Pre-order THE MARS EFFECT, your 2014 annual readings, for a special rate of $79 for all twelve signs. It's a great package of audio and written readings (plus bonus articles) that gives you access to your Sun, rising and Moon signs (and those of your loved ones). You may also pre-order individual signs for $29.95 here.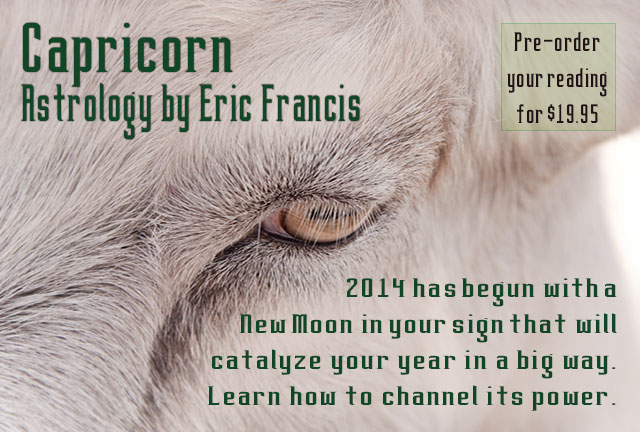 Capricorn (Dec. 22-Jan. 20) -- You know that you cannot be content with anything superficial or make believe, so you may as well not lose any more sleep over that. You're discovering that you have something to say, and you may be wondering if anyone wants to listen. You can set that one aside too; your charts say that it's time to get the word in before you get the word out. As you invest your energy in self-knowledge, and making the changes you have wanted to make for so long, you will become your message. Part of what you're seeking in this process is an understanding of how things got to be the way they are. This applies to your life, and to any aspect of the world that you are seeking to influence, change, develop or in some way correct. The story of the world the way you perceive it corresponds directly to the story of your life. The changes you are going through connect to the urgent need for progress in the world. You are a kind of personal intersection between the two, but in order not to have that become a burden, I suggest you focus on your life and your learning process, and take action only when you feel profoundly moved to do so. Less is more -- and when the time comes, that will be plenty.


Looking for an in-depth reading for the coming year? Pre-order THE MARS EFFECT, your 2014 annual readings, for a special rate of $79 for all twelve signs. It's a great package of audio and written readings (plus bonus articles) that gives you access to your Sun, rising and Moon signs (and those of your loved ones). You may also pre-order individual signs for $29.95 here.




Aquarius (Jan. 20-Feb. 19) -- You may be feeling like you have too much responsibility and not enough in the way of personal resources to support what you have to do. This can include money, though I am really talking about inner resources of the emotional and spiritual kind. I can see why you would feel that way; yet I can also see that you have many hidden resources that you may not have discovered yet. These might manifest as energy, ideas or strength that you can access if you want. The key thing to remember is that they are there waiting for you. To find them, you must go underneath your outer circumstances and make contact with the underlying nature of your situation. This should not be hard -- the dimension where this information and energy reside are bursting with life, wanting your attention, if only you would turn it there. You may have the sensation that you would evoke chaos or tap into something that you don't really want to know about, though I assure you that this is life-giving information. If there is chaos, that's the thing that provides the fuel for your strength and creativity. Think of it this way: you face no situation for which you lack resources. It's a matter of having some faith, making contact and making use of what you discover.


Looking for an in-depth reading for the coming year? Pre-order THE MARS EFFECT, your 2014 annual readings, for a special rate of $79 for all twelve signs. It's a great package of audio and written readings (plus bonus articles) that gives you access to your Sun, rising and Moon signs (and those of your loved ones). You may also pre-order individual signs for $29.95 here.




Pisces (Feb. 19-March 20) -- Old friends will get you far this year, and they will be happy to hear from you. I suggest you look up everyone in your life whom you consider to have been a positive influence, and even a few people whom you think were a little dodgy, and see where they are at today. This will provide a point of grounding and orientation in what promises to be a truly extraordinary time in your life, especially where your mission is concerned. You are someone with a mission, and you are imaginative enough to dream it into reality. At the moment, your dream machine is running at full strength. You've never been someone who has done things just for business. You always act with a creative, social or spiritual purpose, which you then extend into your professional affairs. Some call this 'right livelihood'. I would call it being aligned with your purpose, and then extending that into your personal relationships, your community and the world. It just happens that business is an excellent vehicle to conduct this kind of energy, and conditions are favorable to get the vibes rippling out into the world. You're about to find out how much you have done right, how much you have left to accomplish, and that you possess the determination and talent to make it happen in high style.


Looking for an in-depth reading for the coming year? Pre-order THE MARS EFFECT, your 2014 annual readings, for a special rate of $79 for all twelve signs. It's a great package of audio and written readings (plus bonus articles) that gives you access to your Sun, rising and Moon signs (and those of your loved ones). You may also pre-order individual signs for $29.95 here.





To unsubscribe,

click here e Wiki

|

Friends

|

Editors Contact Us Copyright © 2014 by Planet Waves, Inc. All Rights Reserved. Other copyrights may apply. >>
Some images used under Fair Use or Share Alike attribution.