New York, Jan. 14, 2014 | View as Webpage | Customer Service: Chelsea (206) 567-4455




This Week on Planet Waves -- and Your Moonshine Horoscopes



Dear Friend and Reader:
 
The Cancer Full Moon is exact tomorrow, Jan. 15, at 11:52 pm EST. The chart is a busy one involving several of the goddesses of astrology, and like all Full Moons, this one is upping the emotional ante for interpersonal interactions. Genevieve Hathaway has interpreted the event for all 12 Moon signs in her Moonshine Horoscopes here.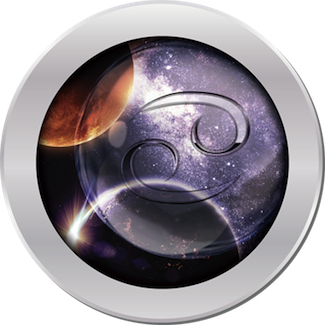 The Cancer glyph for The Mars Effect, from a new set of astrological symbols by Lizanne Webb. So far, you can listen to audio previews for five of the signs.

Eric, meanwhile, is getting close to finishing your 2014 annual readings. He's working on the written interpretation for the 8th sign right now (the audio interpretations for each sign are done), which means you still have time to pre-order all 12 signs for the discounted rate of $79 -- that's 12 signs for the price of about two-and-a-half signs.

You may also pre-order individual signs for $29.95 each -- though you should know that every year we hear from people who loved the one or two readings they bought so much, they wished they had gone for the whole package from the outset. Doing so lets you easily read for your rising and Moon signs, plus the signs of your loved ones.
 
Eric already has this week's Planet Waves FM broadcast uploaded and ready for you. Today he's covering the Cancer Full Moon, and Daniel Sternstein will be joining him again to co-host. Eric and Daniel will also discuss understanding environmental dangers and what you can do about them. Their musical guest will be Gary Lucas, featuring a recording with his music student, the late Jeff Buckley.
 
Today's Daily Astrology column picks up the corner of the building square between retrograde Venus in Capricorn and Mars in Libra, which is part of the Full Moon landscape. This square is the middle one in a three-square process between these two very personal planets, encouraging you to check out both sides of the story.
 
Tomorrow's Cancer Full Moon is bringing out the shades of light and dark associated with several main goddesses of astrology, namely Black Moon Lilith, Eris, Ceres and Vesta. As noted in Monday's Daily Astrology column, Cancer is an especially sensitive placement for the Moon, and having the Sun opposite tends to polarize emotions; notice when you might be projecting your light or dark onto someone else.
 
Len Wallick's column posts to the Planet Waves blog at noon on Tuesdays and Thursdays. Today, he considers the potential for conflict in the Cancer Full Moon and three options to that conflict: creativity, negotiation and holding the tension until a more opportune moment. All of which require some work to determine what's right for you this week.
 
Yours & truly,



Amanda Painter




To unsubscribe,

click here e Wiki

|

Friends

|

Editors Contact Us Copyright © 2013 by Planet Waves, Inc. All Rights Reserved. Other copyrights may apply. >>
Some images used under Fair Use or Share Alike attribution.