New York, Jan. 28, 2014 | View as Webpage | Customer Service: Chelsea (206) 567-4455




This Week on Planet Waves -- and Your Moonshine Horoscopes



Dear Friend and Reader:
 
So how have you been enjoying your 2014 annual readings and articles in The Mars Effect? One very pleased recipient wrote in to say that, "No astrologer has ever gone so in-depth and seemingly nailed parts of my psyche like [Eric] has," and we're getting more emails along those lines daily.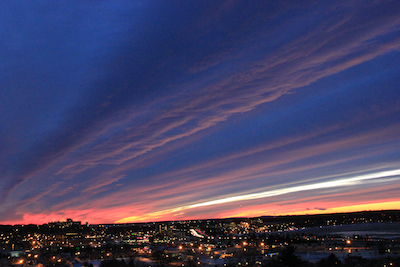 Portland, Maine; photo by Amanda Painter.

I know that if you've purchased all 12 signs, it can take a while to digest all that's in there. But whether you've immersed yourself in one sign or all of them, we'd love to hear just what has struck you while reading and listening to this year's annual. If you haven't yet, you may still purchase instant access to The Mars Effect -- one sign or all 12 signs.

For yet another perspective on your current astrology, we have Genevieve Hathaway's Moonshine horoscopes for the Aquarius New Moon ready for you. The New Moon is on Thursday, just a day before Venus stations direct in Capricorn -- making the New Moon an opportunity to make room for whatever Venus brings.

In tonight's edition of Planet Waves FM, Eric looks at Venus stationing direct and the Aquarius New Moon, and the series of Mars-Eris oppositions and what they have to say about relationships. In the second half of the program he looks at the concept of community journalism and the role of journalism with astrology as context. Our musical guest is the phenomenal electronica duo Home Body.

The Aquarius New Moon in the context of Venus stationing is the focus of today's Daily Astrology column. Can you avoid getting too stuck or fixated on any one particular way of perceiving yourself, to keep space clear for whatever messages Venus offers as it stations?
 
Monday's Daily Astrology column got the week started with a question about how we handle our projections in relationship situations. Mars in Libra is still opposite Eris in Aries, bringing our shadow and any cast-off facets of identity front and center so we can own them -- and grow out of our more toxic habits of relating.
 
Be sure to check out the blog at noon today for Len Wallick's column, about the open-ended nature of Thursday's Aquarius New Moon. Tomorrow at noon we feature Carlos Cedillo's Mayan daykeeping column.
 
 Yours & truly,



Amanda Painter

P.S. If you have not yet purchased access to the Mars Effect readings, individual signs are $29.95 (with discounts for multiple signs). You also have another chance to purchase the 2014 All-Access Pass, which grants you access to all signs of The Mars Effect, plus all birthday readings for a year and much, much more.




To unsubscribe,

click here e Wiki

|

Friends

|

Editors Contact Us Copyright © 2013 by Planet Waves, Inc. All Rights Reserved. Other copyrights may apply. >>
Some images used under Fair Use or Share Alike attribution.