New York, March 25, 2014 | View as Webpage | Customer Service: Chelsea (206) 567-4455




This Week at Planet Waves -- and Your Moonshine Horoscopes


 
Dear Friend and Reader:
 
With the Sun now in Aries, the overall emphasis of the sky shifts from imaginative visioning to tangible action. That said, there is still much going on in the subtler realm of Pisces this week to tune into. And if you didn't get to take some time at the equinox last week to write out a few goals for the next three months, the Aries New Moon this Sunday presents another prime seeding moment for the season.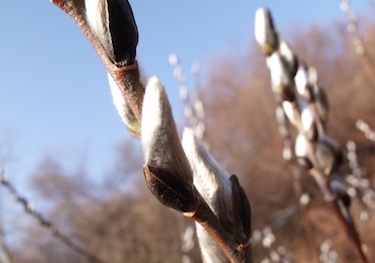 Pussy willows at the 2012 Aries equinox, Portland, Maine; this spring, they're still in hiding. Photo by Amanda Painter.

If you have an Aries Sun, rising sign or Moon (or love someone who does), you'll be excited to know that Eric is recording your birthday reading today -- just in time to make the most of this New Moon. You can pre-order the Aries birthday reading for a significant discount now, and we'll email you the access info as soon as it's ready. Once it publishes, the price will increase, so do that Aries thing and act now!
 
The Aries New Moon is also Genevieve Hathaway's focus in her Moonshine Horoscopes, available today for all 12 Moon signs.
 
In today's edition of Planet Waves FM, Eric will cover the Aries New Moon, which is conjunct the asteroid Ophelia. He will also do an astrology lesson on how to read a T-square in a chart.

News items in today's edition include a look at the chart for the Washington State mudslide that happened Saturday and a brief comment on the ongoing cover-up around Flight 370. The edition will be published to Planet Waves FM by about 6 pm EDT.

Tonight's Daily Astrology column considers the conjunction of the asteroid Juno and Uranus in Aries. What might happen to the concept of marriage if everyone were to establish a sense of completeness within themselves first, and then enter into relationships with others?

Looking ahead to the weekend, Mercury's conjunction with Chiron Saturday also involves the minor planet Borasisi. We've described the scenario in Monday's Daily Astrology column as "shocking us with the truth -- but in a 'gentle' way"; most likely it's a truth you already knew, whether you've let yourself admit it before now or not.
 
Len Wallick looks today at the many aspects Mercury is making from Pisces right now. There is some long-term importance to what you express and how, thanks to the prominence of water in the current astrology. His column publishes on the main Planet Waves blog at noon.

Yours and truly,



Amanda Painter






To unsubscribe,

click here e Wiki

|

Friends

|

Editors Contact Us Copyright © 2013 by Planet Waves, Inc. All Rights Reserved. Other copyrights may apply.
Some images used under Fair Use or Share Alike attribution.