New York, April 15, 2014 | View as Webpage | Customer Service: Chelsea (206) 567-4455




Libra Lunar Eclipse, Conjunct Vesta and Ceres



Dear Friend and Reader:
  
Last night's total eclipse of the Moon in Libra passed by with the energy of a thunderstorm, stirring up a fuss and then leaving a moment of reflective quiet behind it. Full Moons always release tension, and lunar eclipses can enhance that effect. I covered this eclipse in a detailed article published Monday morning called The Goddess Reveals Herself: Bursts of Aries and Libra.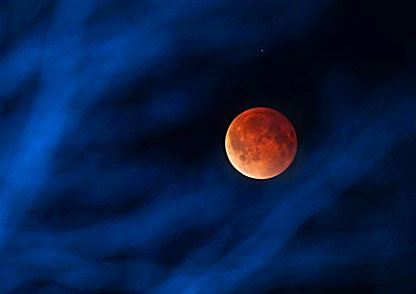 The Moon glows orange during this morning's total lunar eclipse, the first of 2014, as seen from Milwaukee. Photo by Mike De Sisti.

I also explained the eclipses a different way in a special edition of Planet Waves FM that focuses on the Moon's double conjunction to Vesta and Ceres.

The Moon is now waning toward an annular solar eclipse in Taurus on Tuesday, April 29. An annular eclipse is similar to a total eclipse, but the Moon is too close to the Earth to block out the Sun completely. Where the event is visible there can be unusual visual effects, like double shadows or the Sun wearing sunglasses.

Before that happens, Mars in Libra will retrograde into the cardinal grand cross pattern, forming a perfect alignment on Wednesday, April 23. In case you want to review that, I covered it with the April horoscope in an article called Cardinal Grand Cross: A Matter of Trust.

Last week as you may know, I just finished a project that explains this astrology for the individual signs and rising signs. This is the 2014 Spring Reading, and the response has been phenomenal. Each reading, 40 to 45 minutes long, focuses on a different theme; the readings are cross-referenced so that you can cover many facets of your life. I think these are some of the clearest, most helpful readings I've ever done. You can listen to samples from three signs, and the welcome message.
 
Len Wallick's column publishes at noon today on the blog. He looks at how this morning's eclipse is closely liked to an Aries-Libra eclipse last October, and invites you to consider how your intuitive body has been processing something your waking consciousness was aware of six months ago.

We'll be back with another Daily Astrology column tonight at midnight EDT.

Lovingly,


To unsubscribe,
click here
e Wiki
|
Friends
|
Editors
Contact Us
Copyright © 2013 by Planet Waves, Inc. All Rights Reserved. Other copyrights may apply.
Some images used under Fair Use or Share Alike attribution.