New York, May 20, 2014 | View as Webpage | Customer Service: Chelsea (206) 567-4455




Mars Direct, Sun in Gemini, and a Live Global Conversation



Dear Friend and Client:

There are occasionally moments that open up a new phase of Planet Waves community history, and this past Sunday night we experienced one of them. I want to extend my thanks to everyone who participated in the first worldwide call-in edition of Planet Waves FM, providing our first chance to listen to one another in a kind of town meeting.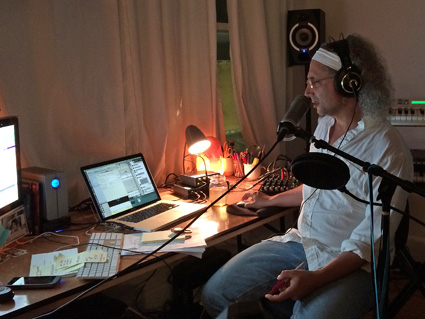 Me in the Planet Waves FM studio during Sunday's program. This was my first time hosting a live call-in program since I was host of Radio Navigator on Radio Woodstock in 1998. Photo by Daniel Sternstein.

Going from pre-recorded programming to a live format was like stepping into another dimension. It's been a while since I did my late-night program on Radio Woodstock. I was nervous for about the first five minutes, then found my bearings and the program went beautifully. 

At its peak there were more than 300 listeners, and about 100 more who passed through. We heard many different points of view, and the emails I've received have mostly been on the theme of how reassuring it is for my listeners to discover that they are not alone in their experiences of life or astrology.

That is one of the central purposes of Planet Waves. You may listen to the recording here. This links to my studio side of the recording.

The next community call-in will be June 1, on the subject of the Mercury retrograde that begins a week later. I'll also be announcing a special class called Introduction to Your Natal Chart. Check your email for both of those announcements.

During Sunday night's conference we introduced a new, expanded concept of Planet Waves membership that includes daily updates, text message service and a diversity of other resources. You're invited to check that out, and get on board with early renewal.

In Astrology News

At long last, Mars has stationed direct. Now Mars will proceed forward infused with the energy of Venus. Mars will slowly trek forward through Libra, for the third time repeating its square to Pluto and its opposition to Uranus in a slightly different pattern. Then in late July Mars will ingress Scorpio, and on Aug. 1 it will meet up with Jupiter, newly in Leo -- bringing the grand cross officially to a close. I will have coverage of this in Friday's SKY section.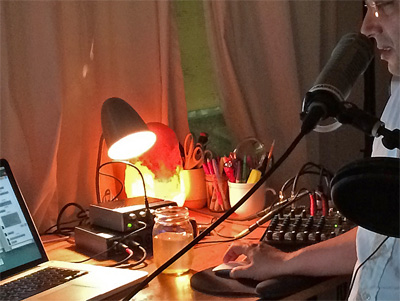 For gearheads or the curious, audio for Planet Waves FM is run through a PreSonus USB interface into a Macintosh, and a headphone mixer for in-studio guests (both behind the mason jar of green tea). Musical instruments, when present, are integrated through an 8-channel Mackie mixer, as are studio monitors. The mic is an Electrovoice RE20 dynamic broadcasting mic run through a Cloudlifter preamp. I called in via Skype on one Mac and organized the caller queue through another Mac. I use the same system to record your birthday readings and projects like the Spring Report. Photo by Dan.

Tuesday at 10:59 pm EDT, the Sun ingresses Gemini. Before that happens, the Sun remains void of course. Sun square hypothetical point Transpluto says be on the lookout for self-critical attitudes that threaten your peace of mind.

I've introduced the topic in today's edition of Daily Astrology, though I will be going much deeper in your Book of Life chapter with Friday's edition. Alice A. Bailey describes Gemini as being one of the most important signs of the zodiac at this time in history -- influencing every other sign of the zodiac. I've been planning this article for a while, and I'm excited about sharing it with you.

For those born under the sign Gemini or Gemini rising, I am about to do your birthday reading. You may listen to the preview here, complete with a new composition by Daniel Sternstein. You can get the lowest pre-order price on that now, just $19.95 through Thursday night, when it'll go up to $24.95. The reading includes a live question and response section where you can get some personal attention to your astrology. This is an amazing package and I would encourage you to take advantage of it.

Finally, tonight's edition of Planet Waves FM is a magnificent one -- featuring an in-studio interview with Blair Glaser, a relationship and organizational consultant. We talk about the theme of leadership skills in relationships, and the need for relationships to have a defined and agreed-upon purpose.

My musical guest is the incomparable Upgrade, a hip-hop artist who has described in intimate detail his bout with mental illness and his struggle to fit into society -- and how music basically saved his life. This will post to Planet Waves FM by 5 pm EDT; meanwhile there is plenty to listen to there.

I'll see you Friday, though you're invited to check in at Daily Astrology as well.

Lovingly,


Planet Waves (ISSN 1933-9135) is published each Tuesday and Friday morning in Kingston, New York by Planet Waves, Inc. Annual subscription rate: $99/year. Editor and Publisher: Eric Francis Coppolino. Business Manager: Chelsea Bottinelli. Web Developer: Anatoly Ryzhenko. Copy Editor: Jessica Keet. Research, Writing and Editing: Planet Waves is produced by a team consisting of Hillary Ghee, Elizabeth Michaud, Amanda Painter, Amy Silver, Carol van Strum, Len Wallick and Chad Woodward. Special thanks to the Fact Checkers List, which goes over each edition on Thursday night -- and to our main astrology fact-checker Alex Miller, and Amanda, who goes over all their suggestions.
To unsubscribe,
click here
e Wiki
|
Friends
|
Editors
Contact Us
Copyright © 2014 by Planet Waves, Inc. All Rights Reserved. Other copyrights may apply. >>
Some images used under Fair Use or Share Alike attribution.