New York, July 15, 2014 | View as Webpage | Customer Service: Chelsea (206) 567-4455




Countdown to Jupiter in Leo



Dear Friend and Reader:

Today we resume the Moonshine horoscope, which has been taken over by Len Wallick and Elizabeth Michaud. Here is their first column.

In tonight's Planet Waves FM, I'll focus on Jupiter ingressing Leo, which happens at 6:30:30 am EDT (10:30:30 UTC) Wednesday. The end of any slowish planet moving through a sign (or even the Moon or the Sun) can come with a sensation of restless anticipation, and this is no exception. I covered this in Tuesday's daily.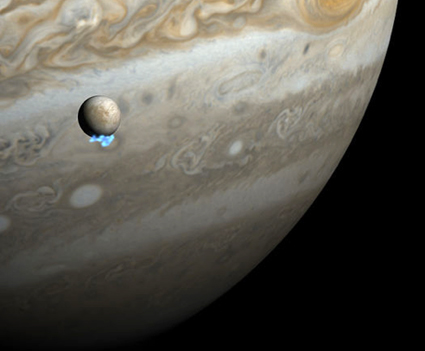 Artist's impression of water vapor plumes emanating from Europa, a moon of Jupiter, comparable in size to the Earth.

Adding to this fact is that the Sun is still moving through its square to Mars, Eris, the lunar nodes and some key asteroids. That is accentuating the turning point effect, and in fact when Jupiter ingresses Leo, the Sun is exactly square Eris and the lunar nodes, and about to square Ceres, Vesta and Mars.

That is a LOT of solar aspects for one day, and it happens to be the day that Jupiter ingresses the sign that the Sun rules. I cover some of this in Monday's daily.

In tonight's edition of Planet Waves FM, I'll also follow up on last week's discussion of both progressions and void of course Moon and planets. The programs where I give astrology instructions get very good feedback and I plan to do more of that. My musical guest will be Deep Chatham from their CD The Catskill Sessions. Remember to tune into Planet Waves FM at about 6 pm EDT, when the program posts. We don't mail out reminder emails every week, though we do occasionally. 

Speaking of email -- we have recently implemented registration for our main blog, Planet Waves News, our original website. That's the one where I post Daily Astrology and where you read Len Wallick, Judith Gayle and many other writers. Not everyone is thrilled about this, however I'll give you an idea why we did it. 

Every month about 80,000 unique visitors get to that blog. That's about 33 times more readers than we have subscribers. One reason people give for not subscribing is that the 'free blog' has so much content. Obviously that is a factor. This 'free' area is anything but free (except of course from outside advertising). The way that websites have always addressed this is to collect email addresses and then to offer products and services directly to registered readers, which is exactly what we are planning to do with the email addresses we get.

Note, if you already subscribe to a product or service, we do NOT offer you that product or service by email -- though some people have several addresses registered with us, so our filtering system is not perfect.

I understand that for some of you this means another registration ID for a Planet Waves area. We're being asked why we cannot just connect up our different sites and have it be super easy. Well, we can, but it costs money to do that. People see applications from the outside and they seem easy.


Photo of Europa rising over Jupiter, taken by the New Horizon's spacecraft in 2007, which should arrive at the Pluto-Charon system in 2015, giving us our first-ever clear photos of the Kuiper Belt.

I have spent most of the spring and summer finishing up our All Access / Core Community area, which we are close to releasing. I will tell you this has been an adventure.

Getting this site running is not as easy as tapping an icon, or making that thumb and forefinger gesture that makes your iPhone photos bigger. There are layers and layers of programming involved, all of which require engineering. It all seems so simple and easy from the outside

Most of us at Planet Waves work out of our kitchens. We are doing this only with subscription revenue and proceeds from product sales. Nearly every dollar is reinvested in your services. Part of not having advertising sponsorship or corporate overlords deciding what I can and cannot say to you is that we have to do some improvising and use our resources wisely.

I will say more about this in a forthcoming letter to the community and talk about the "user/developer divide" in tonight's edition of Planet Waves FM.

Three other items. One is that I will be sending a letter about a special fundraising initiative for an environmental investigative journalism project involving Monsanto. Watch your email for that in the next few days.

Today is the last day to get Good as Gold, your 2014 midyear reading, at the lowest pre-order price of $39.95 for all 12 signs. The price will go up to $49.95 tonight and peak out at $79.95 when it publishes. Then we will split it into 12 separate products.

If you're born under the sign Cancer and want to participate in tonight's conference call related to your birthday reading, now is the time to sign up; please note that registration for the conference call is only available through purchasing the reading. (By the way, Cancer 2014 was our bestselling birthday reading ever).

Finally, the Leo birthday reading is now available for the lowest pre-order price.

I will catch you tonight over at Planet Waves FM.

Lovingly,


Planet Waves (ISSN 1933-9135) is published each Tuesday morning and Thursday afternoon in Kingston, New York by Planet Waves, Inc. Annual basic subscription rate: $99/year. Core community membership: $199/year. Editor and Publisher: Eric Francis Coppolino. Business Manager: Chelsea Bottinelli. Web Developer: Anatoly Ryzhenko. Copy Editor: Jessica Keet. Research, Writing and Editing: Planet Waves is produced by a team consisting of Fe Bongolan, Brendan Merritt, Amy Elliott, Judith Gayle, Kelly Janes, Elizabeth Michaud, Amanda Moreno, Amanda Painter, Casey Smith, Carol van Strum, Len Wallick, Lizanne Webb and Chad Woodward. Special thanks to the Fact Checkers List, and to our main astrology fact-checker Alex Miller, and Amanda, who goes over all their suggestions. Aunt Josie Forever!

To unsubscribe,
click here
e Wiki
|
Friends
|
Editors
Contact Us
Copyright © 2014 by Planet Waves, Inc. All Rights Reserved. Other copyrights may apply. >>
Some images used under Fair Use or Share Alike attribution.