New York, July 22, 2014 | View as Webpage | Customer Service: Chelsea (206) 567-4455




So Much More Than I Thought This World Could Ever Contain



Dear Friend and Reader:

As the Sun makes its way into Leo (Tuesday at 5:41 pm EDT or 21:41 UTC), we are again confronted with a painful world situation -- the loss of another Malaysia Airlines jet in the war zone in Ukraine, the latest recurrence of a vicious war between Hamas and the Israelis and the situation in Iraq and Syria that has temporarily faded into the background.

I sometimes imagine that I'm telling the story of our moment far in the future, perhaps 100 years from now, describing the critical times we live in today -- with global warming increasing, manufactured genetics inhabiting the body of every living thing and so many other problems that we need to solve. And what was most of the world community focused on? Nonstop war.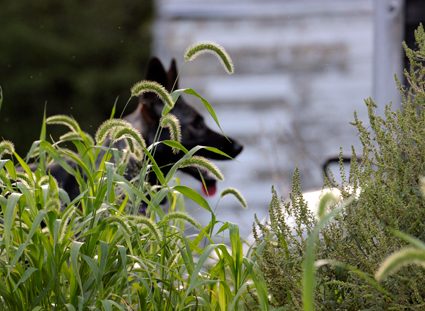 As we enter the Dog Days of summer, this is Icha, a talented four-year-old German shepherd search and rescue dog. She is Pisces (born March 9) certified in underwater search, live scent and cadaver. Photo by Eric.

Not only is this condition taking a psychological toll on every person on the planet, we are wasting precious human life, time and resources on what amount to petty conflicts when we could be solving problems and moving forward.

The question I will be asking on tonight's Planet Waves FM is, what is the psychology behind this? I will look at the astrology associated with the Sun's ingress into Leo, the Leo New Moon and Mars about to ingress Scorpio.

Then I will look at the charts associated with the tragedy in Ukraine involving the loss of a civilian airliner, and how the current astrology is influencing the situation in the Middle East.

The program usually goes up between 5 and 6 pm EDT (about 21:00 UTC). The entire archive of Planet Waves FM programs remains available on that website.

I've been writing about the Sun's ingress in two recent daily pieces, which you can scan at this link (that takes you to the Daily Astrology category).

I am currently working on two audio reading projects -- the Leo Birthday Reading, which will be available early next week, and Good as Gold, a 12-sign midyear reading that will be available in early August. (Note, both of these are included with an All-Access membership.)

The Cancer reading was our most successful birthday reading in the five-year history of the project, and we had an amazing conference call where we covered the nuances of the project. Birthday readings and Good as Gold both include conference calls, which we will announce about a week before they happen.

I will catch you tonight on Planet Waves FM.

Lovingly,



PS -- I have teamed up with Glyde, makers of the world's only vegan, fair-trade condoms, to create a horoscope called Sex By Sign. This will publish every Wednesday night.

Planet Waves (ISSN 1933-9135) is published each Tuesday morning and Thursday afternoon in Kingston, New York by Planet Waves, Inc. Annual basic subscription rate: $99/year. Core community membership: $149/year. Editor and Publisher: Eric Francis Coppolino. Business Manager: Chelsea Bottinelli. Web Developer: Anatoly Ryzhenko. Copy Editor: Jessica Keet. Research, Writing and Editing: Planet Waves is produced by a team consisting of Fe Bongolan, Brendan Merritt, Amy Elliott, Judith Gayle, Kelly Janes, Elizabeth Michaud, Amanda Moreno, Amanda Painter, Casey Smith, Carol van Strum, Len Wallick, Lizanne Webb and Chad Woodward. Special thanks to the Fact Checkers List, and to our main astrology fact-checker Alex Miller, and Amanda, who goes over all their suggestions. Aunt Josie Forever!





To unsubscribe,

click here e Wiki

|

Friends

|

Editors Contact Us Copyright © 2014 by Planet Waves, Inc. All Rights Reserved. Other copyrights may apply. >>
Some images used under Fair Use or Share Alike attribution.