New York, Aug. 5, 2014 | View as Webpage | Customer Service: Chelsea (206) 567-4455




Planet Waves FM -- Focus on Gaza Crisis



Dear Friend and Reader:

My last two daily editions have covered the square pattern between Leo and Scorpio, and the Moon passing through the grand fire trine. I will have coverage of the Aquarius Full Moon in Thursday night's edition.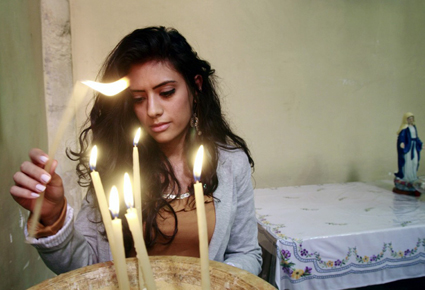 A Palestinian woman lights a candle for the children of Gaza in the Church of the Annunciation in the West Bank village of Beit Jala.

From today's post: "Fire is versatile, and it comes in many varieties, and we seem to have an abundance of all of them available to use right now. There is the fire of initiative and originality of Aries, in several forms. There is the physical, materializing fire of Leo waiting to be tapped into. There is the cosmic fire of Sagittarius, expressing itself as Karma, Ixion, Pholus, Orpheus, Hylonome, Eros and many other points."

Note, we will have the Moonshine horoscope in its own mailing sent before the Aquarius Full Moon on Aug. 10.

Tonight's edition of Planet Waves FM will focus on the humanitarian crisis in Gaza. I'll be speaking with Karen Pardini, who has followed the situation closely, and is experienced in working in the midst of disaster zones.

Our musical guest is Last Good Tooth, whose original members met at the Rhode Island School of Design. But they are not Talking Heads -- they offer deep, soulful acoustic folk music. The program usually posts between 5 and 6 pm EDT (about 17:00 UTC).

I've completed the Leo birthday reading -- that will be available later today to All-Access Pass holders and those who have already pre-ordered the reading. If you have not yet purchased it, I am holding the price at the pre-order (half price) level for a few more days.

This week I am recording the Good as Gold readings. This is a set of 45-minute readings for all 12 signs focused on business, creativity and self-esteem. They are still available at the pre-order price of $49.95.

I'll see you tonight over at Planet Waves FM.

Lovingly,


Planet Waves (ISSN 1933-9135) is published each Tuesday morning and Thursday afternoon in Kingston, New York by Planet Waves, Inc. Annual basic subscription rate: $99/year. Core community membership: $149/year. Editor and Publisher: Eric Francis Coppolino. Business Manager: Chelsea Bottinelli. Web Developer: Anatoly Ryzhenko. Copy Editor: Jessica Keet. Research, Writing and Editing: Planet Waves is produced by a team consisting of Fe Bongolan, Brendan Merritt, Amy Elliott, Judith Gayle, Kelly Janes, Elizabeth Michaud, Amanda Moreno, Amanda Painter, Casey Smith, Carol van Strum, Len Wallick, Lizanne Webb and Chad Woodward. Special thanks to the Fact Checkers List, and to our main astrology fact-checker Alex Miller, and Amanda, who goes over all their suggestions. Aunt Josie Forever!

To unsubscribe,
click here
e Wiki
|
Friends
|
Editors
Contact Us
Copyright © 2014 by Planet Waves, Inc. All Rights Reserved. Other copyrights may apply. >>
Some images used under Fair Use or Share Alike attribution.