New York, August 9, 2014 | View as Webpage | Customer Service: Chelsea (206) 567-4455




Aquarius Full Moonshine Horoscope



Dear Friend and Reader:

We have one last horoscope for you before the Aquarius Full Moon, which is exact Sunday at 2:09:21 pm EDT (18:09:21 UTC). It's the Moonshine Horoscope, now being written by Elizabeth Michaud and Len Wallick.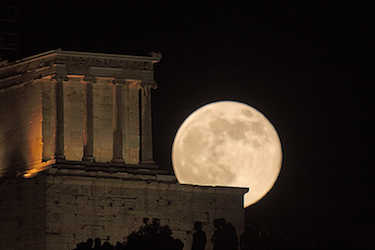 Full Moon rising behind the Temple of Athena Nike, Athens, Greece. Photo by Anthony Ayiomamitis

.

I've also covered the Aquarius Full Moon in the latest edition of Planet Waves FM. If you want to see my annotated version of the chart, it's on the program's page. If you missed Thursday night's edition, that carried a detailed weekly horoscope devoted to this event as well.

There are two other articles from the archives that you might appreciate, apropos of this lunation. One is called Aquarius Moonwalk, a late-night tour of Paris from the summer of 2004.

I also have an even older golden oldie, called Brother Moon, from 2003, about the Aquarius Moon in the natal chart.

I may be back with one more blog post this weekend on Planet Waves News. Currently I am wrapping up the Good as Gold reports (see article below), apropos of Jupiter in Leo and much other astrology. Stay tuned for additional info about that as well.

Lovingly,



Planet Waves (ISSN 1933-9135) is published each Tuesday morning and Thursday afternoon in Kingston, New York by Planet Waves, Inc. Annual basic subscription rate: $99/year. Core community membership: $149/year. Editor and Publisher: Eric Francis Coppolino. Business Manager: Chelsea Bottinelli. Web Developer: Anatoly Ryzhenko. Copy Editor: Jessica Keet. Research, Writing and Editing: Planet Waves is produced by a team consisting of Fe Bongolan, Brendan Merritt, Amy Elliott, Judith Gayle, Kelly Janes, Elizabeth Michaud, Amanda Moreno, Amanda Painter, Casey Smith, Carol van Strum, Len Wallick, Lizanne Webb and Chad Woodward. Special thanks to the Fact Checkers List, and to our main astrology fact-checker Alex Miller, and Amanda, who goes over all their suggestions. Aunt Josie Forever!



Good as Gold: the 2014 Midyear Reading for All 12 Signs



If you have not already noticed, 2014 is really two years in one, with version 2.0 beginning right about now. With all of the inner planets direct, Jupiter entering a fire sign and Mars coming home to its native Scorpio, a whole new concept of life and of astrology is reaching out to us.  I will be unfolding this brand-new aspect pattern for all 12 signs and rising signs in my midyear reading, called Good as Gold. 

Good as Gold will explore the relationship between self-esteem, creativity and money. The three are so closely interwoven that in a successful person they are indistinguishable. While you're on the way there, these elements need to be understood one at a time, as specific concepts, goals or challenges. 

I will provide ideas, strategies, motivational rants (my speciality) and ideas I've learned in therapy to get the blocks out of the way, access your courage, and invoke your vision for yourself. Jupiter is about potential, but that also means that the human part of the equation is making that potential real.

How do you manage the transition out of something old that is not really working and into something new, with the simultaneous demands of a learning curve, balancing yourself financially and staying inspired? These and other things are what I will be exploring. 

Good as Gold is available for pre-order now, at $49.95 for all 12 signs. As usual, we start with the lowest price for all 12, gradually raise the price, then sell one reading for about what we were initially asking for all 12. Now is the time to get the best rate on the whole package, so you can listen to your Sun, Moon and rising signs, and check in with the readings for your collaborators. 




To unsubscribe,

click here e Wiki

|

Friends

|

Editors Contact Us Copyright © 2014 by Planet Waves, Inc. All Rights Reserved. Other copyrights may apply. >>
Some images used under Fair Use or Share Alike attribution.