New York, August 12, 2014 | View as Webpage | Customer Service: Chelsea (206) 567-4455




Psyche and Chiron in the Chart of Robin Williams



Note, the Good as Gold readings will be available Wednesday. A prior edition of this letter had an incorrect date. -- efc

Dear Friend and Reader:

There are people whose charts we look to for information about them, and people whose charts teach us about the nature of astrology. Robin Williams was both. [See charts here.] 

In tonight's edition of Planet Waves FM, I'll go over Williams' charts, focusing on the role of Psyche and Chiron in his career, life and death. And I will consider the nature of suicide, and the message that it sends.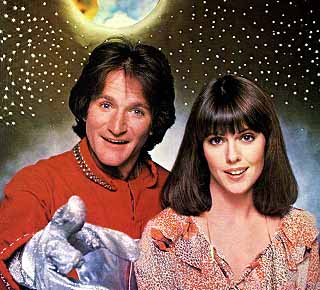 Robin Williams and Pam Dawber as Mork and Mindy.

Williams began his extraordinary acting career playing the role of Mork from Ork, who first appeared on the series Happy Days in 1978 in a dream experienced by Richie Cunningham. While Williams played many more sophisticated roles, the notion that he was akin to a visitor from another planet stands out boldly in his chart.

I'll be looking at his charts in some depth, considering his Chiron conjunct the Galactic Core, his collection of planets in very late degrees of their respective signs, and the role of asteroid Psyche, which was prominent in the charts of his birth and death. These placements in his chart describe a life-or-death struggle with faith.

Speaking of audio, we have just uploaded the Good as Gold readings to the server, and it should be available to purchasers Wednesday. I will leave the pre-order price of $49.95 in place for another day or so, then we will gradually increase to full fare by the weekend ($79.95 for all 12 readings, 45 minutes to one hour each).

Good as Gold is a set of integrated readings (i.e., they relate to one another) that explores the relationship between creativity, self-esteem and supporting oneself on one's true talent. This is, of course, a challenging issue, and one that has been a recurring theme of my astrology consulting since the beginning. I've brought the best of my talent as an astrologer and business consultant to this question and have done my best to offer something useful.

You can listen to a free audio preview of Good as Gold at this link.

I'll be preparing a short edition of Planet Waves for Thursday night, consisting mostly of a horoscope and a short letter. This week and weekend I am planning to be at the conference for the Woodhull Sexual Freedom Alliance in Alexandria, Virginia, the only such event of its kind that I know of. I won't be at the Chronogram block party this year, though I will be in the DC area and will be available by email or reachable through my New York office, (845) 331-0355.

I plan to report back with what I've learned in next week's edition of Planet Waves FM, and elsewhere if appropriate.

See you tonight on Planet Waves FM.

Lovingly,



P.S. A new issue of Planet Waves' free environmental newsletter, called Monsanto ECO, will be mailed out later today. You can read last week's issue here, and sign up here to receive the mailings every Tuesday.

Planet Waves (ISSN 1933-9135) is published each Tuesday morning and Thursday afternoon in Kingston, New York by Planet Waves, Inc. Annual basic subscription rate: $99/year. Core community membership: $149/year. Editor and Publisher: Eric Francis Coppolino. Business Manager: Chelsea Bottinelli. Web Developer: Anatoly Ryzhenko. Copy Editor: Jessica Keet. Research, Writing and Editing: Planet Waves is produced by a team consisting of Fe Bongolan, Amy Elliott, Judith Gayle, Kelly Janes, Brendan Merritt, Elizabeth Michaud, Amanda Moreno, Amanda Painter, Casey Smith, Carol van Strum, Len Wallick, Lizanne Webb and Chad Woodward. Special thanks to the Fact Checkers List, and to our main astrology fact-checker Alex Miller, and Amanda, who goes over all their suggestions. Aunt Josie Forever!




To unsubscribe,

click here e Wiki

|

Friends

|

Editors Contact Us Copyright © 2014 by Planet Waves, Inc. All Rights Reserved. Other copyrights may apply. >>
Some images used under Fair Use or Share Alike attribution.