New York, August 19, 2014 | View as Webpage | Customer Service: Chelsea (206) 567-4455




Ferguson: The Uranus Pluto Square is Behind the Scenes



Dear Friend and Reader:

Right up top so everyone sees it, I am planning to move this week's edition back to Friday afternoon to make room for my friends at Chronogram, who go to press on Thursday. So you will have your horoscope and other materials about one day later than normal.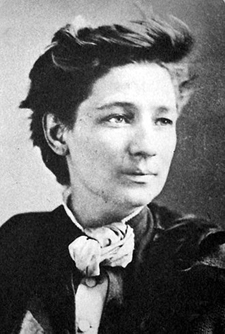 Victoria Claflin Woodhull, later Victoria Woodhull Martin (Sept. 23, 1838 -- June 9, 1927), was an American leader of the women's suffrage movement.

As I mentioned in Thursday's edition, we have been having an unusual experience of small planets making contact with very large ones, which can either be overwhelming or allow you the perspective to get a sense of scale. We have one more such aspect ahead of us -- Mars conjunct Saturn on Monday, Aug. 25 -- the day of the Virgo New Moon. I'll be covering both of these in tonight's Planet Waves FM, which usually posts at about 5 pm EDT.

If you're one of those people who dare to watch the news, I'm sure it's been with some concern for what is happening in the world -- we are still doing that 2012-era thing of 'everything, all at once'. This is going to go on for a while -- it is a wakeup call, and I suspect it will last till a good few more people are paying attention.

When I cast the chart for the Ferguson, Missouri, scenario -- involving the police shooting of an unarmed young man named Michael Brown and the resulting protests -- I thought I would see the Uranus-Pluto square front and center. At first look it seems to be hiding behind the scenes. In tonight's edition of Planet Waves FM I will discuss that chart and what it's telling us. 

I'll also fill you in on what I learned at the Victoria Woodhull Foundation conference this weekend in Alexandria, Virginia. Woodhull was many things, including the first woman to run for president of the United States --  as founder of the Equal Rights Party in 1872. She was also an advocate of the concept of free love as a fundamental human right. The conference included sex educators, activists, erotic industry businesspeople, sex workers, their advocates, various academics and the occasional astrologer -- in all, an interesting scene. Don't miss my reading of Woodhull's chart in tonight's edition of Planet Waves FM.

Yesterday I published a letter called Business Astrology for the Individual Talent, which describes Good as Gold, the 2014 midyear readings. If you're curious about that, you're invited to have a look. The audio preview is available at that page.

Phone conferences for the Leo birthday reading and Good as Gold will be scheduled for next week, once I've caught up with all the monthly horoscope materials. I also plan to resume core community phone calls and my natal astrology reading class sometime soon, so stay tuned for that. (It has been a very, very busy summer finishing the new website, and we are almost there.)

If you're born under the sign Virgo or Virgo rising, here is your pre-order link for your birthday reading.

Thanks for reading. I'll catch you over at Planet Waves FM in a few hours.

Lovingly, your astrologer,


Planet Waves (ISSN 1933-9135) is published each Tuesday morning and Thursday afternoon in Kingston, New York by Planet Waves, Inc. Annual basic subscription rate: $99/year. Core community membership: $199/year. Editor and Publisher: Eric Francis Coppolino. Business Manager: Chelsea Bottinelli. Web Developer: Anatoly Ryzhenko. Copy Editor: Jessica Keet. Research, Writing and Editing: Planet Waves is produced by a team consisting of Fe Bongolan, Brendan Merritt, Amy Elliott, Judith Gayle, Kelly Janes, Elizabeth Michaud, Amanda Moreno, Amanda Painter, Casey Smith, Carol van Strum, Len Wallick, Lizanne Webb and Chad Woodward.

To unsubscribe,
click here
e Wiki
|
Friends
|
Editors
Contact Us
Copyright © 2014 by Planet Waves, Inc. All Rights Reserved. Other copyrights may apply. >>
Some images used under Fair Use or Share Alike attribution.