New York, Oct. 28, 2014 | View as Webpage | Customer Service: Chelsea (206) 567-4455


Joan Quigley, Astrologer to the Reagans,
and What's Brewing in Canada

Dear Friend and Reader:

This week I am switching up the horoscope schedule a bit. Today I am posting the Sex By Sign monthly edition, a new column (actually, a weekly but with one monthly edition mixed into the cycle). I began this column in July and that is part of our Core Community membership. Thursday I will be posting an extended-length Inner Space for November as the weekly horoscope. 

Part of the plan is giving me a week to get ahead on the weekly horoscope, in preparation for the 2015 annual edition, called COSMOPHILIA: You Belong Here. We will have news about that soon, including a description of the project, the initial purchase offer (best price) and our revised holiday schedule.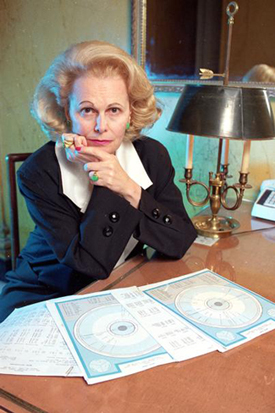 Joan Quigley, who became famous as the astrologer to the Reagans. AP photo.

In tonight's Planet Waves FM, I will cover the astrology of our Scorpio phase of the year, and two topics from the news. One is a tribute to Joan Quigley, who served as astrologer to the Reagans from 1981 through around 1987. Joan died last week at age 87.

I'll be looking at her natal chart and also consider what influence she may have had as the only astrologer with a direct hotline into the White House.

Second, there seems to be something brewing in Canada. There were two rogue attacks in one week, and now one of the country's most popular radio hosts has been fired by CBC for alleged sexual misconduct. Note, I suggested that something like this would be happening in the article that accompanied the October monthly horoscope -- a prominent event involving the politicizing of sexuality.

I will look at the chart of Canada for some clues, comment briefly on the chart of former CBC reporter Jian Ghomeshi (which I was able to obtain through a Canadian data collection), and mostly consider what this scandal has to say about the current state of consent and how we handle alleged sexual misconduct. This is a discussion that we simply must have as a society and, sadly, it only seems to emerge when someone is alleged to have committed a felony. We need a healthier approach to sex and the discussion of sex, and I will be proposing that.

And then, since the Sun and Venus are in Scorpio, I will follow up with something friendly about sex, since all of this news of violation and misconduct is mostly a smokescreen that veils something else, something more vital. That friendly element may come in the form of my musical guest, the one and only Bjork -- my neighbor up here in Ulster County (this place is crawling with rock stars, though they tend to stay in the woods).

Later this week I plan to record the Scorpio birthday reading, which will cover the rather extraordinary Scorpio astrology that is now unfolding, the movement of Saturn out of your sign, and the Mars-Pluto conjunction -- astrology made for those with hot blood. You can purchase for the pre-order price here. 

I will catch you later with tonight's edition of Planet Waves FM, which posts by about 6 pm EDT.

Lovingly,


Planet Waves
(ISSN 1933-9135) is published each Tuesday morning and Thursday afternoon in Kingston, New York by Planet Waves, Inc. Annual basic subscription rate: $99/year. Core community membership: $199/year. Editor and Publisher: Eric Francis Coppolino. Business Manager: Chelsea Bottinelli. Web Developer: Anatoly Ryzhenko. Astrology Editor: Amanda Painter. Copy Editor: Jessica Keet. Research, Writing and Editing: Planet Waves is produced by a team consisting of Fe Bongolan, Brendan Merritt, Amy Elliott, Judith Gayle, Kelly Janes, Amanda Moreno, Casey Smith, Carol van Strum, Len Wallick, Lizanne Webb and Chad Woodward.
To unsubscribe,
click here
e Wiki
|
Friends
|
Editors
Contact Us
Copyright © 2014 by Planet Waves, Inc. All Rights Reserved. Other copyrights may apply. >>
Some images used under Fair Use or Share Alike attribution.