New York, Dec. 2, 2014 | View as Webpage | Renew, Subscribe, Upgrade




Planet Waves FM: Continuing the Top Five Events



Dear Friend and Reader:

Today the grand fire trine continues, as the Moon moves through Aries. At about 11 am EST (16:00 UTC), the Moon enters an exact grand fire trine with Eris, Pholus and Jupiter. I've never seen anything like this -- and I'm curious to observe how this manifests.
 
This fiery energy continues to turn up as the Moon waxes toward full phase, exact on Saturday. That will be the Gemini Full Moon, with the Moon in Gemini opposite the Sagittarius Sun, and it is exact Dec. 6 at 7:27 am EST (12:27 am UTC). Len Wallick has written your Moonshine horoscopes, interpreting this event for all 12 Moon signs.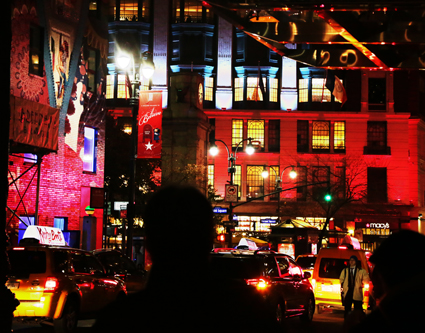 Macy's Herald Square, photo by Eric Francis.


I covered the theme of 'fiery' in yesterday's diary, called Taking a Ride on the Grand Fire Trine.

Wednesday at 12:14 am, the Moon enters Taurus, which should slow down and stabilize things a bit -- though there are still 11 planets, prominent asteroids and influential minor planets in fire signs.

In this tally I am including just a three of the 18 minor planets and deep space points now gathered in Sagittarius. Over the next two weeks the Sun, Mercury and Venus are making a series of conjunctions to these points. In a word, this is restless and unpredictable. This would be good to account for consciously, and to work with consciously. You may need to guard your patience and keep a cool head. Saturn in Scorpio is a reminder to use psychology when necessary -- it will work better than force or confrontation.

I will lead off tonight's Planet Waves FM with the theme of fire in the sky, describing this unusual alignment. I'll suggest some ways to consider all of these newly discovered planets. I'll then continue with The Top Five Events of 2015, begun last week and covered in this past Thursday's subscriber edition of Planet Waves.

This week I will look at the three conjunctions of Venus and Mars (the theme of competition and polarity), and the Jupiter-Saturn-Nessus T-square (accountability at all costs).

My musical guest will be The Grateful Dead (possibly with one cover by Burning Spear) and I will look at the chart of the first Grateful Dead concert, held this week in 1965. It is quite a chart -- especially if you were born in the Sixties.

w/love


Planet Waves
(ISSN 1933-9135) is published each Tuesday morning and Thursday afternoon in Kingston, New York by Planet Waves, Inc. Annual basic subscription rate: $99/year. Core community membership: $199/year. Editor and Publisher: Eric Francis Coppolino. Business Manager: Chelsea Bottinelli. Web Developer: Anatoly Ryzhenko. Astrology Editor: Amanda Painter. Copy Editor: Jessica Keet. Research, Writing and Editing: Planet Waves is produced by a team consisting of Fe Bongolan, Brendan Merritt, Amy Elliott, Judith Gayle, Kelly Janes, Amanda Moreno, Casey Smith, Carol van Strum, Len Wallick, Lizanne Webb and Chad Woodward.
To unsubscribe,
click here
e Wiki
|
Friends
|
Editors
Contact Us
Copyright © 2014 by Planet Waves, Inc. All Rights Reserved. Other copyrights may apply. >>
Some images used under Fair Use or Share Alike attribution.