New York, Dec. 9, 2014 | View as Webpage | Customer Service: Chelsea (206) 567-4455




Wrapping 2014, Safe and Sane -- and a Fabulous Planet Waves FM



Dear Friend and Reader:

In service of a very busy time of year, I'll be brief. I covered the last weeks of 2014 in a diary that appeared Monday on the new Planet Waves site. Password block is removed.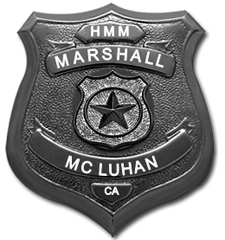 McLuhan wasn't really a marshal, he was an English professor, but I thought this custom shield would look cool.

If you haven't already upgraded to Core Community membership, I suggest you get a free introductory membership to the new site and have a look around. You'll have access to most of what appears on the new site, including all the writers from the prior Planet Waves blog.

Tonight I will have a fantastic edition of Planet Waves FM, consisting mostly of an interview with Andrew McLuhan, the grandson of Marshall McLuhan.

It was Marshall who envisioned the world we live in today -- the global village, the return to tribalism and people becoming the content of media rather than merely its consumers.

In other words, way back in 1964 he looked out at the world and saw what could become Facebook. In the process he commenced the whole field of media studies. By the way, from my discussions with Andrew, this would include astrology the way we do it at Planet Waves, which involves a careful study of the environment.

I'll send out a note later today once it's posted.

By the way, if you missed my essay about whether humans belong on Earth, here is a direct link. It's the right question to be asking at this time in history, and an interesting discussion has emerged on the topic.

Lovingly,



PS -- if you're a Sagittarius or Sag rising and are wondering about the influence of Saturn on your chart, I suggest you check out my birthday reading for your sign. Response has been phenomenal, and I am sure you'll love it. Here's a letter I sent out earlier this morning.





To unsubscribe,

click here e Wiki

|

Friends

|

Editors Contact Us Copyright © 2014 by Planet Waves, Inc. All Rights Reserved. Other copyrights may apply.
Some images used under Fair Use or Share Alike attribution.