New York, Dec. 23, 2014 | View as Webpage | Order Your Annual Reading




Wrapping Up 2014 with Planet Waves



Dear Friend and Reader:
 
With the Capricorn solstice behind us, the days in the Northern Hemisphere begin getting longer (if imperceptibly so), while in the southern half of the world they begin shortening. Only about a week is left in 2014, and Eric is making great progress with your 2015 annual readings, called Cosmophilia: You Belong Here.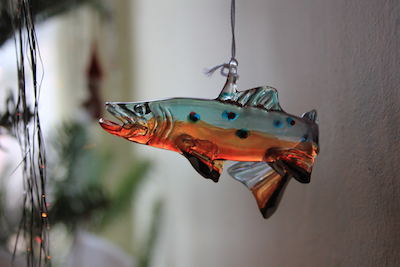 Christmas Trout invites you to slip into the astrological flow. Photo by Amanda Painter.


To facilitate the creation of your 2015 annual readings, there will be no subscriber issue this Thursday. The next issue will publish Jan. 1, with your first extended monthly horoscopes of the year.

On the Planet Waves website, we have several offerings to help you reflect on your past year, note the progress you have made despite (or even because of) any challenges, and then look ahead to the year to come. After all, Saturn enters Sagittarius today at 11:34 am EST (16:34 UT) -- and Saturn in Sagittarius loosely translates to "get serious about your goals."
 
Wondering what the declaration of renewed U.S.-Cuban relations means for your sign? Madame Zolonga has put together a "bad advice" horoscope on how to deal with your own personal "cold wars" at your holiday gatherings.
 
Sarah Taylor's tarot reading for the week shows what it has taken to come this far; the presence of teamwork toward a common goal; and the breaking free from karmic chains with a new kind of energy.
 
Amanda Moreno reflects on the instinct she'd had at the beginning of this month to be introspective, and invites readers to join her in consciously integrating the experiences of 2014.
 
Judith Gayle turns her attention to the recent spike in international news, and reminds readers that if we give the day to love, there can be no fear in it -- and we can find the expanding joy in these last days of 2014.
 
This week's sex-and-relationships guest-writer, Andie Nordgren of Sweden, offers a short, straightforward "instructional manifesto" for relationship anarchy, full of ideas that can be applied to any conscious, intimate relationship model.
 
As always, you can find Len Wallick's latest column on Planet Waves at about noon EST today. He looks at the "Astrology of the Night Before Christmas," with a special focus on Saturn in Sagittarius.
 
Wishing you peace and joy this season,



Amanda Painter
 
P.S. Eric is planning to post the recording of Sunday's All-Community Meeting either later today or tomorrow for those who were not able to attend the live event on the solstice.

Planet Waves (ISSN 1933-9135) is published each Tuesday morning and Thursday afternoon in Kingston, New York by Planet Waves, Inc. Annual basic subscription rate: $97/year. Core community membership: $197/year. Editor and Publisher: Eric Francis Coppolino. Business Manager: Chelsea Bottinelli. Web Developer: Anatoly Ryzhenko. Astrology Editor: Amanda Painter. Copy Editor: Jessica Keet. Research, Writing and Editing: Planet Waves is produced by a team consisting of Fe Bongolan, Brendan Merritt, Amy Elliott, Judith Gayle, Kelly Janes, Amanda Moreno, Casey Smith, Carol van Strum, Len Wallick, Lizanne Webb and Chad Woodward.




To unsubscribe,

click here e Wiki

|

Friends

|

Editors Contact Us Copyright © 2014 by Planet Waves, Inc. All Rights Reserved. Other copyrights may apply. >>
Some images used under Fair Use or Share Alike attribution.