New York, Jan. 13, 2015 | View as Webpage | Order Your Annual Reading




Celebrating Creation, Making Sense of Destruction



Dear Friend and Reader:
 
As often seems to happen this time of year, there's been a major world event to grapple with astrologically, emotionally and intellectually. You might be one of our many readers who is very sensitive to the psychic violence perpetrated by mainstream media when tragedy occurs.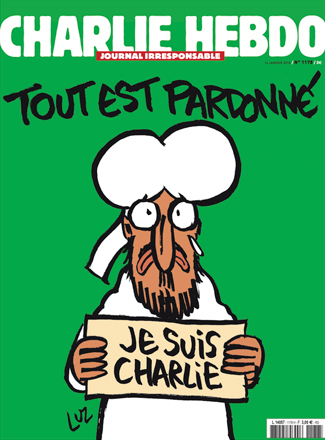 Cover of the new edition of Charlie Hebdo, which the surviving staff members were able to pull together. It's the prophet Mohammed, shedding a tear. Above him is the inscription, "All is Forgiven."

Eric will be considering the emotional impact of the Charlie Hebdo shooting and related events in Paris on Planet Waves FM this evening. He'll look at various inconsistencies and hypocrisies in the story, and see where they fit with the event's chart.

What do we make of the accounts of this being a false flag incident? What do we do about the horrid civil rights record of the world leaders who marched arm in arm, mimicking the Rev. Dr. Martin Luther King?

Eric's musical guest will be American bluegrass artists Old and In the Way.
 
We've been incredibly fortunate to have Planet Waves photographer Danielle Voirin on the scene in Paris, documenting the peaceful marches with her humane, artful touch. (You can see another gallery of images here, and third set here.)
 
In Monday's Astrology Diary, Eric considered the ingress of Mars into Pisces (where it meets Neptune) in the context of the Sun conjunct Vesta in Capricorn.

He writes, "it's necessary to have some sense of what is self-creative and what is self-destructive," adding that, "this week has sex, drugs and rock and roll painted all over it; which you might experience alternately as music, art, passion or Key Lime Pie."

In his SMS message to Core Community members this morning, he expanded on that theme: "Mars is now in Pisces, full of passion, curiosity and naked lust. You know, the meaningful, friendly kind. That's an invitation to explore and to stretch. The cautionary note is to be real; to proceed under the guidance of sincerity. And the contradiction is summed up in what some would consider an oxymoron -- honest pleasure."
 
Sarah Taylor explores in this week's tarot reading how the three cards tie in with last week's spread, and with the reading of Dec. 14, 2014, to indicate a shift in what was starting to develop back then. Amanda Moreno describes her belief in the cyclical nature of life -- and in the fluidity of beliefs and truth in general -- in her latest column.
 
David Steinberg's article from the Sexuality.org archives offers a lens into the sexual conflicts of feminist men in this week's sex-and-relationships column.

On a loosely related note, Judith Gayle's column homes in on the free exchange of ideas, and the ability to speak candidly without fear of censure.
 
In current astrology, today is the last quarter Moon as it wanes toward its New phase. You might have noticed the urge to hunker down and wrap up projects that peaked with the Full Moon Jan. 4, or that began in earnest last month.
 
That's a pretty good description of the staff at Planet Waves as we enter the final 'all hands on deck' phase of producing Cosmophilia: You Belong Here. We're about as hunkered down as we can get, and Eric is nearly done with the written sign readings; we should be able to put the finishing touches on this weekend.
 
Yours & truly,



Amanda Painter
 
P.S. Please join me in congratulating Planet Waves' business manager Chelsea Bottinelli and her husband T.J. Jarosik on the birth of their third son, Emmet Lee, last night! Mother and son are doing well, and we can't wait to see a photo.




To unsubscribe,

click here e Wiki

|

Friends

|

Editors Contact Us Copyright © 2015 by Planet Waves, Inc. All Rights Reserved. Other copyrights may apply. >>
Some images used under Fair Use or Share Alike attribution.