New York, Jan. 27, 2015 | View as Webpage | Order Your Annual Reading




Venus Conjunct Nessus, Mars Conjunct Chiron and Mercury Retrograde



Dear Friend and Reader:

Today we have your Inner Space horoscope for February, available at that link. Now that the heavy lifting is done on Cosmophilia, Eric's getting back into his usual rhythm.

Monday's Astrology Diary focuses on the conjunctions of Venus with Nessus and Mars with Chiron, as they point us to the need to address and heal sex and sexuality -- specifically, the double binds our culture places on both men and women. This post has a fantastic discussion thread developing. Some of the best writing on Planet Waves is in the comment areas.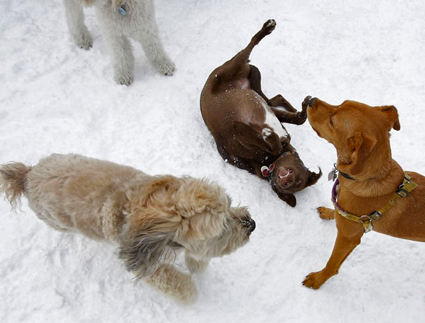 Dogs play in the snow in Central Park in New York, after a massive 2013 blizzard. The Blizzard of 2015 turned into an ordinary snow storm (at least in New York) and extraordinary TV hype. Photo by Carlo Allegri.


This article is available to any reader registered for the new website. If you're not a Core Community or All-Access member, all you need to do is get a free registration to our new website to see the Monday diary series.

Even if you have not signed up for Cosmophilia: You Belong Here, I suggest you check out the many articles that are available to everyone on that website, no registration required. Many Planet Waves readers have contributed featured articles to the project, which could keep you busy through two or three blizzard nights.
 
Today in a new edition of Planet Waves FM, Eric will be following up on the centaur conjunctions of Venus and Mars, as well as Venus ingressing Pisces today. He will offer a comment on the binary asteroid that flew past the Earth yesterday. And apropos of the forthcoming conjunction of Mars with Chiron in Pisces (exact Jan. 31), Eric will be talking about the theme of male bisexuality, how it's presented in culture, and how it largely remains a taboo. Eric's musical guest will be his Hudson Valley neighbor Bjork -- performing in her native Icelandic language. 

We have other items by our writers that have published over the past few days.

Judith Gayle writes in her latest column that, "Times change when we're not looking," and suggests we each look at our new ability to recognize what's over the top, hysterical, or designed to manipulate us -- and choose something else.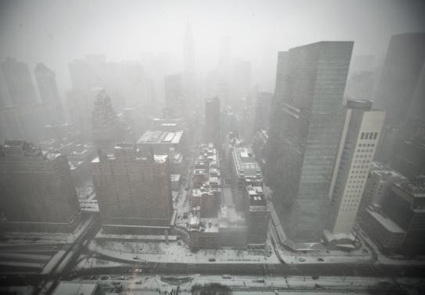 Midtown Manhattan is pictured from the top of the United Nations building in New York on Jan. 26, 2015. Photo by Carlo Allegri.


For this week's sex-and-relationships guest-post, Erin Cressida Wilson's piece from The Guardian recounts her 1970s upbringing by bohemian parents and early introduction to erotica.

As Wilson (who wrote the movie Secretary) notes, "Secrets that fly around a house actually do get absorbed by children in ways that are mysterious."

In this week's tarot reading, Sarah Taylor sees history repeating itself. Or, more accurately, we are revisiting something to experience both synthesis and change -- and three readings from the past six weeks are asking for our attention again now. 

And after Mercury retrograde in Aquarius repeatedly thwarted Amanda Moreno's attempts at her latest column, she finally gave in to its demands that she pay attention. The result is a personal consideration of Aquarius, that paradoxical sign of individuation and the love of tribe.

Len Wallick's column will post to the website by noon EST today. In it, he explores with wonder and appreciation the synchronicity of Jupiter and Mercury as they align with the Sun and Earth from their respective retrogrades.

See you tonight over at Planet Waves FM.

Yours & truly,




P.S. Mercury remains in retrograde motion in Aquarius till Feb. 11. Here is an article from last year that goes into the basics and the details of Mercury retrograde.

Planet Waves (ISSN 1933-9135) is published each Tuesday morning and Thursday afternoon in Kingston, New York by Planet Waves, Inc. Annual basic subscription rate: $97/year. Core community membership: $197/year. Editor and Publisher: Eric Francis Coppolino. Business Manager: Chelsea Bottinelli. Web Developer: Anatoly Ryzhenko. Astrology Editor: Amanda Painter. Copy Editor: Jessica Keet. Research, Writing and Editing: Planet Waves is produced by a team consisting of Fe Bongolan, Brendan Merritt, Amy Elliott, Judith Gayle, Kelly Janes, Amanda Moreno, Casey Smith, Carol van Strum, Len Wallick, Lizanne Webb and Chad Woodward.




To unsubscribe,

click here e Wiki

|

Friends

|

Editors Contact Us Copyright © 2015 by Planet Waves, Inc. All Rights Reserved. Other copyrights may apply. >>
Some images used under Fair Use or Share Alike attribution.