New York, Feb. 17, 2015 | View as Webpage | Order Your Annual Reading




About that Hybrid Aquarius-Pisces New Moon



Dear Friend and Reader:

Wednesday there's a truly unusual New Moon -- one that happens so close to the edge of Aquarius that it's simultaneously in Pisces as well. Said another way, the Moon and the Sun enter the last sign of the zodiac within two minutes of one another, at about 6:47 pm EST.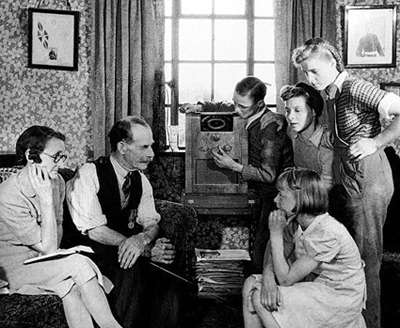 An early version of the Core Community meeting. Only now, you can talk back to your radio! In this photo, Mr. and Mrs. Cooper and family tune their wireless to listen to a speech by Winston Churchill, May 19, 1945. Photo: Daily Herald Archive / Science and Society Library.

I have covered this in Monday's Astrology Diary, which makes the event easy to follow and understand astrologically.

I'll be covering this in tonight's edition of Planet Waves FM as well. I'll also have an interview with David Christopher, executive producer of a feature film called The Seed.

It's the story of an organic family farm whose crops are contaminated by GMO pollen -- and is then sued for patent infringement by the manufacturer of the GMO crops. Set in Texas, it's based on many true stories of what Monsanto has been up to over the years.

I have a few audio events to tell you about. I will be offering for the first time a class called Astrology Tools and Power Tools. This is an all-level class about how to collect and use your astrology workbench. It's designed for anyone, from an astrology fan to a beginning student to an advanced student. That will be on Saturday, March 21. Read more about that here.

At 8 pm EST on Wednesday, Feb. 18 (that's tomorrow!) I am hosting the Talk To Me conference call for Sagittarius, Capricorn and Aquarius birthday readings. If you purchased one of these readings, check your email. If you would still like to get on board, please visit this link.

At 8 pm EST on Tuesday, Feb. 24, I will be hosting the Talk to Me community forum for Cosmophilia: You Belong Here purchasers. Check your email for that login information.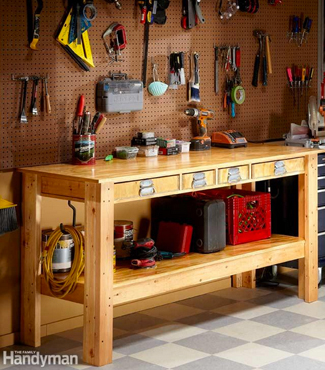 Astrology is a practical art. There are tools you need to do the work, just like on a basic workbench. Photo: The Family Handyman.

On March 18, right before the equinox, I will be hosting a Core Community meeting. The subject will be the effects of the digital environment on your mind and on your relationships. Check your email for information about that as well.

And From Our Columnists

Judith Gayle's latest column, posted Monday due to some technical issues, notes that truth isn't what it used to be in America: "Now truth has become something more than just stories we tell ourselves, they're becoming something to inhabit."

Amanda Moreno describes a shift in the type of stones and crystals she's been attracted to, and the changing ways in which she experiences and uses them -- as well as "how strange it can feel to have thoughts like, 'I don't quite trust this rock'."

In this week's tarot reading, Sarah Taylor discusses how the Five of Cups makes its third appearance in as many readings, "bringing you back into a reckoning with what Disappointment has meant to you, and how its presence has shaped you." Now it's time to use your power to shape something new.

The latest Cosmophilia article featured on Planet Waves offers astrologer Dale O'Brien's tale of chi-ronic outsiderhood and indigenous wisdom to show how the wisdom of the outsider is necessary, valid and heard most clearly outdoors.

Len Wallick explores in his latest column the theme of "departures" in relation to what follows this week's Aquarius New Moon. You can read his thoughts on mindfully choosing with this astrology at around noon EST on the main Planet Waves website.   

See you tonight over at Planet Waves FM.

Lovingly,


Article research by Amanda Painter
Planet Waves
(ISSN 1933-9135) is published each Tuesday morning and Thursday afternoon in Kingston, New York by Planet Waves, Inc. Annual basic subscription rate: $97/year. Core community membership: $197/year. Editor and Publisher: Eric Francis Coppolino. Business Manager: Chelsea Bottinelli. Web Developer: Anatoly Ryzhenko. Astrology Editor: Amanda Painter. Copy Editor: Jessica Keet. Research, Writing and Editing: Planet Waves is produced by a team consisting of Fe Bongolan, Brendan Merritt, Amy Elliott, Judith Gayle, Kelly Janes, Amanda Moreno, Casey Smith, Carol van Strum, Len Wallick, Lizanne Webb and Chad Woodward.
To unsubscribe,
click here
e Wiki
|
Friends
|
Editors
Contact Us
Copyright © 2015 by Planet Waves, Inc. All Rights Reserved. Other copyrights may apply. >>
Some images used under Fair Use or Share Alike attribution.