New York, March 31, 2015 | View as Webpage | Order Your Annual Reading




Approaching the Libra Eclipse -- and Your Planet Waves Update



Dear Friend and Reader:
 
This week's big astro-news is the total eclipse of the Moon in Libra, which is exact Saturday at 8:06 am EDT (12:06 UTC). This is the complement to the total solar eclipse we experienced on the equinox; pairs of eclipses act like bookends to discrete phases of time with unusual potential, especially if you stay tuned in to how your inner and outer experiences are aligning.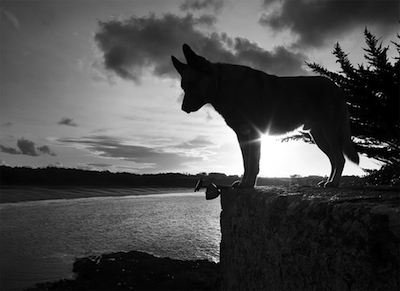 Bethune, the watchdog of Ile du Guesclin, Brittany, France. Photo by Danielle Voirin, who's contributing a photo a day on the main website.

We'll be getting your Moonshine horoscopes, written for this eclipse by Len Wallick, to you a little later. Watch for that mailing.
 
If you have not already listened to last week's Planet Waves FM, it's a short, clear introduction to this Libra lunar eclipse, and Eric recommends checking it out. In today's edition he will continue his discussion of the Moon, but first he'll expand his investigation of Mercury conjunct Chiron in the chart for the Germanwings crash one week ago.
 
He noted this morning in an email that, "In many ways, Mercury conjunct Chiron tells the story of our times. Our minds are pushed to the limit, and we have unreasonable expectations placed on us. At the same time, most people feel they have few open avenues for really taking care of ourselves, especially on the level of mental health. They just struggle in desperation."
 
Eric will also look at the Libra aspect of the eclipse, including its influence on relationships and what is underneath the concept of a relationship -- something more primal, more difficult to understand and closer to the core of what a person is.
 
We began the week with a grand fire trine, still in effect today, which Eric covered in the Monday Astrology Diary. He writes, "If you want to handle this particular aspect pattern in a constructive way, slow down and pay attention."
 
Elsewhere on the Planet Waves website, Cynthia Neil ponders in her Cosmophilia article what she considers to be the most powerful and under-appreciated gift of being human: our power to choose. She writes: "Try to visualize the many possibilities, from a peach to a manatee to a banana slug, that could have been your life, and here you are a conscious human choice-maker."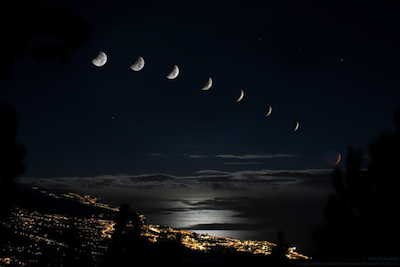 Composite image of the solstice lunar eclipse on Dec. 21, 2010, at moonset. Photo taken from Tenerife, Canary Islands, by Itahisa N. González (Grupo de Observadores Astronómicos de Tenerife) / APOD

Part of choosing is being 'conscious', yet as Amanda Moreno notes, it can be tricky to bring consciousness to our lives. Astrology is helpful, yet it can also amplify experiences and reactions for good or bad. Things can get complicated; "It's okay not to 'know' everything," she acknowledges in her latest column.
 
Judith Gayle also homes in on the idea of consciousness in her latest musings on current events, writing, "Beginning with the witness of our own little slice of consciousness, then, we can begin to free ourselves from pattern, and hold a similar vision of freedom for our brothers and sisters," adding that when things are confused and confusing, stepping into a larger perspective is key.
 
In this week's tarot reading, Sarah Taylor explores what happens when three Eights come together -- two from the Minor Arcana, one from the Major Arcana. With them emerges a journey that has been some time in the making, leading you from confusion to clarity and a sense of purpose.
 
Clarity and consciousness even appears in this week's sex-and-relationships guest-post, which comes (pun intended) from sex therapist Gia Ravazzotti. With Venus in Taurus, the sky is emphasizing sensual pleasures -- and if you have a willing playmate, Gia's guide for giving and receiving mindful oral sex is worth a look. (No playmate within reach? Consider the article a jumping-off point for some solo fantasizing.) 
 
Len Wallick's column will be appearing on the Planet Waves website sometime after noon EDT today, and I'll have my weekly column to you, with another take on the weekend's astrology, just after midnight EDT Thursday.
 
Catch you a little later with Moonshine!
 
Yours & truly,



Amanda Painter

P.S. There is still time for you to purchase the Aries birthday reading at the pre-order price of $24.95. It makes a thoughtful, inspiring and truly useful gift for anyone with an Aries Sun, Moon or rising sign.

Planet Waves (ISSN 1933-9135) is published each Tuesday morning and Thursday afternoon in Kingston, New York by Planet Waves, Inc. Annual basic subscription rate: $97/year. Core community membership: $197/year. Editor and Publisher: Eric Francis Coppolino. Business Manager: Chelsea Bottinelli. Web Developer: Anatoly Ryzhenko. Astrology Editor: Amanda Painter. Copy Editor: Jessica Keet. Research, Writing and Editing: Planet Waves is produced by a team consisting of Fe Bongolan, Brendan Merritt, Amy Elliott, Judith Gayle, Kelly Janes, Amanda Moreno, Casey Smith, Carol van Strum, Len Wallick, Lizanne Webb and Chad Woodward.




To unsubscribe,

click here e Wiki

|

Friends

|

Editors Contact Us Copyright © 2015 by Planet Waves, Inc. All Rights Reserved. Other copyrights may apply. >>
Some images used under Fair Use or Share Alike attribution.