New York, Sept. 22, 2015 | View as Webpage | Join our Core Community




Libra Equinox, Mercury Retrograde and Trouble in Asheville



Dear Friend and Reader:

In tonight's extended edition of Planet Waves FM [PLAY PROGRAM], I begin with a segment on helping us adapt to Mercury retrograde in Libra, in particular, in a square to Pluto. I talk about the power of words but I don't mention that silence is often exercised as a choice to consolidate power though secrecy. Sometimes I miss the obvious! And that is a fairly obvious interpretation of retrograde Mercury square retrograde Pluto.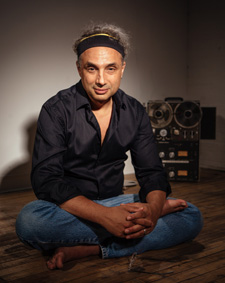 Eric Francis. Photo by Jeff Bisti.

I then interview astrologer Liz Gunn of Asheville, North Carolina about the scenario unfolding there. The owners of the Waking Life Cafe were outed for blogging -- anonymously, they thought -- about their sexual exploits. The scenario has exploded into an international story.

I am suspicious of scandal in any form; it never helps anything, it sends only negative messages, and tends to feed judgement and negativity.

This story also is distinctly modern in that it's pushing typically closeted views up to the surface, and is something that could only happen in the current Internet-driven environment. In some ways it's the perfect morality tale where real life meets digital life.

Mostly, I critique the issue from the viewpoint of abstinence-only sex brainwashing, and in the third segment play a few short clips from John Oliver's program Last Week Tonight (the whole program is framed or linked from the image at the top of the page).

As for music, I look at the natal chart of one of my favorite musicians -- Thom Yorke of Radiohead. His chart is on the program's homepage. It's a powerfully Libra horoscope, with many points on the Aries Point.

I don't get into Sunday night's eclipse -- I may do a special edition -- check our homepage, Facebook or your inbox for that in a few days.

Lovingly,


Noon chart for Thom Yorke.


Your Equinox-Week Resources from Planet Waves

Dear Friend and Reader:
 
Can you feel it? That sense of the season wiggling loose, and about to change? The Sun enters Libra tomorrow (Wednesday) just after 4:20 am EDT (8:20 UTC) for the equinox.
 
We're getting this palpable shift of light and season less than a week into Mercury's station retrograde in Libra, which might have you feeling a little discombobulated -- or like you're getting a tour of your communication tendencies in your relationships, some of which might be overdue for an upgrade.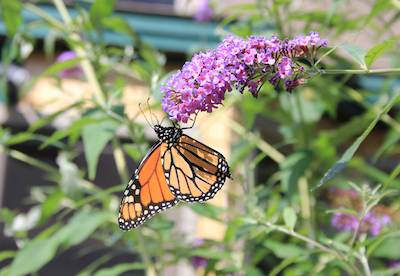 The first Monarch butterfly I've seen in two years, on a butterfly bush in Arrowsic, Maine. Photo by Amanda Painter.

If you're a Libra and that sounds especially true for you, consider pre-ordering the Libra Birthday Reading so that you'll get it as soon as it's published.
 
We're also between eclipses: Sept. 27 (or Sept. 28 for some time zones) is the Aries Full Moon and total lunar eclipse. How are you doing with the opportunities and patterns you are seeing in your life? Len Wallick has prepared your Moonshine horoscopes for this Aries Full Moon and eclipse.
 
Elsewhere on the Planet Waves website:
 
Amy Elliott has written in Monday's Astrology Diary about the 'edgy' energy of this week, which may come with a clarifying lens to help you uncover the source.
 
Sarah Taylor's tarot reading for this week describes the resurgence of a force or ability -- one that you're now ready to harness.
 
Is the word 'spirituality' too broad to be useful? Amanda Moreno asks how one can make choices and act in meaningful ways, when 'spirituality' gets used to divide and conquer, as well as to connect and heal.
 
And despite the surge in Donald Trump's popularity among a segment of American voters, Judith Gayle reassures readers in her latest column that the world isn't ending -- but this political era is.
 
Madame Zolonga walks a Sagg mom through her Sagg daughter's academic slump, explaining how some appropriate parental boundary-setting can actually help a kid make friends with Saturn -- which entered Sagittarius last week -- and build a solid foundation for adult life.
 
We also have Len Wallick's look at tomorrow's equinox, and Fe Bongolan's take on Pope Francis' visit to 'Christian' U.S. I'll offer my thoughts on Sunday's Aries Full Moon and eclipse in my Thursday column on the website.
 
Yours & truly,



Amanda Painter



An Answer to Strange Days: You -- At Full Strength
"You rock, Eric! I've listened to these each three or four times, and will continue to repeat them again. Your readings are so rich with information, deeply congruous, and could not be more pertinent to my life and situations. I do not claim to be audience to many, as I have an audience of my own that I serve, but your voice is one of those that I count on. I cannot express greater appreciation for the services of any one person in existence." -- 2015 Leo Reading client writing in this week
Dear Libra Sun, Moon or Rising:
 
Eric knows from the emails he is getting that this is an unusual, unsettling time for you. The Uranus-Pluto square passing through your chart and Chiron in Pisces compelling you to focus on your health and wellbeing have all been challenging.
 
Here's what you need to remember about yourself, especially if you've gotten caught in a back-and-forth of the scales in your mind (or in your heart): Eric has a really cool theory about Libras, which he'll expand upon in your 2015 Libra Birthday Reading.
 
He likes to call you "the human blowtorch."
 
Why is that? Consider for a moment the following people who have a Libra Sun or Libra rising: David Bowie; Bruce Springsteen; Thom Yorke; John Lennon; Julie Andrews; Gwen Stefani; Bob Geldof; Sting; Linda McCartney.
 
They all share an ability to light up a stage with their entire being -- igniting a spark that stirs anyone within earshot. Even if you're not a rock star, you possess something of this mojo anytime you spark others into action. You just need to learn how to recognize and harness it.
 
You can pre-order your Libra Birthday Reading for only $24.95 now. We'll let you know as soon as it's published, so you can begin finding some new balance in these strange days.

Yours & truly,



Amanda Painter
 
P.S. The price of this Libra reading will increase after it publishes; if you pre-order now, you'll lock in the discounted price.
"Thank you so much for sending this wonderful birthday report. It is fabulous and I was so astounded at Eric's completely intuitive and amazing 'feel' for a much more deep and meaningful explanation of the approaching transits. He never ceases to amaze me with his very unique ability. I thank my lucky stars that I found Planet Waves!" -- Vicki, describing a recent Libra reading
Planet Waves (ISSN 1933-9135) is published each Tuesday and Thursday evening in Kingston, New York, by Planet Waves, Inc. Core community membership: $197/year. Editor and Publisher: Eric Francis Coppolino. Web Developer: Anatoly Ryzhenko. Office Manager: Lauren Gdovin. Astrology Editor: Amanda Painter. Astrology Fact Checker: Len Wallick. Copy Editor and Fact Checker: Jessica Keet. Client Services: Amy Elliott. Media Consultant: Andrew Marshall McLuhan. Research, Writing and Editing: In addition to those listed above, Planet Waves is produced by a team consisting of Fe Bongolan, Judith Gayle, Kelly Janes, Amanda Moreno, Carol van Strum, Len Wallick, Lizanne Webb and Chad Woodward.
To unsubscribe,
click here
e Wiki
|
Friends
|
Editors
Contact Us
Copyright © 2015 by Planet Waves, Inc. All Rights Reserved. Other copyrights may apply. >>
Some images used under Fair Use or Creative Commons attribution.