New York, Sept. 29, 2015 | View as Webpage | Join our Core Community



Rosanne Cash and her husband, friend and producer, John Leventhal performing at the Bardavon Opera House, Poughkeepsie, NY, in late 2014. Photo by Eric Francis.

The Collateral Damage of the Rape Culture Theory



Listen to the New Program

Dear Friend and Reader:

First, I want to invite men in my listening audience into a call-in program this Thursday night at 9 pm EDT. The topic will be relationships between the sexes, how men are treated, how we perceive women and what it's like to live in the middle of the "rape culture" theory. This will be a get-real moment where men will have an opportunity to speak their hearts and minds and be heard.

I want to hear from men who are lonely, who feel like they're accused of not having feelings, and who feel presumed guilty before there is even a real question.

And I want to hear from parents about how they feel raising your kids in this environment -- what do you tell them and how do you educate them?

Call-in details of this program are below. In addition, watch your email, and the front pages of Planet Waves and Planet Waves FM if you need those call-in details prior to the program.

If you're curious the format, listen to this recent program featuring women of Asheville and elsewhere.

Now for tonight's program. I look at these very issues; I read a lot of reader mail that I've received over the past week in the aftermath of the Asheville incident. I discuss why a parent wrote this to me: "My son, a millennial, has voiced his fears about dating young women his age, and his feelings of loneliness and alienation. He doesn't want to date or even approach a young woman his age for fear that he would be accused of rape, viewed as a potential rapist, seen as the enemy."

I cover the current astrology, developing the theme of the transition between the Uranus-Pluto era and the Saturn-Neptune era. I do a Mercury retrograde tuneup, and consider Mars in Virgo conjunct Jupiter in Virgo.

My musical guest is the magnificent Rosanne Cash. I play three of her older songs, which fit the themes of our recent discussions. I don't read her astrology, but I'll tell you that she gleams with the clear light and inner-mirror of Gemini.

Thursday's Call In Details

Time: Thursday, October 1st at 9:00 pm EDT
Listening methods: Phone, Webcall, Skype, Web Simulcast
Phone number: (425) 440-5100
Event Code: 472091#

Or to listen live on the Internet, please use this link. The recording will be published to Planet Waves FM. EVERYONE IS INVITED.

Lovingly,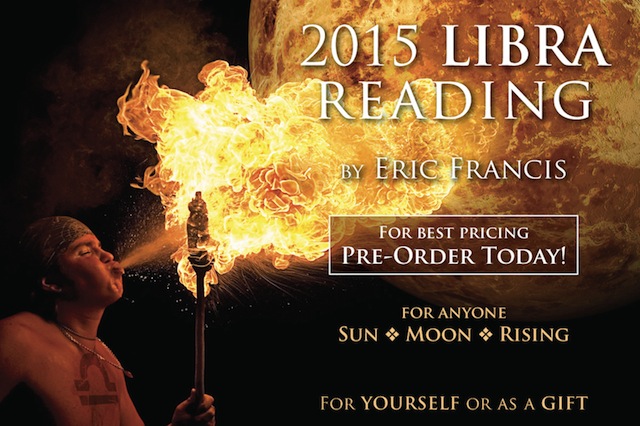 After the Eclipse: Lighting the Way at Planet Waves

Dear Friend and Reader:
 
I hope you were lucky enough to have clear skies to view the huge, honey-colored Moon as it rose on Sunday, and then to watch the total lunar eclipse a few hours later. Even if you did not, the energy of the event was still at work in your life.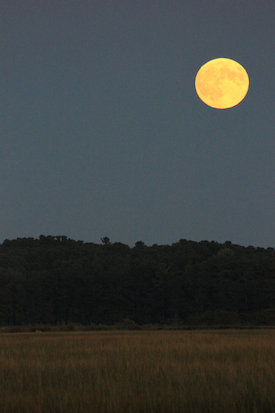 The perigee Aries Full Moon rising above Scarborough Marsh in Maine on Sept. 27. Photo by Amanda Painter.


In a pre-eclipse post (and mailing) on Sunday, Eric explained that, although 'predictive' astrological interpretations are not much help with such an event, there are ways to read the themes. And then it's up to you to see where those themes intersect with your life, and how much they resonate. For Sunday's Aries Full Moon and eclipse, the themes included the invitation to tend the flame of your creativity, and also to make decisions in your relationships.
 
Keeping with the theme of decisions and discernment, Amanda Moreno wrote this week about her thoughts on Pope Francis. Yes, his global warming stance is solid, but he heads a problematic and powerful institution; we are so eager to give someone else our power to change the world, when in reality the power to change always lies within.
 
Guest-author Freya Watson considers how much we can communicate through touch -- and what is not being expressed or heard when we lack touch; perfect for Mercury retrograde in Libra and the Full Moon week (Libra is, after all, ruled by Venus).
 
Madame Zolonga this week sidesteps confusion to get to the heart of the matter when a reader who's into Western astrology receives a gift from her Vedic astrologer beau, intended to 'assist' what he sees as her concerning 12th-house Mars. Is there really cause for concern?
 
Judith Gayle notes that amidst the landscape of bizarre philosophical/religious/political/social events of this week, it is still up to us to see the big picture and the individual human faces at the heart of it all, and to lean in.
 
Staying with the political realm, Fe Bongolan has covered Speaker of the House John Boehner's resignation announcement, and also anticipates the fallout this autumn in the Republican Party, in the wake of Sunday's eclipse.
 
Len Wallick has covered retrograde Mercury conjunct the Sun in his column today. Posting Thursday at midnight EDT, I'll be back on the Planet Waves website with some thoughts on your end-of-week astrology.
 
Yours & truly,



Amanda Painter



Planet Waves (ISSN 1933-9135) is published each Tuesday and Thursday evening in Kingston, New York, by Planet Waves, Inc. Core community membership: $197/year. Editor and Publisher: Eric Francis Coppolino. Web Developer: Anatoly Ryzhenko. Office Manager: Lauren Gdovin. Astrology Editor: Amanda Painter. Astrology Fact Checker: Len Wallick. Copy Editor and Fact Checker: Jessica Keet. Client Services: Amy Elliott. Media Consultant: Andrew Marshall McLuhan. Research, Writing and Editing: In addition to those listed above, Planet Waves is produced by a team consisting of Fe Bongolan, Judith Gayle, Kelly Janes, Amanda Moreno, Carol van Strum, Len Wallick, Lizanne Webb and Chad Woodward.





To unsubscribe,

click here e Wiki

|

Friends

|

Editors Contact Us Copyright © 2015 by Planet Waves, Inc. All Rights Reserved. Other copyrights may apply. >>
Some images used under Fair Use or Creative Commons attribution.