New York, Oct. 6, 2015 | View as Webpage | Join our Core Community


And Don't Miss Thursday Night's Live Call-In Program! Mercury Stations Direct Friday, Plus Grace Lee Boggs
and What Happened at Umpqua Community College

Dear Friend and Reader:

In tonight's edition of Planet Waves FM, I look closely at the chart for Mercury stationing direct on Friday. I'll also be hosting a live, call-in edition of Planet Waves FM on Thursday night. Details about that call are included at the end of this letter. This is the third in a series of call-in programs that I've been hosting on Thursday nights -- events which began last year as Core Community meetings.


Grace Lee Boggs, 1915-2015.


In tonight's program I also look at the life of philosopher and meta-activst Grace Lee Boggs, who died last week at age 100. That chart is below.

Then I review a couple of news stories, including 19 European countries opting out of genetically modified foods, and I look at the chart for the shooting at Umpqua Community College.

One story that I don't mention and may get to Thursday in the Core Community edition is a ruling by a top court in Europe breaking an agreement between the U.S. and the E.U. previously allowing companies to participate in the mass collection of personal data and private communications.

My musical guest is the amazing Jessica Lee Montague from her CD "Hooked." I just looked it up and apparently you can pick it up for a penny. Go figure. It's worth full fare, and some of these songs stand tall among some of the greatest artists in rock music. As Kate Bush once said, most women really can't put it to you -- that is, push you so hard you fall over. Hello Jessica!

I mention her dad, one of my journalism heroes, Dr. Peter Montague. Here are some of his articles archived at Op-Ed News.


The biggest version of the cover of Jessie's album I could find. It sounds a lot larger when you play it.

Speaking of journalism (and civil rights) heroes (again), I also promise a link to Amy Goodman's archive of interviews with Grace Lee Boggs.

I promise a link to an article called The Folk Art of Therapy.

And since I mentioned the Capricorn Moon, Article on that particular lunar placement.

Here is call-in data for Thursday's live edition. Please watch the Planet Waves homepages, Facebook and your email for reminders.

Time: Thursday, Oct. 8 at 9:00pm Eastern
Listening methods: Phone, Webcall, Skype, Web Simulcast
Phone number: (425) 440-5100
PIN Code: 472091#

Or to listen live on the Internet, please use this link. The recording will be published to Planet Waves FM. The whole world is invited. Here are other time zones: Thursday 3 pm HST (Honolulu), 6 pm PDT (San Francisco), 7 pm MDT (Boulder), 8 pm CDT (Chicago), 9 pm EDT (New York), or Friday 2 am BST (London), 3 am CED (Paris), 3 am CEST (Warsaw), 4 am MSK (Moscow), 9 am CST (Beijing), 9 am AWST (Perth), 10 am JST (Tokyo) and 11 am AEST (Melbourne).

Your charts are below.

Lovingly,


Noon chart for Grace Lee Boggs.
Shooting at Umpqua Community College.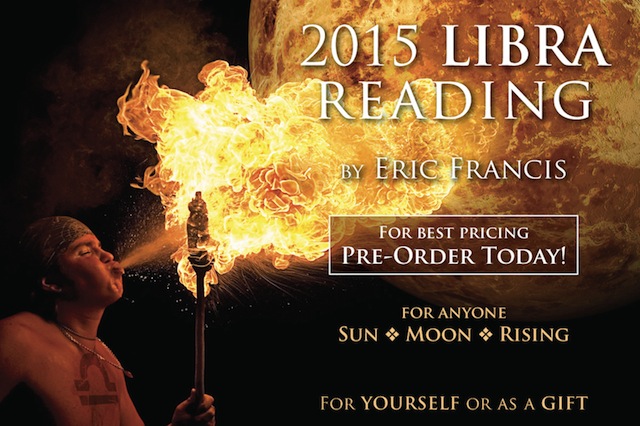 Navigating Mercury's Storm with Planet Waves



Dear Friend and Reader:
 
Mercury stations direct in Libra on Friday, Oct. 9, at 10:57 am EDT (14:57 UTC). In the Monday Astrology Diary, Eric walks you through the 'storm' phase (the few days on either side of the station), and parses some of the underlying cultural issues that we're seeing come to the fore of our collective consciousness during this Libra Mercury retrograde.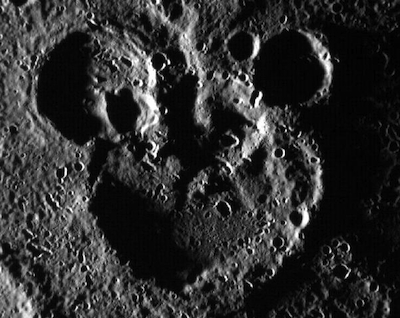 Mercury's a trickster, but is it Goofy? This 'Mickey Mouse ears' crater formation lies northwest the Magritte crater on Mercury. Photo by NASA/JHU APL/Carnegie Institution of Washington

.

If you know and love a Libra, you still have time to give them the in-depth 2015 Libra Birthday Reading at the discounted pre-order price, to help them se their sights on the year ahead.
 
We also have the Marie Claire horoscopes for October that Eric has written to offer a few sign-specific words of guidance and insight.
 
Sarah Taylor describes a tarot reading for this week that comes down to whether you want to walk the same path again, or choose something that may feel riskier and new, but which is creatively more in tune with who you are.
 
Speaking of walking different paths: we've posted a web comic that asks people to consider 'radical' forms of non-monogamy from the perspective non-mainstream (especially gender-queer) perspectives.
 
Judith Gayle, in Part Two of her "Leaning In" article series, addresses the tragic mass shooting on an Oregon college campus, and the ensuing political and cultural struggle -- concluding that the alchemical experience of spirituality, of loving because we are loved, is what we need to lean into.
 
Madame Zolonga this past week tackled one of the trickiest relationship questions out there: how to handle it when your sweetie prizes the pooch's presence in bed as much as yours. And yes, it is an astrology column; one whose solution lies in the couple's respective Jupiter in Pisces placements. She'll be back tomorrow with a new reader letter and her astro-reply.
 
Amanda Moreno discusses this week the necessity for spaces where conversation can happen outside of victim-perpetrator polarization, and the need to recognize Shadow on personal and collective levels, rather than casting parts of ourselves out of the garden.
 
Len Wallick ponders the chaos and order of Saturn in Sagittarius in his column today. Fe Bongolan has delayed her column until Wednesday; I'll post my piece on the weekend astrology to the website early on Thursday. See you then.
 
Yours & truly,



Amanda Painter



Planet Waves (ISSN 1933-9135) is published each Tuesday and Thursday evening in Kingston, New York, by Planet Waves, Inc. Core community membership: $197/year. Editor and Publisher: Eric Francis Coppolino. Web Developer: Anatoly Ryzhenko. Office Manager: Lauren Gdovin. Astrology Editor: Amanda Painter. Astrology Fact Checker: Len Wallick. Copy Editor and Fact Checker: Jessica Keet. Client Services: Amy Elliott. Media Consultant: Andrew Marshall McLuhan. Research, Writing and Editing: In addition to those listed above, Planet Waves is produced by a team consisting of Fe Bongolan, Judith Gayle, Kelly Janes, Amanda Moreno, Carol van Strum, Len Wallick, Lizanne Webb and Chad Woodward.





To unsubscribe,

click here e Wiki

|

Friends

|

Editors Contact Us Copyright © 2015 by Planet Waves, Inc. All Rights Reserved. Other copyrights may apply. >>
Some images used under Fair Use or Creative Commons attribution.