New York, Feb. 2, 2016 | View as Webpage | Order Your Vision Quest Reading
This Week on Planet Waves FM
An Interview with Andrew Marshall McLuhan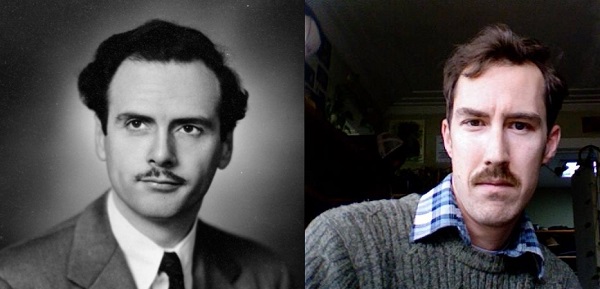 McLuhans: grandfather and grandson. Images used with permission.

Dear Friend and Listener:

Welcome to a special edition of Planet Waves FM [play episode here]. This was originally recorded in September, when I took a brief trip to Amherst, NY and met up with Andrew McLuhan, grandson of Marshall, in person for the first time.

We discussed his experience of archiving his grandfather's papers, and analyzed excerpts from Marshall's seminal book, Understanding Media. The richness and wide implications of Marshall's writing and ideas become ever clearer as the interview progresses.

The variety of topics we touched on included books in general, advertising, Ancient Greek philosophy and poetry, the printing revolution, and the progress of civilization.



Thank you for tuning in. Tomorrow we'll have my regular edition of FM about The Donald, the Cruz, Iowa and existence.



With love,






Planet Waves (ISSN 1933-9135) is published each Tuesday and Thursday evening in Kingston, New York, by Planet Waves, Inc. Core community membership: $197/year. Editor and Publisher: Eric Francis Coppolino. Web Developer: Anatoly Ryzhenko. Designer: Lizanne Webb. Office Manager: Lauren Gdovin. Astrology Editor: Amanda Painter. Astrology Fact Checker: Len Wallick. Copy Editor and Fact Checker: Jessica Keet. Client Services: Amy Elliott. Media Consultant: Andrew Marshall McLuhan. Eric's Assistant: Whitney Beecroft. Research, Writing and Editing: In addition to those listed above, Planet Waves is produced by a team consisting of Fe Bongolan, Judith Gayle, Kelly Janes, Amanda Moreno, Carol van Strum, Len Wallick.





Vision Quest: Astrology, Rune and Music Previews





We are pleased to announce the Vision Quest audio astrology and rune readings are now published. I wanted to share some samples with you; these are linked to below, one astrology and one rune sample per sign, along with photos of the rune readings.

I hope you enjoy the samples. Like what you hear?

Receive all 12 signs

of Vision Quest or

choose individual signs

.


Read more...




Highlights from Planet Waves This Week



Dear Friend and Reader:

Even though Mercury stationed direct more than a week ago, I'm hearing from plenty of people who are experiencing retrograde-like effects left and right. If that describes you, know that you are not alone. Take some deep breaths, take a walk around the block, and see if you can approach any confounding tasks at hand with a renewed sense of patience -- and compassion for yourself and those near to you.

On the 'good news' front, you've probably heard that Eric completed the audio astrology and rune readings for Vision Quest last week. If you already purchased Vision Quest, you can dive right in with your same password(s) -- the audio readings have their own pages, separate from the written readings. If you have not yet purchased even a single sign of Vision Quest, you can listen to short previews of the lush recordings here before you take the (pleasant) plunge.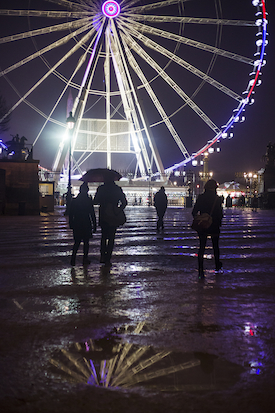 Leaving the Tuileries Gardens, where the giant Ferris wheel and crepe stands create a small carnival atmosphere on Place de la Concorde. Photo by Danielle Voirin.

Today on the Planet Waves website, Len Wallick looks to the February holidays and events -- western and eastern, secular and religious -- and teams them up with some significant astrology. Bottom line: it all represents an initiation or threshold that will long resonate, based on how you choose to participate and how you treat others.

On the cusp of her 61st solar return, Fe Bongolan considers in her column this week the cusp in the American presidential race that is the Iowa caucus -- and the greater cusp in American politics that it represents.

In the Monday Astrology Diary, Eric writes that, "Current aspects favor honesty, and also experiences where passion is a feeling. Three signs join forces to create that effect -- Scorpio, Capricorn and Pisces. You could not want a more rich mix of earth and water, especially with Venus moving into a conjunction with Pluto in Capricorn."

Sarah Taylor speaks in her tarot column of a new experience that may be emerging as a potential: that of no longer feeling separate from a world that not only holds you, but gives you life. It may be an entirely visceral experience of belonging -- but this belonging will not be to another person, but rather to life itself.

In a guest-post, sex and relationship coach Charlie Glickman brings up some interesting questions about cultural attitudes toward male versus female sex workers, in the context of the Rentboy.com bust this past August. Who is being "saved" and who is being punished? And why does one narrative seem to apply to one gender and not the other?

When Judith Gayle thinks of politics, she thinks about where we are on the map -- not the topography of the planet, but of the soul. In her latest column, she asserts that we can no longer pretend that politics doesn't affect us all, and we must admit that the government has become largely dysfunctional; the power struggle that defines it is out of balance.

Finally, in Amanda Moreno's most recent piece, she describes how a recent walk in a park (related to Mercury retrograde) brought up some difficult memories of childhood Physical Education class -- along with the silver lining of an appreciation of how she's found her own sense of health and body love.

Note that the weekly horoscopes in the Feb. 4 subscribers' issue Thursday will be written by Len Wallick (and his second weekly column posts on Fridays now). I'll be back Thursday with thoughts about the late-week astrology.

Yours & truly,



Amanda Painter





To unsubscribe,

click here

. To unsubscribe from all future Planet Waves emails,

please write to

cs@planetwaves.net e Wiki

|

Friends

|

Editors Contact Us Copyright © 2016 by Planet Waves, Inc. All Rights Reserved. Other copyrights may apply. >>
Some images used under Fair Use or Creative Commons attribution.