New York, March 15, 2016 | View as Webpage | Order Your Vision Quest Reading


Tuesday Edition of Planet Waves FM

Equinox Eclipse, Mars in Tantra and a Proposal



Dear Planet Waves Listener:

In tonight's edition of Planet Waves FM [play episode here], I start with the astrology leading up to the eclipse of the Moon next week, which is an eclipse in Libra. Before then, the Sun enters Aries; that is followed by this lunar eclipse and then a Sun-Mercury conjunction -- an exciting way to start the season.


Angel Deradoorian.

Right now we have a lot of Pisces in the sky -- Venus has just joined the collection, and I think Pisces is one of her favorite places to be. But then I'm a Pisces so I would think that. I go over the interesting Venus-Mars-Nessus pattern that I think is about taking full responsibility for your gender identity and sexual power.

In the second segment I look ahead at Mars retrograde, from Sagittarius to Scorpio. This is deep, it's exciting and it's likely to deliver some gifts to all sincere seekers. I think that Mars is entering tantric mode -- going from what would appear to be a spiritual dimension (Sagittarius) to one that is inherently emotional and sexual. 

Mars retrograde, seen one way, is about how we handle desire as an interior event: what it means to want, how you might feel wanting, and all the emotional implications of desire.

In the last section I offer a proposal for Women's History Month (which is March, named after Mars). It's about honoring what it is that makes female be female, and our relationship to that.

My musical guests are two women, one named Angel Deradoorian (Soundcloud | Facebook) and the other being Elle King (official site | Facebook).

Thanks for tuning in; and as ever, it's good to be with you.

Lovingly,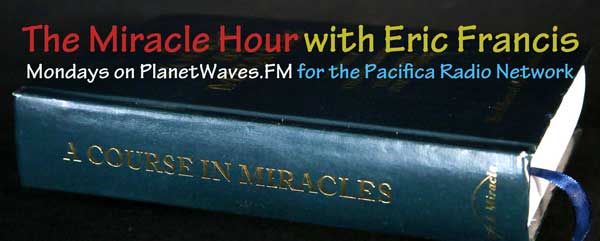 Miracle Hour Episode 6: The Illusion and the Reality of Love



In this week's edition of The Miracle Hour [play episode here], I look at Chapter 16 of ACIM, titled "The Forgiveness of Illusions." Part IV, The Illusion and the Reality of Love, discusses the differences between love and hate, and their relationship to reality.

Miracle Hour is distributed weekly to the Pacifica Radio Network and is a project of Planet Waves FM. Music, as ever, is by Vision Quest. The program is 59 minutes.



---
Pisces: Immersion in Vivid Potential
I absolutely love all of you at Planet Waves. Love the writing and information. Love how you make us think! Keep up the Great Work! Lifelong Fan & Customer! -- Lois Dovico, Galaxy Pass Holder and Pisces
Dear Friend and Reader:

There is so much happening in Pisces right now that I added an extra section to your birthday reading. This is a series of four recordings, which look intimately at the themes that are likely to be arising in your life.

In the first section, I do a kind of guided meditation and overview of what makes this turning point so distinctive. This is likely to be a moment of culmination of many years of effort, crisis or delay. I take the territory gently.

Oooooooh Eric, this is brilliant. Like you are in the room with me talking about the goings on in my life and psyche. -- Ramona Thiessen

Then in the second section I cover the vast array of planets in Pisces. I give enough detail to make it interesting to those with astrological literacy, but never so much that someone not trained will lose the narrative. This covers personal and relational matters.

In the third section I focus on the 10th house -- Sagittarius, which represents your professional aspirations. Saturn is making its once-per-29-year visit to your career house. And Mars will soon be there. Finally, in the fourth section, I cover the Uranus-Eris conjunction -- and then I do a tarot reading for you.

I know many people have said this and it's a unique value and point of pride for Eric and Planet Waves, but I'll say it again myself: this reading feels astonishingly like it was written absolutely personally for me. To a pretty miraculous extent. -- Robyn Landis
Your reading is immediately available; you may sign up here for just $27.97. If you're curious, you can now listen to the whole first segment at this link.

With love,


---
Hey Aries -- with your birthday approaching fast, we have a superb 2016-17 reading to help you drive that wild, exciting eclipse energy in the direction of your choosing. I will also talk about the once-in-a-lifetime Uranus-Eris conjunction in your sign. You may pre-order your reading today.
---

Mid-Eclipse Momentum and More on Planet Waves

Dear Friend and Reader:
 
With today's square between the Pisces Sun and Gemini Moon, we're at the lunar first quarter: that is, the midpoint between eclipses. As Eric described in his Monday Astrology Diary, we're in "a moment when the physical world is particularly flexible, and subject to creative intentions."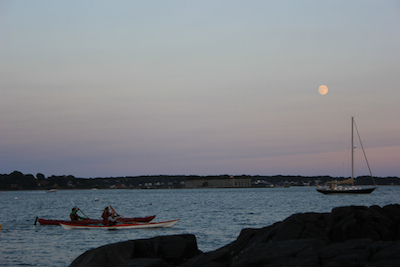 Kayakers approaching the Pisces Full Moon last August in Casco Bay, Portland, Maine; photo by Amanda Painter.

In other words, this is the time to take advantage of the momentum of what's in motion in your life and guide it toward where you want to go. Releasing old patterns and initiating new ones counts double now.
 
One new pattern might be a deeper level of self-inquiry; Rob Moore considers the emotionally nourishing ways we can approach physical self-appreciation. In his latest column, he invites you to start with your navel -- although his own journey years ago began somewhat lower, and out of medical necessity.
 
In Amanda Moreno's most recent column, she makes a simple eclipse ritual out of some 'shamanic' journeying. She describes her beginning-middle-end structure, where she 'went' and what she sees -- including a deep, playful dive with a spirit animal and a visualized walk around her natal chart -- and shares some of her insights.
 
Judith Gayle considers the spiritual repercussions and imperatives of the current political and cultural climate of the U.S., writing, "If it is our intent to do no harm, then we MUST speak against what is harmful to any of us. We know the cost of silence."
 
Meanwhile, Fe Bongolan recalls how, during the 2008 Presidential campaign, some of our European friends asked if they should come to California to help do phone banking for Obama. In her column this week, she requests the help of our global network to remind the U.S. of the way forward.
 
Sarah Taylor's tarot reading is not appearing this week, but she'll be back Sunday, March 20, with your equinox tarot spread. Also, Len Wallick's column will not appear today, but look for his late-week column on Friday. My column will publish on the Planet Waves website at midnight EDT with a look at the weekend astrology, here between the eclipses.

Yours & truly,



Amanda Painter



Planet Waves (ISSN 1933-9135) is published each Tuesday and Thursday evening in Kingston, New York, by Planet Waves, Inc. Core community membership: $197/year. Editor and Publisher: Eric Francis Coppolino. Web Developer: Anatoly Ryzhenko. Designer: Lizanne Webb. Astrology Editor: Amanda Painter. Astrology Fact Checker: Len Wallick. Copy Editor and Fact Checker: Jessica Keet. Client Services: Amy Elliott. Media Consultant: Andrew Marshall McLuhan. Research, Writing and Editing: In addition to those listed above, Planet Waves is produced by a team consisting of Fe Bongolan, Judith Gayle, Kelly Janes, Amanda Moreno, Carol van Strum, Len Wallick.





To unsubscribe,

click here

. To unsubscribe from all future Planet Waves emails,

please write to

cs@planetwaves.net Copyright © 2016 by Planet Waves, Inc. All Rights Reserved. Other copyrights may apply. >>
Some images used under Fair Use or Creative Commons attribution.