New York, April 12, 2016 | View as Webpage | Order Your Vision Quest Reading


This Week on Planet Waves FM

Mars Stations Retrograde; Interview with James Engell



Dear Friend and Listener:

In tonight's edition of Planet Waves FM [play episode here], I first consider the imminent Mars station retrograde, and the Uranus-Eris conjunction. This is astrology happening to you and to all of us now, and it is exciting.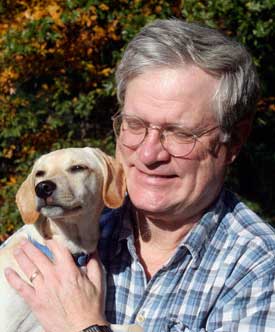 Harvard University English Prof. Jim Engell and his buddy Clem. Photo by Ainslie Sheridan.

These events are the astrological background to my 2016 Spring Reading, which we're about to publish (probably Sunday evening). Purchase this today and get the pre-order price of $37 for all 12 signs. This will go up as soon as we publish.

Mars retrograde is a rare opportunity to look within and find answers to the deepest questions about our inner selves and desires.

Then I feature an interview with Dr. James Engell, a professor at Harvard University. His 2005 book, Saving Higher Education in the Age of Money, is a scathing critique of educational priorities under capitalism, and how the profit motive as a focus is so detrimental to how education works.

He proposes that the real purpose of education, while it does not rule out being economically beneficial, is far different; and he argues that the fundamental right to education should be protected.

Today's musical guest is Lost at Last.

With love,


Planet Waves (ISSN 1933-9135) is published each Tuesday and Thursday evening in Kingston, New York, by Planet Waves, Inc. Core community membership: $197/year. Editor and Publisher: Eric Francis Coppolino. Web Developer: Anatoly Ryzhenko. Designer: Lizanne Webb. Finance: Victoria Pomante. Astrology Editor: Amanda Painter. Astrology Fact Checker: Len Wallick. Copy Editor and Fact Checker: Jessica Keet. Outreach Co-ordinator: Victoria Bodge. Client Services: Amy Elliott. Media Consultant: Andrew Marshall McLuhan. Research, Writing and Editing: In addition to those listed above, Planet Waves is produced by a team consisting of Fe Bongolan, Judith Gayle, Kelly Janes, Amanda Moreno and Carol van Strum.
---
Radical Depth and Soul Food: Your 2016 Spring Reading
"The radical depth you dish up on the regular is impossibly nourishing soul food. Loving all of the facets. Be well." -- Jessica W.
Dear Friend and Reader:
 
You're on the cusp of a unique opportunity in astrology to learn about yourself in an especially introspective way: Mars retrograde through Sagittarius and Scorpio. You don't need to test yourself by scaling a mountain or trying the stand-up comedy open mic night; you just need to listen carefully, notice patterns and connect the dots between what you're experiencing now and how it echoes the past.
 

Eric doing the Spring Reading for Leo with love.

Yet in today's world of multiple devices, distractions and demands, listening to your inner voice like that can be more challenging than you'd expect. And you might be wondering if the fast-approaching Mars retrograde could trip you up somehow, the way Mercury retrograde sometimes can.
 
Don't worry: Eric Francis is partway through a gorgeously inspired and inviting 12-sign project designed specifically to help you tune into Mars as it retrogrades through Sagittarius and Scorpio: the 2016 Spring Reading.
 
As you immerse yourself on this inward journey, the Spring Reading -- a package of 12 gorgeous video readings, an audio introduction, and a special edition horoscope at the Sun-Mars conjunction -- will highlight the themes and questions most likely to be shaping your life right now.
 
So why should you get a reading with all 12 signs? Consider this response to the 2016 annual edition:

"Thank you for your dedication to these audio segments. I've spent my free moments today listening to my Sun sign Sagg, my rising and Moon Pisces, and Aquarius where I have Saturn in the last degree and is the Sun sign of significant others. No longer am I amazed that what you convey is spot on… it's just the way things are."

-- Rob Moore



Even if you don't know your rising sign or Moon sign (easy to find out if you have your birth time!), the Mars retrograde Spring Reading will give you incredibly accurate and illuminating insight into your closest loved ones.
 
Mars factors strongly in how we relate to others (not just lovers and spouses, but also your motivation to work well with colleagues, how you approach -- or avoid -- interpersonal conflict, how you initiate projects, and so on). Yet in its movement from Sagittarius to Scorpio, Mars is suggesting a particular path between spirituality and sexuality, two deeply important ways to know yourself and to understand those closest to you.
 
"Spot on, Eric. Listened to Scorpio and info re: 8th house I could really relate to. This reading is a timely reminder to listen to how I feel. Thanks."

-- Debra Taylor


 
You still have a chance to pre-order the Mars retrograde Spring Reading at the discounted price of $37.00. We will be increasing the price when the reading publishes this weekend, so don't let this offer get lost in your inbox!
 
Yours & truly,



Amanda Painter
Planet Waves Astrology Editor

P.S. If you enjoy the sense of personal contact, warmth and uncanny intimacy of Eric's audio readings, you'll love his new video segments. The 2016 Mars retrograde Spring Reading is the closest thing you can get to the thoroughness and specificity of a personal consultation, at a fraction of the cost.


---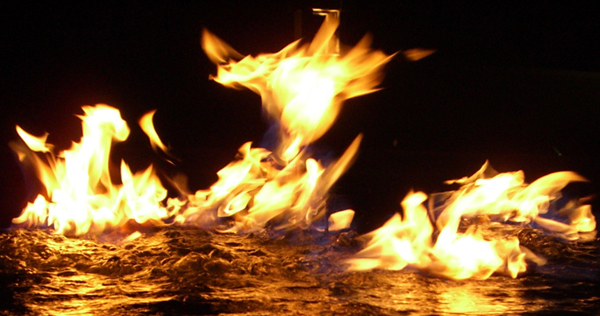 Get your Aries reading

here

. Photo by Steve Jurvetson.

Listen to Samples of New Aries Reading -- Open Access


Your Aries birthday reading is now available for instant access. Check out these two audio excerpts: Sample 1 | Sample 2

Grab your copy of the reading here, complete with an all-new video section -- and prepare to discover the spark that can light your inner brilliance.


---



Mars About to Station Retrograde, and More From Planet Waves



Dear Friend and Reader:

Mars stations retrograde this Sunday, April 17. There's a lot going on with this transit -- enough for Eric to create an entire Spring Reading around it. But what else is going on in the sky at the moment when Mars seems to stop and reverse direction?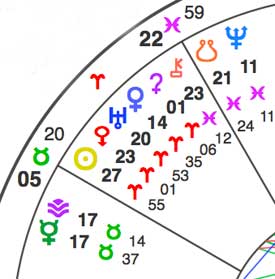 You can see Mercury conjunct Vesta on the lower left of this chart -- the points with the "17" next to them. Mercury is green. Vesta is in fuchsia.

There are several interesting placements in that chart, but what really caught my eye is Mercury and Vesta conjunct in the same degree of Taurus.

There is something about Mercury-Vesta in Taurus that speaks of the grounding we can enjoy when we devote some time to being fully present in our bodies and in our senses -- especially when we translate that experience into an expression of art or beauty.

Inner-planet retrogrades can be a little disorienting as they shake up our usual way of navigating and understanding ourselves.

Mars -- the 'energy planet' of drive and desire -- stationing in a sign that represents spiritual and religious beliefs does sound like it could use some of the steady-as-she-goes influence of Mercury-Vesta in Taurus.

What are your senses telling you about what you want? If your body could speak, what would it say?

Yours & truly,



Amanda Painter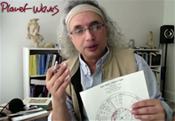 Planet Waves TV: Focus on Mars

This week's edition covers the Sun's meeting with Uranus and Eris. And as Mars retrograde draws near (it begins April 17), Eric also comments on what Mars is about -- identity, motivation and desire. Mars retrograde turns these things that are usually statements into questions, and an opportunity for introspection.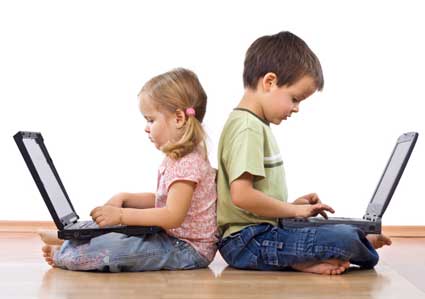 Mars, Aries, the Internet and Personhood

These days I have Mars on my mind: Mars retrograde, coming up in a little over a week; the impressive astrology in Aries (now featuring Venus); and where the two meet. This is exciting astrology because Mars and Aries so beautifully describe the quest for selfhood and what I call personhood that motivates a well-lived life.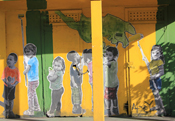 Signs O' the Times and the Aries New Moon

Aries might be the sign of 'I am', and it is likely time for you to take some personal initiative on something (you can do it!). Yet Amanda Painter describes how this Aries New Moon connects the Uranus-Pluto square and the Uranus-Eris conjunction in a way that suggests looking at real-world events for some context and orientation.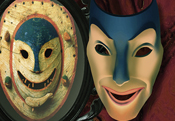 Appeal Trumps Perfection

As Eric has noted, Uranus can relate to glamour and Eris has a direct link to the iPhone's launch. Rob Moore connects the dots between the Uranus-Eris conjunction, the delusion and disillusionment inherent in our obsession with filtered selfies, and the challenge of embracing ourselves as others see and love us.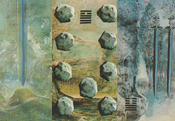 Weekend Tarot Reading for April 10, 2016

After a significant period of hard work and learning, you're finally seeing the possibility of tangible results from your efforts. But how to make the best of them? In this week's reading Sarah Taylor points out that the resources that are going to help you the most are the ones that reside in your formidable mind.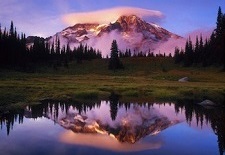 Pastel Shadows

Amanda Moreno describes how a spontaneous group exercise around shadow work takes her deeper than she was anticipating. Understanding that it's important to take creative responsibility for our shadow parts -- with a big box of chalk at her fingertips -- she sets her intention to get to work.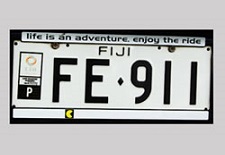 Touching the Wound

In a follow-up to her piece last week about her neighbor Brandon's experience with police, Fe Bongolan considers the prevalence of trauma in our culture. Featured is an excerpt from the story of a survivor, told in her own words, of the long-term effects of her childhood rape, as she strives toward healing.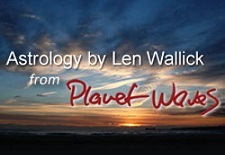 Energy and Connection

Len Wallick ponders the nature of space-time and energy-matter, and relates it to our own interconnectedness and individual volition. With the "energy planets" Mars and Uranus figuring prominently in the astrology now, what you do with your energy matters. Conscience, anyone?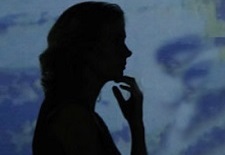 Closing The Loopholes

With Mars moving toward a retrograde in Scorpio, 8th house issues are popping up like mushrooms in the dark corners of the garden. Today Judith Gayle looks at what's going on with taxes. No, not the Panama Papers, which is growing into something much larger: perhaps a palm tree to relax under with one's ill-gotten gains.






To unsubscribe,

click here

. To unsubscribe from all future Planet Waves emails,

please write to

cs@planetwaves.net Copyright © 2016 by Planet Waves, Inc. All Rights Reserved. Other copyrights may apply. >>
Some images used under Fair Use or Creative Commons attribution.