New York, April 14, 2016 | View as Webpage | Order Your Vision Quest Reading
Mars Retrograde: What Do You Want?
"My definition of learning is discovering that something is possible." -- Fritz Perls
Dear Friend and Reader:

Our planet begins its passage between Mars and the Sun this weekend, which astrologers call Mars retrograde.

We inherit Mars from its Roman origins as the god of war. In contemporary astrology, Mars is the planet of desire, drive and aspiration, and potentially of violence and domination. Without whatever Mars symbolically represents in the psyche, nothing would go anywhere.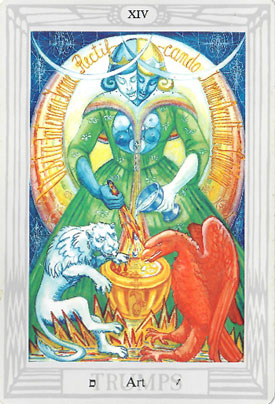 Art (Trump XIV) from the Crowley-Harris tarot. This is the card that represents Sagittarius, often shown as the synthesis of opposites. Its corollary card is The Lovers.

With healthy Mars, one is motivated, and connected to one's motives, and acts on them, more or less appropriately (and concepts of appropriateness constitute a central problem with the expression of Mars). When Mars is working, it's about expressing the power of decision more than anything else. Mars can also represent curiosity, which is the intellect asserting itself into the environment (of self, or of the world around us).

There are two other possibilities. One is that Mars is allowed to run wrangle, trampling over people and things. This might come as aggression, greed or transgression, which we see plenty of in the world today. Toxic Mars can be found lots of places, especially here in the age of the suicide bomber, stop-and-frisk and the pre-emptive strike.

Another possibility is that Mars is turned against itself. An example of this is when a person has been pruned or transgressed (what we call 'abused' in current parlance) and, naturally, they resent having been treated this way. Then, unable to push back, they turn that resentment onto themselves. This is really a form of self-directed attack, which usually manifests as guilt or depression.

The way I see it, one's experience of Mars falls into one of three main camps: a conscious, mediated response to desire; attacking others; or attacking oneself. I would propose that most people fall into the third category, living lives of guilty pleasures, self-criticism and restraint that blocks the ability to express creativity or desire.

How many times have you been asked what you want, only to ask yourself what you're allowed to want? Or to ponder what you will give yourself permission to want? It seems like the moment desire is evoked, it provokes some form of self-regulation or guilt. This eclipses an honest expression of one's existence.

There seem to be two major forces working in society. One is advertising, which is stoking the fire of desire like sugar stokes the growth of cancer. Advertising is the use of desire that's gone out of control, often driven by the greed of the advertiser. It can be manipulative; you don't sell Mountain Dew, you sell sex on the beach.

The second force is typically some form of religion, which is supposedly all about restricting desire. Religion figured out that core desire is sexual, and so it has long sought to inflict a specific injury to erotic feelings, including erotic curiosity -- to shut down all natural feelings and inquisitiveness.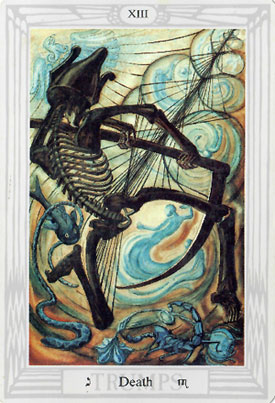 Death (Trump XIII) from the Crowley-Harris tarot, the card representing Scorpio. Note the double helix pointing off to the right, which represents DNA. The skeleton is moving, and is black, meaning that it's alive, as opposed to a 'dead' skeleton, which would be white.

This process of injury is also used by seemingly secular society, which in the Western world closely tracks religious values. On what other grounds would a state legislature pass a law against sex toys? Plenty of religious teaching comes through parents, school, the legal system and various forms of peer-enforcement.

When someone attempts to connect honestly with their desire, the result can be a seizure of guilt or conflict. And when advertising is designed -- using all the power of psychology, art, music and sexuality -- to inflame desire, that desire typically swells into the thorns and barbs of guilt.

That is an intentional formula for conflict -- and that is one of the main contexts of our society, manifesting in countless, seemingly infinite ways.

And now, Mars is about to turn to retrograde motion: that is, it's turning all of this into a question.

The question -- or perhaps the quest -- begins in Sagittarius, a sign closely associated with 'isms'; that is, with belief systems. True, that's one of the less organic, culturally constructed manifestations of Sagittarius, which in its more natural forms is the sign of high adventure, aspiration and exploration.

But, calcified by religion and society at large, Sagittarius is more about what one is supposed to believe rather than what one actually, in fact, believes to be true.

In its most honest form, Sagittarius is about a quest for that very experience of personal or universal truth, and Mars retrograde symbolizes precisely that. So we could say that the inner quest of Mars retrograde in Sagittarius is about an examination of every belief you hold, especially about yourself and your existence: a genuine inner quest for truth.

Mars treads the astrological wheel of the zodiac backwards for 72 days. Approximately six weeks into that process, Mars retrogrades into Scorpio. Among the many ways to describe this sign are death and transformation, surrender, regeneration and evolution. What most of that points to is sex. From ancient astrology, Scorpio is the sign that represents the genitals; and in modern astrology, the genetic process. That involves sexual reproduction and programmed cell death (called senescence).

When we consider Scorpio as a biological function, we really do come back to sex and death. That alone is frightening; we often think about or want sex, and we often dread or obsess over death. Therefore, Scorpio also evokes all the feelings connected to these things. That is a complex world, and it's directly related to profound feelings, deep mysteries and deep attachments.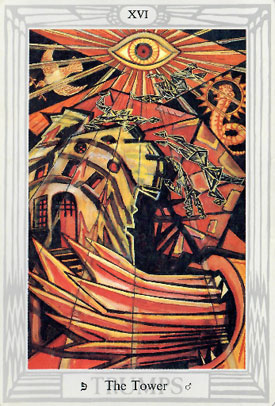 The Tower, the Crowley-Harris card representing Mars. It's basically pure desire, which has the power to shake things up.

After penetrating through the layers of constructed belief in search of some actual experience of faith, Mars is heading into what for most people is the murky, confused and conflicted world of their response to their own biology.

In doing so, my sense is that Mars is penetrating through layers of conditioning in search for the truth, and when it arrives there, that truth involves the most basic levels of existence, which are to be found in Scorpio. By existence I mean our relationship to existence and to the possibility of nonexistence.

And to go there directly is really a plunge. It's going to require patience, awareness and the willingness to let go of prejudices, especially about one's own feelings.

If you allow that to happen, the question that's likely to come up is: what do you actually want from life? Recognizing the facts of existence (sex and death primary among them) what is your desire for your remaining time on Earth? If, for example, you recognize that you only get finite time in your body, what might you say that you want? Could you cut through some of the conflict and distraction?

If you allow your biology to speak to you, what would it say? In this Mars retrograde, biology trumps belief. Mars ends up in Scorpio. Then it returns to Sagittarius, where belief can be reconsidered in light of biological bottom lines.

You might consider desire outside the confines of what you believe is possible (that's just more toxic Sagittarius). You might apply your curiosity to the experiment of what is possible -- and consider learning as the discovery of what is possible. If you listen to your body, your desire and your senses, you just might be surprised at what that includes.

W/love


---
Radical Depth and Soul Food: Your 2016 Spring Reading
"The radical depth you dish up on the regular is impossibly nourishing soul food. Loving all of the facets. Be well." -- Jessica W.
Dear Friend and Reader:
 
You're on the cusp of a unique opportunity in astrology to learn about yourself in an especially introspective way: Mars retrograde through Sagittarius and Scorpio. You don't need to test yourself by scaling a mountain or trying the stand-up comedy open mic night; you just need to listen carefully, notice patterns and connect the dots between what you're experiencing now and how it echoes the past.
 

Eric doing the Spring Reading for Leo with love.

Yet in today's world of multiple devices, distractions and demands, listening to your inner voice like that can be more challenging than you'd expect. And you might be wondering if the fast-approaching Mars retrograde could trip you up somehow, the way Mercury retrograde sometimes can.
 
Don't worry: Eric Francis is partway through a gorgeously inspired and inviting 12-sign project designed specifically to help you tune into Mars as it retrogrades through Sagittarius and Scorpio: the 2016 Spring Reading.
 
As you immerse yourself on this inward journey, the Spring Reading -- a package of 12 gorgeous video readings, an audio introduction, and a special edition horoscope at the Sun-Mars conjunction -- will highlight the themes and questions most likely to be shaping your life right now.
 
So why should you get a reading with all 12 signs? Consider this response to the 2016 annual edition:

"Thank you for your dedication to these audio segments. I've spent my free moments today listening to my Sun sign Sagg, my rising and Moon Pisces, and Aquarius where I have Saturn in the last degree and is the Sun sign of significant others. No longer am I amazed that what you convey is spot on… it's just the way things are."

-- Rob Moore



Even if you don't know your rising sign or Moon sign (easy to find out if you have your birth time!), the Mars retrograde Spring Reading will give you incredibly accurate and illuminating insight into your closest loved ones.
 
Mars factors strongly in how we relate to others (not just lovers and spouses, but also your motivation to work well with colleagues, how you approach -- or avoid -- interpersonal conflict, how you initiate projects, and so on). Yet in its movement from Sagittarius to Scorpio, Mars is suggesting a particular path between spirituality and sexuality, two deeply important ways to know yourself and to understand those closest to you.
 
"Spot on, Eric. Listened to Scorpio and info re: 8th house I could really relate to. This reading is a timely reminder to listen to how I feel. Thanks."

-- Debra Taylor


 
You still have a chance to pre-order the Mars retrograde Spring Reading at the discounted price of $37.00. We will be increasing the price when the reading publishes this weekend, so don't let this offer get lost in your inbox!
 
Yours & truly,



Amanda Painter
Planet Waves Astrology Editor

P.S. If you enjoy the sense of personal contact, warmth and uncanny intimacy of Eric's audio readings, you'll love his new video segments. The 2016 Mars retrograde Spring Reading is the closest thing you can get to the thoroughness and specificity of a personal consultation, at a fraction of the cost.








Let Your Senses Drive: Mars Retrograde



Dear Friend and Reader:

What have your dreams been like lately? I ask because Mars in Sagittarius is barely moving as it prepares to station retrograde this Sunday, April 17, at 8:14 am EDT (12:14 UTC) -- and Mars is roughly square dreamy Neptune in Pisces. (View full chart here.)

I'm pretty sure that my own dream a couple nights ago involving various challenges with a car (Mars symbolizes drive -- get it?) is related to Mars stationing.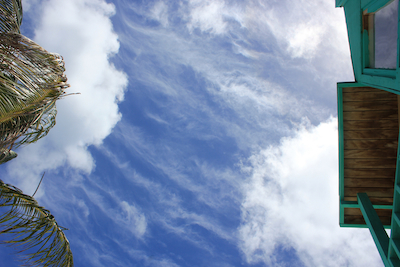 Feasting the senses: Breeze, sunlight, sand and the sound of waves on Culebra, Puerto Rico. Photo by Amanda Painter.

I also know someone else who had an uncharacteristic (yet pleasant, if somewhat vague and odd) sex dream -- sexual desire being another of Mars' representations. So one way I'm reading Mars square Neptune right now is as a dreamtime nudge of some sort, one possibly related to your spiritual and emotional development.

Of course, your mileage may vary, especially if you don't tend to remember or work with your nocturnal dreams.

It's also possible that Mars-Neptune has shown up as some feeling of discouragement or self-doubt. If so, consider this a 'trial run' in terms of evaluating those doubts on your own terms (not those of someone else).

Mars won't make its exact square to Neptune until this summer, after its retrograde is over. You have a chance to gather some real insight about yourself and what you want between now and then, which should help to bolster your confidence -- even if it's 'just' confidence about your desires. For some, having confidence that what you think you want really is what you want is a pretty major growth step.

There's a lot going on with this Mars retrograde -- enough for Eric to create an entire Spring Reading around it. We don't have nearly as much experience with Mars retrograde as we do with Mercury retrograde, since Mars appears to dance backwards only every couple of years or so, whereas Mercury seemingly backpedals about three times per year. Even though Mars does not have the association with gadgets breaking, scrambled communications and travel snags that Mercury does, any inner-planet retrograde can be a little disorienting.

These events shake up our usual way of navigating and understanding ourselves. While that shift in perspective can open up a whole new landscape of insight and awareness, it often takes patience and conscious choice to reap the benefits.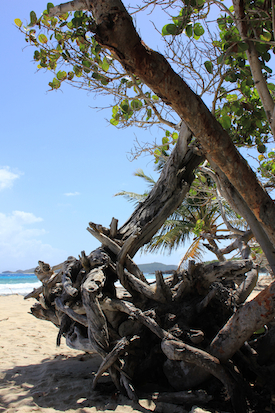 A mangrove-root T-square on Playa Zoni. Photo by Amanda Painter.

Note that on Sunday the Virgo Moon will move through a square to Mars during the station retrograde. If you experience a blip of feeling annoyed or overcritical (especially of yourself), see if you can trace the feeling into some legit, underlying cause. Getting caught up in petty, superficial irritations won't help. Airing out the underlying issue, however, is more likely to be productive.

One last aspect caught my eye in the chart for Mars stationing retrograde: Mercury and Vesta conjunct in the same degree of Taurus.

There is something about Mercury-Vesta in Taurus (exact Saturday, 6:11 pm EDT / 22:11 UTC) that speaks of the grounding we can enjoy when we devote some time to being fully present in our bodies and in our senses -- especially when we translate that experience into an expression of art or beauty.

Whether that means for you walking barefoot in the grass or bundling up and sitting on a windy beach; or a massage or sex; or cooking and eating an amazing meal; or listening to your body's need for a nap or to dance; or diving into an art project or enjoying and discussing the creativity of others; it's all good. In fact, Ceres arriving on the Aries Point today -- the first degree of Aries -- suggests that what genuinely nourishes the individual Self also feeds the collective, and vice versa. (Ceres ingresses Aries at 10:50 am EDT / 14:50 UTC.)

As mentioned, inner-planet retrogrades can be a little disorienting with the gifts they offer; they point us backward and inward. Mars -- the 'energy planet' of drive and desire -- stationing in a sign that represents spiritual and religious beliefs could probably use some of the steady-as-she-goes influence of Mercury-Vesta in Taurus.

What are your senses telling you about what you want? If your body could speak, what would it say? This is only the beginning of the Mars retrograde story, but it's an excellent place to start.

Yours & truly,



Amanda Painter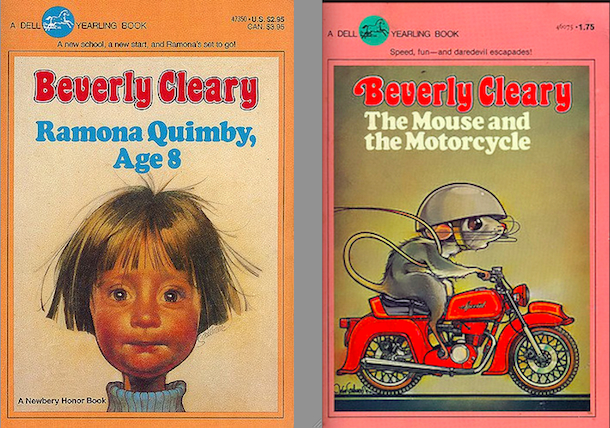 Early 1980s covers for two classics: "Ramona Quimby, Age 8" and "The Mouse and the Motorcycle." Both Ramona (based on a real childhood neighbor of Cleary's) and Ralph S. Mouse (conceived when a boy asked Cleary for a book with a motorcycle in it) starred in several novels. Among the delightful tributes to the author on her 100th birthday was Parade's list of

ten of her "loveliest" quotes

.

Beverly Cleary, Age 100



By Amanda Painter

Henry Huggins and his dog Risby; Beezus Quimby and her irrepressible little sister, Ramona; Ralph S. Mouse with his motorcycle -- these are just some of award-winning author Beverly Cleary's immortal characters that have kept children enthralled with her books for decades, and likely will for decades more.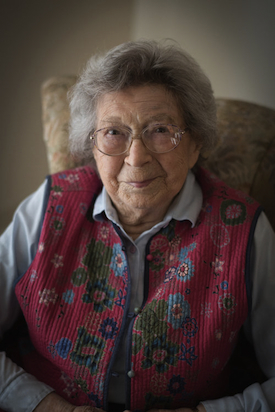 Cleary, shown at 99, now lives near Monterey, California. Photo: OPB/HarperCollins.

Cleary just celebrated her 100th birthday on April 12, reportedly in good health and lucid mind. She's sold 91 million books since her first debuted in 1950, making her the sales equivalent of the Rolling Stones (minus all the hard living), according to one radio segment I heard but can't track down.
 
Why have her books withstood the test of time -- even though they lack things like iPhones and other modern details in them? Because while working as a children's librarian, she recognized that young readers not only deserve quality literature, but that they "want to read about normal, everyday kids," as she told NPR in 1999 -- kids just like themselves. Magical fantasy stories are important, too; but sometimes when you're growing up, you just need to know others have been through experiences like your own.
 
As Pat Pflieger, professor of children's literature at West Chester University once commented: "Cleary's books have lasted because she understands her audience. She knows they're sometimes confused or frightened by the world around them, and that they feel deeply about things that adults can dismiss."
 
So what about Cleary's birth chart illustrates her enduring popularity with young readers? I could not find a birth time for her, so I've cast a noon chart (view chart here). That means we cannot know her ascendant, houses or exact Moon position, but a few details jump out.
 
First, Cleary has a Sun-Mercury conjunction in Aries that looks like a hot ticket for getting ideas out there -- and for speaking with a clear sense of self that others can relate to.
 
Sticking with fire signs, she has a Leo Moon no matter what time she was born; Mars is also in Leo. Leo represents children and heart, and also leadership and a certain dramatic flair. Without knowing her house cusps, Cleary's Leo Moon and Mars (which is trine her Jupiter in mid-Aries) attest to her books' incredible reach, to children's ability to relate to them and to her relationship with her own childhood. In 2006, she told NPR, "I do have very clear memories of childhood. I find that many people don't, but I'm just very fortunate that I have that kind of memory."
 
There are several other interesting placements in her chart, but the last one I'd like to touch on is her Venus-Ceres conjunction in Gemini. Cleary's love of words enabled her to extend love and nurturing to children around the globe, through the nourishment of stories. Those stories will continue to offer that gift for generations to come.






This Week on Planet Waves FM

Mars Stations Retrograde; Interview with James Engell



Dear Friend and Listener:

In this week's edition of Planet Waves FM [play episode here], I first consider the imminent Mars station retrograde, and the Uranus-Eris conjunction. This is astrology happening to you and to all of us now, and it is exciting.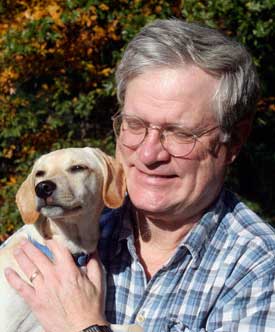 Harvard University English Prof. Jim Engell and his buddy Clem. Photo by Ainslie Sheridan.

These events are the astrological background to my 2016 Spring Reading, which we're about to publish (probably Sunday evening). Purchase this today and get the pre-order price of $37 for all 12 signs. This will go up as soon as we publish.

Mars retrograde is a rare opportunity to look within and find answers to the deepest questions about our inner selves and desires.

Then I feature an interview with Dr. James Engell, a professor at Harvard University. His 2005 book, Saving Higher Education in the Age of Money, is a scathing critique of educational priorities under capitalism, and how the profit motive as a focus is so detrimental to how education works.

He proposes that the real purpose of education, while it does not rule out being economically beneficial, is far different; and he argues that the fundamental right to education should be protected.

My musical guest is Lost at Last.

With love,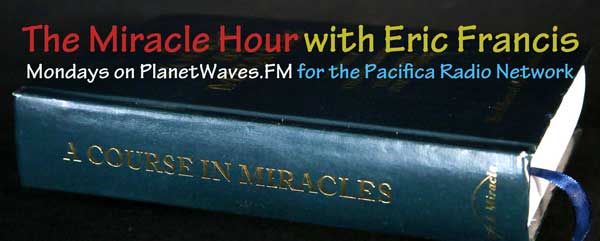 Miracle Hour: The Branching of the Road, and 444

Dear Friend and Listener:

In this week's edition of The Miracle Hour [play episode here], I turn to one of my favorite passages in A Course in Miracles -- chapter 22, part IV of the text, titled The Branching of the Road. Here is a quote from the opening of that section:

The whole purpose of coming this far was to decide which branch you will take now. The way you came no longer matters. It can no longer serve. No one who reaches this far can make the wrong decision, although he can delay. And there is no part of the journey that seems more hopeless and futile than standing where the road branches, and not deciding on which way to go.

I discuss the influence this beautiful writing has had on me, as well as its relationship to the vocation of healing, especially as a collective process. I also consider the question of gender bias in the ACIM text as a whole, and how in part my various callings may be a way of redressing that balance.

Finally, I share some of my poetry from a book I named 444, so called because it was inspired by this ACIM passage, which was originally on page 444.

As usual, this 59-minute broadcast, created for the Pacifica Radio Network, is accompanied by music from Vision Quest. You may listen to all past episodes here.

Lovingly,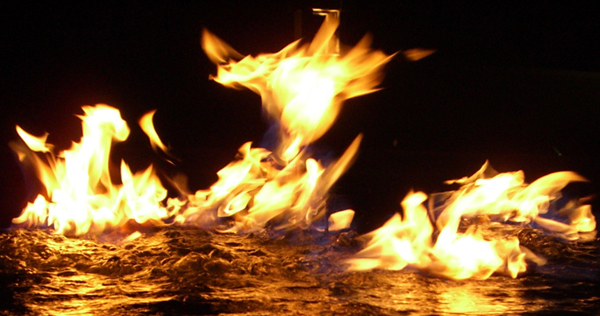 Get your Aries reading

here

. Photo by Steve Jurvetson.

Listen to Samples of New Aries Reading -- Open Access


Your Aries birthday reading is now available for instant access. Check out these two audio excerpts: Sample 1 | Sample 2

Grab your copy of the reading here, complete with an all-new video section -- and prepare to discover the spark that can light your inner brilliance.








Your Monthly Horoscopes -- and our Publishing Schedule Notes



Your extended monthly horoscope for April was published on Thursday, March 24. We published your extended monthly horoscope for March on Thursday, Feb. 25. We published your Moonshine horoscope for the Aries New Moon, by Len Wallick, on Thursday, April 7. Please note, we normally publish the extended monthly horoscope on the first Friday after the Sun has entered a new sign.





Aries (March 20-April 19) -- It's important for you not to underestimate the value of this moment in your life. It's even more vital that you do not underestimate your own importance. There will always be another day, but there will never be another you. Even as important as it is to seize the day, you should never do so at the cost of your physical, mental, emotional or spiritual health. Therefore, for the sake of your body, sanity, inspiration and creativity, don't hesitate to get away for rest and relaxation. This is not about taking a long vacation. It's about improving the quality of your breaks and downtime. Do more with less, so that any and all of your short getaways are long on rest and re-creation. -- by Len Wallick. For your Eric Francis horoscope this week, please see this link.

Taurus (April 19-May 20) -- If you feel as though something is coming full circle for you, you're probably right. It's also probably true that what you are feeling is less a moment and more of a process. Furthermore, the process is not necessarily something you need to go through alone. If you can give yourself at least six weeks to fully experience and integrate what you are going through now, it is likely that you will find yourself at long last on the other side of something that started more than a year ago. You will know if sharing is appropriate should those who were there at the beginning ask to be there with you now. Don't force anything on anybody else; rather, allow. Think emergence, not emergency, and you will understand. -- by Len Wallick. For your Eric Francis horoscope this week, please see this link.

Gemini (May 20-June 21) -- Some say luck is the residue of preparation. That's true enough. Even more valid for you is that good fortune can be made to happen based on what you have learned from experience. Specifically, every relationship in your life up to this point is now about to come in handy when it comes to you being as fortunate as possible. You need not believe in anything but yourself. Lucky charms will not be necessary. All that you'll really need to get what you want is to recall and apply all the lessons that your life's relationships have taught you about expressing your needs, while also showing others that it's safe to do the same with you. -- by Len Wallick. For your Eric Francis horoscope this week, please see this link.

Cancer (June 21-July 22) -- It's fair to say that you've gone beyond growing. One might reasonably say that you are evolving. Hence, if you have not already done so, it's currently a good time to contemplate the difference between growth and evolution. Once you have resolved the distinction, your next step will be to develop a strategy to stimulate or revive a more fully conscious and intentional personal evolution for yourself. As part of that strategy (and to the extent you are capable of doing so safely and comfortably), go to high places that afford expansive views. Visit the tops of hills or buildings whenever you can, and allow yourself to be inspired by seeing further than before you made your ascent. -- by Len Wallick. For your Eric Francis horoscope this week, please see this link.

Leo (July 22-Aug. 23) -- You will know that it was right to let go when you do not find yourself empty-handed for having done so. Of course, not knowing outcomes until after the act of releasing attachment will entail some risk. Actively engaging with risk will in turn require that you willingly and even eagerly embrace uncertainty. If ever it were (or will be) appropriate to forgo securing sure things in order to make room for possibilities to become real, the next eight months appear to be your prime time for doing just that. If you need a hint regarding what to let go of first, examine all you serve. Sustain any cause of love and compassion, but free yourself from being a slave to mere sentiment. -- by Len Wallick. For your Eric Francis horoscope this week, please see this link.

Virgo (Aug. 23-Sep. 22) -- You are not living on the Titanic. Before making any decision to abandon ship, give adjustments a chance to improve how you feel about where you reside. If you live alone, it could be that all you need is a bit more room in your interior space. Try getting rid of anything you don't really need. That way, if you do ultimately decide that relocation is the best way to feel more at home in your home, you will have less to move. If you dwell with others with whom you feel safe but stale, consider revising your style of communication and negotiation. That way, should you ultimately decide to go your own way, it will be after confirming that you will not be taking problems with you. -- by Len Wallick. For your Eric Francis horoscope this week, please see this link.

Libra (Sep. 22-Oct. 23) -- Family matters would appear to be an appropriate subject for you to reflect on at this time. Specifically, it would seem that your personal relationship with actual family members or the subject of family in general is ripe for review. If you elect to embark upon such an evaluation, it would probably be best to begin consulting with at least one other person outside of family for the purpose of conducting a thorough self-examination. One possible (and worthy) objective of such a consultation would be to discern any differences between your perceptions of family on the inside and realities on the outside. Don't be surprised if the ultimate result is a much better relationship with yourself. -- by Len Wallick. For your Eric Francis horoscope this week, please see this link.

Scorpio (Oct. 23-Nov. 22) -- The desire to have material things is not intrinsically bad in any way, shape or form. An object of beauty can be an authentic source of joy forever. Furthermore, useful items often serve to make you more effective in what, after all, is a material world. When all is said and done, however, your most precious possessions can reliably be said to be your physical health and peace of mind. For that reason, the extent to which your tangible personal property serves to make and keep you healthy and happy is the extent to which it is truly useful. Remember that, and you will be able to discern clearly between what things you own and what (if any) things in fact own you. -- by Len Wallick. For your Eric Francis horoscope this week, please see this link.

Sagittarius (Nov. 22-Dec. 22) -- Scratching an itch is rather profound if you think about it. The sensation actually exists in your mind, but is addressed by the action of applying your hands to your body. Sometimes the physical action somehow connects body with mind, resulting in relief. Other times the only result is more irritation, and even damage. Hence, a lesson to apply whenever you feel either a physical or metaphorical itch coming on anytime during the remainder of this current season. If some form of friction serves to solve the problem promptly, take it in as an epiphany. If scratching does not work, however, know when to stop and try something else. -- by Len Wallick. For your Eric Francis horoscope this week, please see this link.

Capricorn (Dec. 22-Jan. 20) -- Every step forward has a greater value than usual for you now. Therefore, to the extent that you have a choice, emphasize the quality of what you do over how much you are doing for the time being. By the same token, whenever you are free to do so, prioritize being slow and steady over fast and furious. That way, the chances of a step backward will be minimized and the possibility of your having greater freedom and more options to choose from will be maximized. After all, if you can't make adequate time and devote the necessary energy to getting things done the right way with your first attempt, where are you going to find the time and energy to do things twice? -- by Len Wallick. For your Eric Francis horoscope this week, please see this link.

Aquarius (Jan. 20-Feb. 19) -- It's almost certainly not necessary for you to hide from the wider world. The answer to taking care of both yourself and your place in the human race is most likely to chill out more efficiently and more often. With regards to any collective enterprise or entity especially, delegate (or even simply leave) as much as you can responsibly to others. Allow yourself the chance to be pleasantly surprised by how well groups or communities you identify with can function without imposing your identity upon them. Take heart in how your peers and comrades can be just as helpful and effective in serving you as you are in serving them. -- by Len Wallick. For your Eric Francis horoscope this week, please see this link.

Pisces (Feb. 19-March 20) -- You probably don't need anybody lighting a fire under you. It appears as though you are doing a pretty darn good job of motivating yourself already. Therefore, rather than getting further wrapped up in being the dynamo you already are, look for ways to both unwind and relax into being more than just determined and driven. Think about where in your life letting up can be just as (or even more) productive as bearing down. Keep restraint on top of your tool bench right next to action, and choose between them with reflection rather than reflex. Your diligence and focus will indeed make a difference for the better in some ways. At least a few matters, however, might be better off left alone. -- by Len Wallick. For your Eric Francis horoscope this week, please see this link.