New York, Nov. 22, 2016 | View as Webpage | Get Your 2017 Reading


This Week on Planet Waves FM

Looking Back on John F. Kennedy




Dear Friend and Listener:

In tonight's edition of Planet Waves FM [play episode here], I look at the astrology of JFK, his inauguration and his assassination. I believe the modern presidency is defined by Kennedy -- which includes the fact that he was killed for reasons nobody seems to understand.

I've written two articles about this -- The Ancestor (from 2013), and Storm Warnings (from 2012), linked here as promised.

Here are the three charts I work with, presented as one document.

I look at the current astrology, talk about the forthcoming annual edition and respond to a reader query about compersion and jealousy.

Lovingly,


Planet Waves (ISSN 1933-9135) is published each Tuesday and Thursday evening in Kingston, New York, by Planet Waves, Inc. Core community membership: $197/year. Editor and Publisher: Eric Francis Coppolino. Web Developer: Anatoly Ryzhenko. Designer: Lizanne Webb. Finance: Jonathan McCarthy. Astrology Editor: Amanda Painter. Astrology Fact Checker: Len Wallick. Copy Editor and Fact Checker: Jessica Keet. Eric's Assistant: Gale Jazylo. Client Services: Amy Elliott. Media Consultant: Andrew Ellis Marshall McLuhan. Music Director: Daniel Sternstein. Additional Research, Writing and Opinions: Amy Jacobs, Cindy Ragusa and Carol van Strum.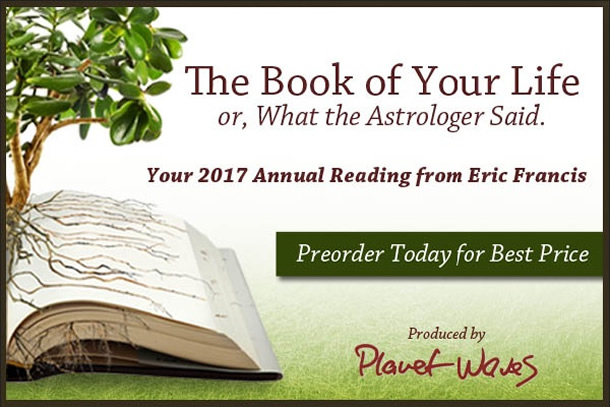 The Book of Your Life -- Astrology for a Changing World
"Eric, your annual readings are always beautiful and useful. I recommend them to anyone thinking about purchasing. You guide but also ask the listener to engage with their lives. Humans don't just get transformation for free and you are very precise in telling us where to look."
-- Shelley Stearns
We often hear from readers how Eric's interpretations of the current astrology and environment have been the only thing that makes sense in a volatile and uncertain world. The support of useful guidance is becoming more necessary than ever before, and Eric's annual readings provide that thoroughly, accurately and in a way that's easy to follow.
If you've been inspired and bolstered by our regular horoscopes, you're going to love these richly informative written readings for all 12 signs. Pre-order your copy today.

Don't forget to sign up for our Four Winds daily almanac. Get the best free daily report on the internet. You may
sign up at this link
, and share our newsletter with anyone you wish.
Here's the latest edition
, which includes a daily birthday reading, a daily overview, aspect listings and other features.
---
Travel Into the Future with Your Sagittarius Reading
"You are investing events with energy, vision and momentum, and that means infusing them with the power to travel into the future, to develop and to grow."
-- Eric in the Vision Quest reading for Sagittarius
Dear Friend and Reader:

Does the thought of investing your actions with energy, vision and momentum excite and inspire you? Or does it sound intimidating, because you're not exactly sure where to direct your journey next?

Wherever you are on that spectrum, it's not too late to engage with your primary astrology and get things going. Your 2016-17 Sagittarius Birthday Reading will point you in the right direction.

Saturn halfway through your sign is only part of the picture. And nobody puts the pieces of that picture together quite the way Eric does, to show you the opportunities, challenges and points of liberation you may encounter.

"I'm looking forward to the Sag birthday reading as well as the annual. I always appreciate your advice and unique point of view."
-- Josh

Made up of two audio astrology segments of at least 30 minutes each, plus a tarot reading using the vibrant Voyager Tarot by James Wanless, this reading can now be pre-ordered for the significantly discounted price of $19.97.

Note that the price will increase in stages between now and when the final section (the tarot reading) is published. The earlier you pre-order, the better the deal. Our regular customers understand its value:

"About a week ago I went back and listened to last year's Sag report and was blown away by how it seemed to describe my personal journey."
-- Sagittarius customer via email
This reading works for Sagittarius Sun, Moon and rising folks, and makes an amazing gift. Pre-order it here and save.

Yours & truly,



Amanda Painter
Planet Waves Astrology Editor

This Week on Planet Waves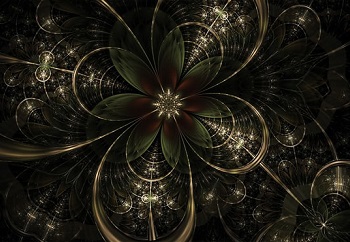 The Chaos Factor This week, Eric considers the astrology of our era, and how this applies to the United States in particular. The resulting article is founded on much previous research, but is also unique in its analysis: it takes the recent movements of metaphorical giants Uranus, Pluto and Eris and fits them together seamlessly.
Desire, Dreaming, Scheming and Action How are you doing? It's been quite a week. Amanda Painter looks at the recent astrology: a conjunction you might see reflected in the news; a square prompting you to play in the space between your secret erotic fantasies and what 'everyone else' might think; and another square to get you dreaming of what's next.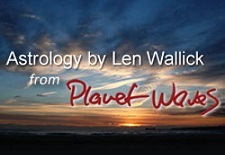 Everything Flows Everybody knows that still waters run deep. Not everybody, however, can discern a smooth flow of transition initiating beneath the shaky ground of disturbing events. Today, Len Wallick applies what this week's astrology implies to show that flow going on, and suggests there are also signs of stirring afoot.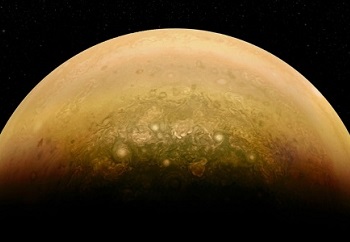 Spirit in the Sky: Sun in Sagittarius Eric has said that in the transition from Scorpio to Sagittarius, "We go from the night world of psychology and emotion to the day world of spiritual journeying and the quest." In this week's Astrology Diary, Amy Elliott (with help from Eric) explores how the Sun in the ninth sign can be like a fresh breeze.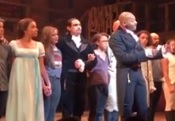 Democracy Now! Pick of the Week -- Nov. 21 Amy Goodman and co. spend the hour looking at the incoming administration of Donald Trump, a candidate who ran on a platform of open bigotry. However, Mike Pence has his own troubling platform. His ascendance to the vice-presidency is described by Jeremy Scahill as a "tremendous coup" for the religious right. Latest Comics
Thanksgiving Survival
Will you potentially have a mixed-worldview crowd at your holiday dinner? Jen Sorensen imagines some coping strategies.

Matt Bors Two-Fer
If you feel like you've just watched the most vile joke in the world, you basically have. Yet Matt finds ironic inspiration in a Trump quote.
To unsubscribe,
click here
. To unsubscribe from all future Planet Waves emails,
please write to
cs@planetwaves.net
Copyright © 2016 by Planet Waves, Inc. All Rights Reserved. Other copyrights may apply. >>
Some images used under Fair Use or Creative Commons attribution.