New York, Jan. 31, 2017 | View as Webpage | Pre-order Your 2017 Reading


New Planet Waves FM is Ready

Staying Awake in Wild Times



Dear Friend and Listener:

In tonight's edition of Planet Waves FM [play episode here], I look at the astrology behind all the chaos in politics and government -- and consider what it has to do with us as individuals.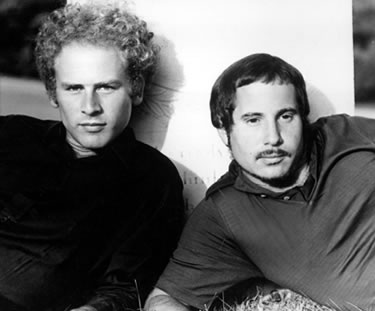 Art Garfunkel and Paul Simon.

In this media-themed program, I look at the Uranus-Eris conjunction and Mars on the Aries Point, as well as the forthcoming Venus retrograde.

In the last segment, I bring in Andrew McLuhan as my guest, and we consider what's going on within us and around us. For my musical guests, we have Simon & Garfunkel, with songs that are (gasp!) 50 years old and sound as fresh as the day they were recorded.

I also introduce The Book of Your Life, the 2017 annual edition of Planet Waves, which I finished writing Sunday night. I've concentrated decades of astrology work, spiritual training and therapy training into these written readings, which cover all 12 Sun, Moon and rising signs. We'll have that available shortly.

You may still get it for the pre-order price, for all 12 signs, or individual signs.

Planet Waves is offered without commercial interruption on a nonprofit basis as part of the Pacifica Radio Network. We are supported exclusively by your memberships, subscriptions and reading purchases. It's a fantastic win-win: get the best astrology reading available on the internet, and in turn support Planet Waves and all the good work we offer to you and to the world.

With love,


Planet Waves (ISSN 1933-9135) is published each Tuesday and Thursday evening in Kingston, New York, by Planet Waves, Inc. Core Community membership: $197/year. Editor and Publisher: Eric Francis Coppolino. Web Developer: Anatoly Ryzhenko. Special Project Designer: Lizanne Webb. Finance: Jonathan McCarthy. Astrology Editor: Amanda Painter. Astrology Fact Checker: Len Wallick. Copy Editor and Fact Checker: Jessica Keet. Eric's Assistant: Gale Jazylo. Client Services: Amy Elliott. Media Consultant: Andrew Ellis Marshall McLuhan. Music Director: Daniel Sternstein. Bass and Drums: Daniel Grimsland. Additional Research, Writing and Opinions: Amy Jacobs, Cindy Ragusa and Carol van Strum.




The Book Of Your Life

Thoughtful Astrology for Perfectly Wild Times



Dear Friend and Reader:

At long last, The Book of Your Life is written. I wrapped up Sunday evening, ending with the Pisces reading. This is the 19th annual edition of Planet Waves, with extended readings for all 12 Sun signs and rising signs.

Writing this has been an adventure. Each and every sign chapter has a life and vibration of its own. Begun over the summer with the working title "Spiritualized," the project ran in parallel with one of the craziest news cycles since the days of good old Richard Nixon -- and we've only just begun.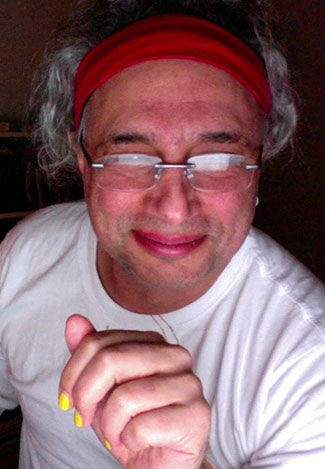 iMac selfie shortly after finishing Pisces.

As things got crazier, I slowed down and focused on my work, taking care with each and every thought and idea. Each sign got about 10 to 14 hours of my attention.

The astrology that's provoking the upheavals in society is also stirring the pot for each and every one of us. Our current astrology is a call to awakening so loud and so clear and so meaningful that even the American public has been roused from its slumber.

In this absolutely unique moment, you want more than being shaken up like a snow globe. I've taken my time and done a meticulous job describing the points of growth, healing and creative potential in your astrology.

I've factored in the Uranus-Eris conjunction, the Pisces alignment, Saturn conjunct the Galactic Core, a rather gorgeous Venus retrograde coming up soon, the eclipse pattern and many other elements. I've written everything in accessible, understandable, distinctly human language, so you can put it to work for you from the first paragraph or page.

Each reading is about 5,500 words, or about 15 book pages, and the reading is valid for well into 2018. Indeed, my sense is that the astrology of 2017 is preparation for the beyond-amazing alignments approaching in 2020.

The readings are available in three formats: on the web, in A4 European printable PDF, and US Letter printable PDF.

It may be the current wave of awakening, though this has been our bestselling annual since 2012. You can still get it for the pre-order price. I highly recommend getting all 12 signs, so that you can read the astrology for your Sun, Moon and rising signs -- and those of your intimates. Or, you can access individual signs here.

Please give it a try, even if you're new to my readings. I've poured into it the contents of my astrology knowledge, spiritual training and therapy training, all presented with the crisp, world-wise writing style of a journalist/novelist.

You will love it -- you'll be inspired and motivated.

with love,






Audio Astrology Any Aquarius Will Love



If you enjoy Eric's Planet Waves FM broadcasts, you'll really love his audio readings for each sign. And if you happen to have an Aquarius Sun, Moon or rising sign, you should know that it's still possible to pre-order the 2017 Aquarius Birthday Reading at a discounted price -- for yourself, or as a gift for a loved one.
 
You'll be able to use this audio intensive to explore choices around your self-esteem, your sexuality and relationships, your career, your spiritual health and healing, and more.
 
"No longer am I amazed that what you convey is spot on… it's just the way things are." -- Rob Moore
 
In two segments of audio astrology and a tarot reading using the Voyager Tarot by James Wanless, Eric will guide you through the major themes and subtler points of your next 12 months in this reading. All for just $19.97 -- but don't wait too long: the price will increase when your Aquarius Birthday Reading publishes.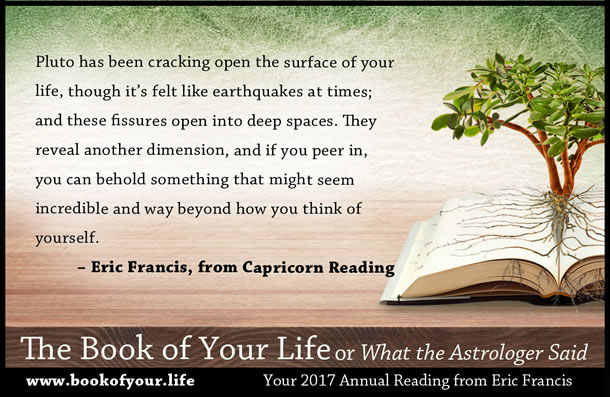 This Week on Planet Waves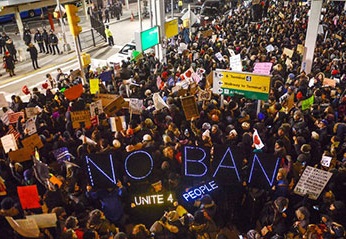 Mercury Conjunct Pluto, Refugees and Protests Sunday, Mercury formed a conjunction to Pluto in Capricorn. The most obvious symbolism during Mercury's recent retrograde, Eric writes, involved a near-conjunction between the two points. Then Mercury backed off, and crossed back into Sagittarius, made a near-conjunction to the Galactic Core, and then went direct.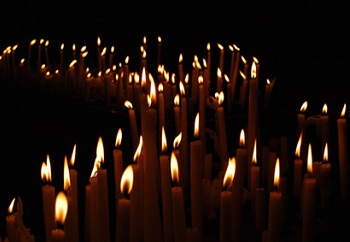 Imbolc: In the Belly of the Stars February arrives at the depth of winter in most of the Northern Hemisphere, when we live in the shadow of cold, rain and snow. Within February's first few days, Eric writes, lies one of the four high holidays -- or sabbats -- of the pagan calendar, called Imbolc in Celtic times; one of the four "cross-quarter days."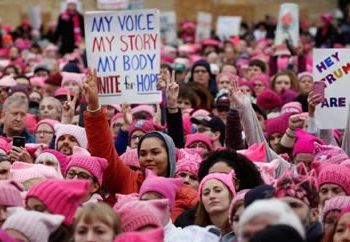 It's official: Pussy has gone mainstream Our field reporter Amy Jacobs attended the Women's March on Washington on 1/21. Among the many remarkable things about that protest, she writes, one that is not often discussed is how the word "pussy" has been reclaimed by women, after the new President was caught admitting to letting his tiny hands wander.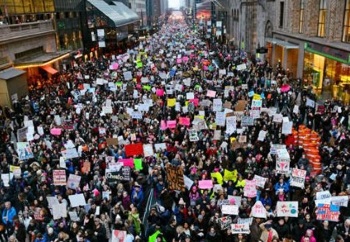 1/21 Protests: All Hail Uranus Conjunct Eris Who dreamed that millions of women, and their friends, would take to the streets around the world on Saturday, Jan. 21? Well, someone did. In this full Planet Waves edition, Eric discusses the Women's March in the light of Uranus-Eris and also the profoundly important historical context: centuries of war on the feminine.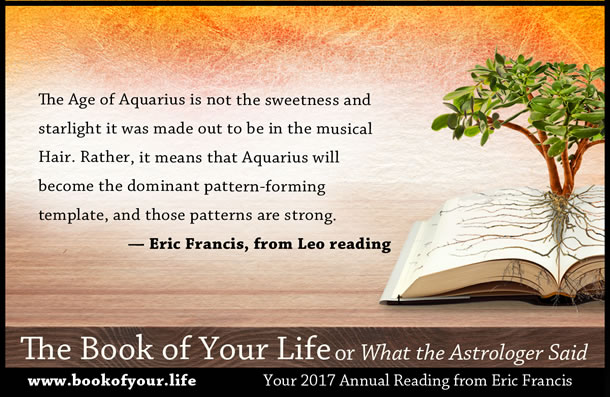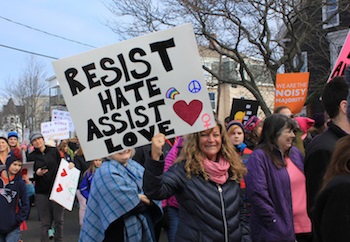 When Looking Inward Points You Outward During Friday's Aquarius New Moon, the Sun and Moon did not make any major aspects to any major planets; the action seemed to happen elsewhere in the chart. Amanda Painter suggests it's an apt metaphor for the importance of community awareness even at one's most introspective moments.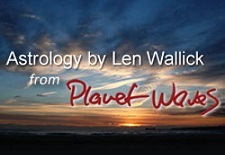 How You Think, What You Feel The Sun in fixed Aquarius is reaching a point where it will be resonating strongly with a large number of celestial objects in cardinal signs. As Len Wallick sees it, this cosmological arrangement puts you in a position either to make conscious choices or create unintended consequences based on how you think and what you feel.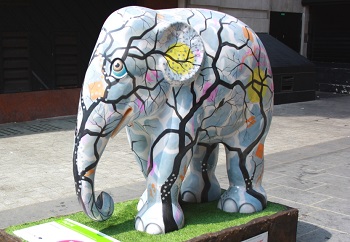 The Elephant in the Room: Mercury Finally Meets Pluto Sunday afternoon EST, Mercury finally formed the conjunction to Pluto that was a gnat's whisker away back on Dec. 19, during the station retrograde. Amy Elliott suggests that the fulfillment of anything so long in coming is always something of a relief, in clearing away uncertainty and revealing truths.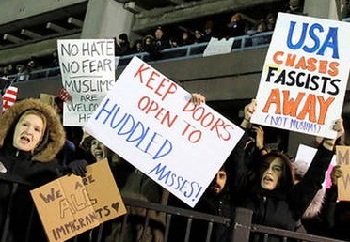 Democracy Now! Pick of the Week Thousands of protesters flooded airports across the United States over the weekend after President Donald Trump signed an executive order Friday temporarily banning all refugees from entering the country, and barring access for 90 days to nationals from seven majority-Muslim nations. Latest Comics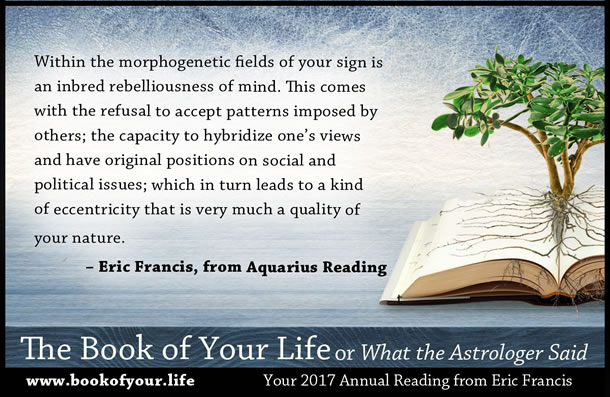 To unsubscribe,
click here
. To unsubscribe from all future Planet Waves emails,
please write to
cs@planetwaves.net
Copyright © 2017 by Planet Waves, Inc. All Rights Reserved. Other copyrights may apply. >>
Some images used under Fair Use or Creative Commons attribution.