New York, April 11, 2017 | View as Webpage | Pre-order Your 2017 Spring Reading


This Week on Planet Waves FM

Venus, Chiron and the Divine Feminine



Dear Friend and Listener:

With the approaching end of Venus retrograde, and Venus conjunct Chiron, tonight's edition of Planet Waves FM [play episode here] is about the Divine Feminine. This means something different to everyone. What it means to me is a healing and creative source at the core of both cosmos and psyche, that's available to us all the time.

I look at both current events and current astrology -- Mercury retrograde, the Sun about to pass through the Uranus-Eris alignment, and the end of Venus retrograde; and some corresponding events: Trump as a war president, the aggressive actions of United Airlines removing a passenger from a plane, and the natal chart and confirmation chart of Neil Gorsuch.

Our musical accompaniment is provided by Florence + The Machine. I play some selections of her music, and devote Tantra Corner to a reading of her natal chart.

Planet Waves FM is part of the Pacifica Radio Network, presented without commercial interruption or corporate sponsorship.

If you're not already a member of Planet Waves, please sign up today.

Thanks for listening.

With love,


Planet Waves (ISSN 1933-9135) is published each Tuesday and Thursday evening in Kingston, New York, by Planet Waves, Inc. Core Community membership: $197/year. Editor and Publisher: Eric Francis Coppolino. Web Developer: Anatoly Ryzhenko. Special Project Designer: Lizanne Webb. Astrology Editor: Amanda Painter. Astrology Fact Checker: Len Wallick. Copy Editor and Fact Checker: Jessica Keet. Eric's Assistant: Ellen Dockery. Client Services: Amy Elliott. Media Consultant: Andrew Ellis Marshall McLuhan. Music Director: Daniel Sternstein. Bass and Drums: Daniel Grimsland. Additional Research, Writing and Opinions: Amy Jacobs, Cindy Ragusa and Carol van Strum.


Dear Friend of Planet Waves:

I'm ready to begin work on the spring 2017 reading.

Revolution is in the air, but a little something seems to be missing: introspection. World events are certifiably insane. The electronic environment is sucking our time, our souls and our relationships down the digital drain.

Yet the same aspect that describes this -- the rare and rebellious Uranus-Eris conjunction -- also describes the potential for profound personal reinvention.

And that's what the 2017 spring reading is about: how to dial that in; how to create a vision for who you want to be; how to uncover who you are despite the massive distractions and anti-social conditioning of the digital environment.

Until a widespread social movement becomes the tide that raises all ships, those who are awakening must actively engage in inner exploration, self-understanding and relationship-for-truth.

The theme of this year's spring reading:



The revolution is within, and INVOLUTION is your guide. Consisting of 12 individual sign readings, recorded in studio-quality audio/video, you will love these readings. They will be available as YouTube presentations as well as downloadable audio for listening on your pod, tablet or as you drive.

Read more...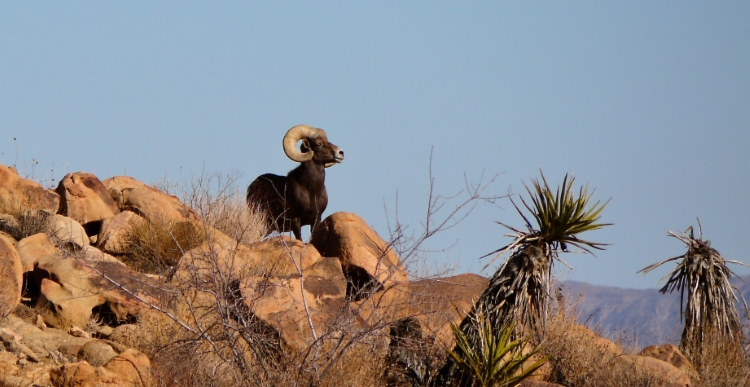 Big horn ram in Joshua Tree National Park, CA. Photo by Joseph.
"Your reading has given direction and meaning on how to proceed, to learn and move forward in these difficult, unsettling times and at the same time, inspiring me to tap into limitless creative gifts. Thank you, Eric; from my heart to your heart, I send you deep abiding gratitude for your penetrating insight and your deep caring concern, with which you carry out your mission for all of us!"
-- Ann Cortese, B.S., M.P.S.
Time is running out to pre-order your 2017 Aries Birthday Reading (suitable for Aries Sun, Moon or rising) at the lowest price we offer. The reading comprises two segments of astrology (at least 30 minutes each), plus a tarot reading for the year and extended written sign description -- and will offer you inspiration, motivation, support and perspective you can actually use.

This Week on Planet Waves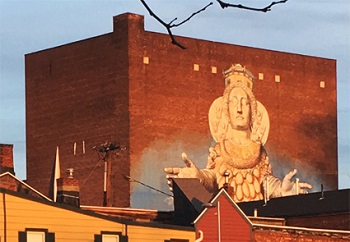 Artemis on the Rise As Eric writes in this week's Astrology Diary, the question that many people are wondering and that everyone should be wondering is: will enough potentially conscious, loving people wake up to facilitate society taking action? The new Uranus-Eris cycle has just begun. What will we do with this potential?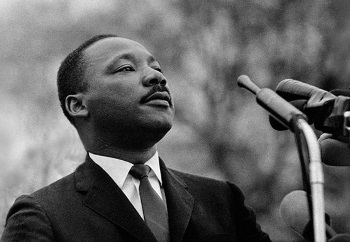 Venus, in Search of Chiron In Thursday's full edition, Eric considers the impending conjunction between retrograde Venus and Chiron, in late Pisces. He discusses what it has to say from the perspective of feminism, and about how both women and men get in the way of their own freedom. Through examining this, we can glimpse a more equal world.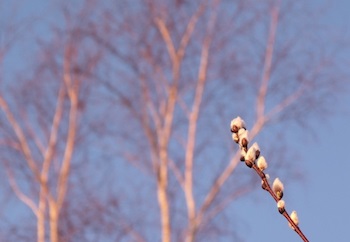 Enthusiasm, Accountability, and Mercury Retrograde Have you ever been involved in a project that lacks a clear leader within the group? And maybe you feel excited because you just know that you have the right ideas and could totally direct your team to success, if they'd listen to you? Amanda Painter suggests a recent major aspect pattern looks a little like that.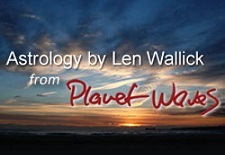 The Implicit Breath Every breath is important. Not all breaths, however, are equal. As noted by correlations Len Wallick makes with the "abundance of retrogrades" of visible planets this week, anytime your breath is taken away, it's an event worth noting -- for the inspiration its cause and circumstance may invoke.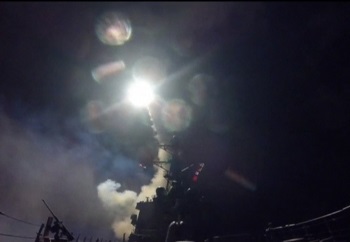 Democracy Now! Pick of the Week Without congressional approval, on Thursday night the United States attacked a Syrian airfield. The move comes after the U.S. accused Assad's forces of using the air base to carry out a chemical weapons attack that killed 86 people, including at least 30 children. Syria denies carrying out the attack. Latest Comics
Suffer the Children "God forbid innocent children are hurt by their own president!" Indeed. (Congrats to Jen Sorensen for being named one of this year's Pulitzer Prize finalists for editorial cartooning!)

Unraveling the Russia Threads

First it was curious; then an outrage. Now? Matt Bors wonders how many people have gotten tied up in knots over Trump's Russia connections.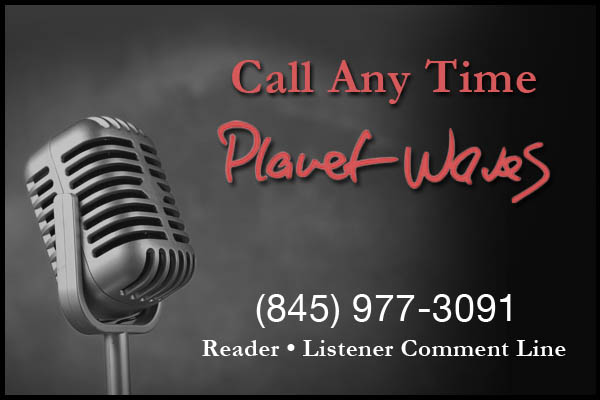 ---
To unsubscribe, click here. To unsubscribe from all future Planet Waves emails, please write to cs@planetwaves.net Copyright © 2017 by Planet Waves, Inc. All Rights Reserved. Other copyrights
may apply. Some images used under Fair Use or Creative Commons attribution. >>