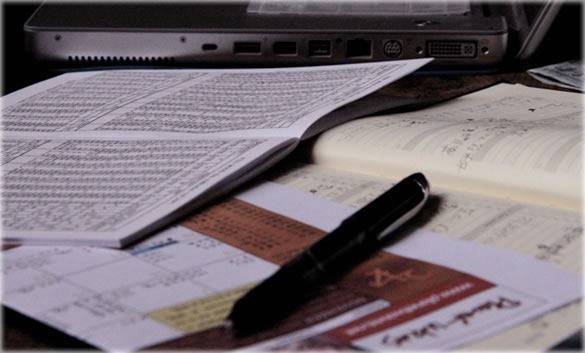 SO PLEASE allow me to tell you about what we're doing -- and give you some insight into the business we're in at the same time. After months of plotting and scheming, and years of working with astrology for the public, the Planet Waves team is creating a first-of-a-kind project -- a full-year almanac.
A first for us, that is -- a 'designed to be printed' publication, except for the much more basic
month-by-month almanac
that so many of you (about 4,000 people!) download each month -- and which was the seed of the idea. We've also taken some inspiration from
Poor Richard's Almanac
, at least in spirit and intention.
This project is greatly expanded from the monthly calendars you've had through 2006, with much more room for detail. The heart of the matter is a custom-programmed ephemeris so you know day by day what's happening in the planets during what promises to be an extremely interesting year, even by recent standards. The ephemeris covers data on classical planets, Centaurs and other new discoveries, which I'm personally sculpting into something fun, clear and easy to use.
We've also done an overview of all 13 sets of New and Full Moons, and I'm writing an extended overview for each of the 12 months of the year. It's all there: eclipses, retrogrades, hot spots, moments of opportunity, rough spots, adventure zones -- all in advance, easy to read and, best of all, printable (both in UK and USA formats, A4 and letter) and delivered as a readable or printable PDF. Anyone who has ever put out the volunteer fire department newsletter knows how much work a publication is, and how much dedication it takes.
Here's the thing. To do a project like this, we have to take a big chance, investing substantial resources such as time, effort, thought, money and most of all love into something that we just simply trust enough people will be interested in to work economically.
That part is up to you. We've kept the pre-order price attractive, $9.95, and we're skimping on nothing, and we're doing it all with you in mind. Now comes your part, and a small part it is: please order a copy or two. It's fast and easy; you can even call on the phone if you'd like. The number is (877) 453-8265, or (206) 567-4455 from outside the US. You can call during Eastern business hours, please.
If you are a subscriber, then your package already includes
The Spiral Door
, the 2007 annual edition website, which is evolving beautifully. To get
The Spiral Door
, all you need to do is
subscribe
. The almanac is an extra. We've done it for you; you can pre-order your copy
here
. Just pull down the "choose one" menu and choose "Pre-Order 2007 Almanac."
Thank you!