Dear Friend and Reader:
A COUPLE OF weeks ago, someone introduced me to Gerald Celente, the internationally renowned trends analyst. Celente has an office around the corner from my studio in uptown Kingston, NY. "His job [is] to see the future and understand how the issues and events of today will determine the trends of tomorrow," according to his bio on Coast to Coast AM, the former Art Bell Show.
I've known of his work for years, but somehow managed not to meet him till that day. I seized the moment and asked him if he would do a quick interview, and he told me to come by in 15 minutes. I bought a quart of currant juice from Ray the Bee Guy to bring as a gift, packed my camera and digital recorder and walked to Celente's office. He works out of a magnificent old market building with bay windows, hardwood floors and dozens of thriving plants.
We started with a discussion of the horrid state of the American government and economy. He expressed his extreme distaste with both major presidential candidates, Barack Obama and John McCain, saying he wouldn't trust either of them to "lead him across the street, much less lead the country." But, he said, Obama supporters are the biggest hypocrites of all.
Why would that be? Obama has stated his position in favor of escalating the war in Afghanistan and bombing Pakistan if the government doesn't cooperate with the war on terrorism. Obama supports "clean coal technology" and the use of nuclear power. I also know he claims to be in favor of the death penalty. Celente asked me which of these issues I agree with, and I said none of them. And he asked me why I would possibly support Barack Obama for president. Backed into a corner, I struggled for an answer.
"I know what you're going to say," he said. Celente's job is to make predictions; he happened to be right this time. "You're thinking, he's saying this stuff to get elected."
"Right," I said.
"So you're saying you're hoping he's lying."
A note from the editor:
You've just read an excerpt from Friday's edition of
Planet Waves Astrology News
. This week, Eric employs the power of astrology to glimpse inside Obama's complex nature. Is he honest? Is he making things up? Can he win?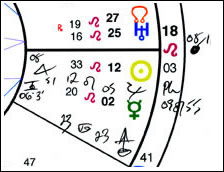 The Sun and other planets in Barack Obama's natal chart.
Several small, newly discovered planets are crucial in Obama's chart, and help us get an understanding of his personal history and inner nature. As always, Planet Waves presents these chart factors in a way that is easy to understand and helps you understand yourself.
Are you ready for Planet Waves? We think so. To subscribe and get instant access,
click here
. Subscriptions cost $7.33 per month, your investment in the entire Planet Waves grassroots operation. We're completely ad-free, and, like PBS, we count on your contribution to fuel our growth and help create the best astrology journalism in the business. Subscribers enjoy many features and benefits, including Eric Francis horoscopes twice a week -- and a special discount on Next World Stories, the 2009 annual edition.
Yours & truly,