Dear Friend and Reader:

Each year I stop doing astrology consulting sessions around when the annual edition gets going (usually in November), and this year I'll be taking a break in August to attend Burning Man. That leaves relatively few opportunities to do astrological work with me for the remainder of the year; and each January I decide whether I will renew my commitment to the work for the coming year.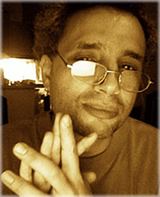 Eric Francis at home in Brussels, 2007.

Astrology consulting can be a potent awareness-raising process. In the midst of our fast-paced lives, astrological work offers us time to reflect on where you are now, where you've been and where you want to be. More to the point, astrology is about who you are. Astrology, done well, offers the gift of assisting us in connecting with our original instructions. In my experience, some of that information is expressed in the chart.

In addition to being classically trained, I'm one of the few practicing astrologers (particularly in the United States) who is well-experienced in the use of centaurs and newly-discovered planets. I began with Chiron and the asteroids in the early 1990s, and have followed new discoveries as they have emerged, both as a writer and as a consultant. Used well, these planets can take astrological work to a new depth, providing specific information unavailable on the main avenues of interpretation.

My work remains client-centered, inspired as much by the concepts of humanistic therapies and homeopathic principles as it is by astrology itself. The essence of what I do is combine information that I get from you, from the chart and from my knowledge base into an interpretation that can only come from merging all three perspectives. This multi-faceted approach takes pressure off of the chart as the only source of concrete information; it diffuses the idea of fate into something more gentle; and allows us to use your astrology creatively, as a way to redesign or align with your life trajectory.

I believe that the current 'economic' shift is part of a much larger reorientation of society that is affecting every individual. Eventually our individual changes will add up to sweeping social changes that many of us will want to play our part in; that will require some preparation.

We are being compelled to slow down, step out of old patterns, reassess our priorities and allow ourselves to do what we know we want and need to do. Sometimes this happens in the absence of other options, and sometimes the options seem overwhelming. In hindsight I believe we will see that what is being called a 'downturn' in the media will work out to be a back-to-our-roots phase of history, where we make contact with our core values and express our deeper purpose of living.


Photo by Danielle Voirin.

Recently, I have expanded my practice to include general consulting and business consulting. My mundane astrology skills (i.e, worldly matters rather than spiritual or psychological) include date planning for business moves, incorporation charts, weddings and in some cases the timing of procedures.

After I have done an initial consultation, I am also available to do a more conventional chart reading. I do the charts of children and teens with the consent of their parents. When working with a parent on the child's chart, I consider my role as an advocate for the child. With teens, the process is more of an initiation into adulthood.

Ongoing work is the most effective at meeting your long-term goals or working out old material. As most readers of my writing are aware, no subject is too controversial, personal or taboo to bring up in astrological work with me. All work is strictly confidential.

Finally, for professional astrologers wanting to work more effectively with the new discoveries, I offer teaching sessions that will acquaint you with how to use these planets.

About Scheduling

We have revised our system to a carousel-type waiting list. Each week an email goes out to the entire list, stating the available appointments for the next few weeks. This gives you the opportunity to schedule on relatively short notice, and to have your session relatively soon once you are on the list. It is possible to book one session, though I highly recommend one session and an affordable follow-up so that we have a sense of closure. A longer follow-up is also available.

Most appointments are by telephone, though I do some in-person work in the Hudson Valley. I am located in Kingston, about two hours north of New York City, with a convenient bus connection (a Trailways station) on this end. For those wishing to travel to see me in person, I can help you set up travel arrangements.

Because the basis of my work and the foundation of Planet Waves involves our published products, I ask that all astrology clients be active subscribers at the time of their session. If you are not an active subscriber, we will sign you up at the time you schedule your session. My written work takes on a deeper level of meaning and service once we've worked together directly.

If you have specific questions, please contact me via email or Chelsea Bottinelli by phone at (877) 453-8265.

Yours & truly,



Copyright © 2009 by Planet Waves, Inc. All Rights Reserved.