Kingston, Feb. 19, 2008
|
Link to This
Navigating This Article Series
Dear Friend and Reader:
You are one of the subscribers to the current series, called "It's Not About Sex. It's About Self." Thank you -- this is developing into a fun project, for sure coming out much more comprehensive than I planned.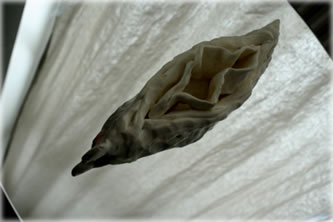 Sculpture and photo by Eric Francis.
You have been receiving the new editions by email, though it's also posted to the Internet on pages without passwords. The reason for this is that we assume people are going to be sharing the articles with their significant other(s) or close friends and we want to make that easy.
The pages are organized such that every page allows you to navigate to all the back issues. Each time we update, navigation to the new page will be added to all the pages. When the series is done, it will get a dedicated website.
Here are the issues we've done so far:
Introduction

1.
It's Not About Sex. It's About Self.

2.
Touching the Goddess of Curiosity

3.
The Problem of Self Esteem

4.
Compersion: The Only Way Out is In

The series will run for about two more weeks, including the following:
Part 5, ready later this week (by Saturday, probably sooner) will cover the history of our ideas about masturbation. This may not sound interesting, but I assure you -- it's pretty shocking. Masturbation is the primal template of human sexuality. How we feel about it is, I believe, the core of how we feel about sex.
Part 6 covers the most basic astrology of sexuality: the 5th house (playful sex), the 8th house (sex with commitment of some kind) and the 12th house (fantasy, masturbation, secret daliances, unspoken needs and secret obsessions). The idea here is not to do predictive astrology, but rather to help you gain a basis for understanding where sexuality fits into the human experience, as described by the astrological scheme. For one thing, I hope you will see how diverse this thing called "normal" really is.
Part 7 covers the sign-by-sign astrology.
Part 8 covers the Chiron-Nessus-Neptune conjunction in Aquarius, and the social pressures associated with that.
Part 9 is reader commentary in response to the series. Please send your comments to
info@planetwaves.net
.
Part 10 will be a resources page for additional reading, including a bibliography of my own work and those of writers in affinity. Suggestions for this section are most welcome.
I am grateful to my webmaster Anatoly, and to our editorial team, including MaryLaura and Stella, who are handling copy editing and production. To everyone -- have a safe and sane eclipse tomorrow.
Many thanks,