Dear Friend and Customer:
We're here to thank you for being one of our valued customers.
You are among those who have taken the step and subscribed, purchased a product, contributed your creative talent or helped in a professional capacity. We know that part of building a new world means spending in accordance with our values, and supporting independently-owned small businesses. We consider Planet Waves to be a modest experiment toward this goal.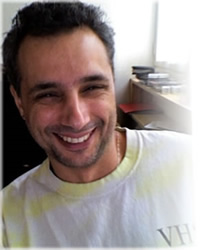 Eric Francis, Paris' 05.
Many of you follow the main Planet Waves blog, which has been available to both our customers and pre-subscribers on the open Internet. After much consideration, we have decided to consider a portion of that content stream to be premium content. I put some of my best astrological writing into that project, and after consultation with my business and creative team, I've decided that this work needs to be reaching the people who help us pay for Planet Waves, who would be you.
There will therefore be many posts to the main blog at
http://planetwaves.net/
that require a password,
which is included in this email
. This is the same front-page blog you've read many times. When you come to a post that is pass-protected, enter the password
planetwaves
(one word, lower case).
Not all posts will be pass-protected, but when you get to one, please enter that password
.
Planet Waves Astrology News
subscribers will have access to premium blog posts as long as your subscription is up to date.
Next World Stories
subscribers will have access through Dec. 31. Access will be included with the 2010 annual edition.
Midyear Report
subscribers will have access through Dec. 31.
There are several other categories of people in our network that are receiving this notification, including our Colleagues list, our Contributors list and the Compersion list. We will keep you up to date about this new access method.
Remember: blog posts have a unique password, which is planetwaves (one word, lower case)
.
You may have access through more than one product; there is just a password, which is (for now) different than the one for the product you purchased.
I want to thank you again for being our customer; for purchasing what we know are really cool astrology products; for helping us develop our business; raise our kids; and gradually perfect the concept of a
subscriber-supported, advertising-free
Internet project.
On behalf of the Planet Waves team, this is