Schedule Update, Mercury Price Drop, Capricorn 2010 Birthdays
Dear Planet Waves Reader:
Before I finally wind down writing astrology for a week, I'm here with a few housekeeping points, the first of which I've been meaning to remind you of forever -- I suggest you get to know the
simplified site navigation
we have at the top left of our email editions. You can load the current issue in your web browser (say, if the email looks a little odd, or if you find a typo), and you will have the latest revision of the current issue. You can also browse issues going back many months by using the "prior edition" link. Try it! It's fun. Look at the top left of this page to see what I mean.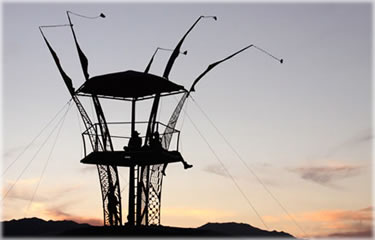 Observation tower at Burning Man 2009. Photo by Eric Francis.
Next
:
our updated publication schedule
while I take a break this week from writing astrology. There will be a regular issue Tuesday -- that's the September monthly horoscope. I will then take off
Friday, Aug. 27 and Tuesday, Aug. 31
. We can call this the "
Burning Man
Break" even though I'm not going to Burning Man this year. We will send a reminder those days that there is not a regular issue.
Next:
the
Mercury Retrograde 12-sign Special Edition
. I finished this Friday -- the last six signs were recorded out at the waterfall on the Grandmother Land. It looks at the current Mercury retrograde through the 12 signs of the zodiac. It's an interesting, exciting bit of astrology analysis. My sense is that the current retrograde, exclusively in Virgo, has a special gift for each of us. Virgo is a sign that does a lot of work in everyone's chart, and Mercury is one of the planets we over-exert the most. I explore the meaning of Virgo for each of the signs, and check in with the special emphasis of Mercury being there for nearly 10 weeks (through early October). One beautiful thing about this report is its value to astrology students. It's a mini-textbook on the houses (I explain each house in detail as I go through the signs), and demonstrates how to interpret a transit. (The project is
described in greater detail here
.)
To make this work accessible to more people,
I've dropped the price to $19.95
.
Here is the link for instant access.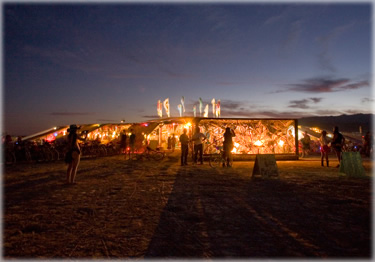 Center Camp at Burning Man 2009. Photo by Eric Francis.
Last for Now:
by special request, I did a
Capricorn audio birthday report
. I've been doing the current sign each month, and backtracking one sign prior. The "prior" signs now include Pisces, Aquarius and Capricorn. I love this Capricorn report. It's a strong interpretation of the astrology for the sign that's arguably the most deeply involved in the cardinal sign T-square, mainly owing to Pluto in Capricorn.
I spend a lot of time on this transit, and interpret the influence of the rest of the T-square on your world. The birthday readings consist of three sections of astrology and a section of tarot. For $14.95, offering 90 minutes of interpretation they are a steal --
you would spend that much for five minutes
calling a telephone reader on one of the "psychic" networks.
Click here for instant access.
And these items have been strong sellers, increasing in popularity with each edition. I have a feeling the word is getting out. Thank you!
Okay!
That covers the basics. Remember, there will be an edition Tuesday, then I will skip the following Friday and Tuesday. I'll also
skip this week's free audio update
, though the
archives are amazing
-- going back to the spring. For the many of you who have expressed an interest in studying astrology with me, my audio presentations are a very good place to start.
Enjoy those subtle Virgo rays of light, and don't forget the Pisces Full Moon on Aug. 24.
Yours & truly,

PS, if you're not a regular reader of our blog,
Daily Astrology & Adventure
, you're missing out -- we provide a beautiful mix of news coverage, astrology, art, tarot and relationship ideas.