Planet Waves Astrology News: Cyber Smudge Stick
(Sound cue: Tibetan singing bowls and flutes.)
Moments before the summer solstice, the great astrologer Eric Francis walks into a candle-lit, crystal-adorned altar space wearing long, flowing purple robes, his hair wafting behind him, surrounded by the aroma of sandalwood and sage. Clearly in a trance, he sits among several Vestal virgins tending the altar's flame, and as he speaks, one of the virgins begins transcribing this week's channeled horoscopes…
WHAT??!!!
Seriously?
Look, if that's what "astrology" means to you, there are plenty of places to find it.
Planet Waves Astrology News is not one of them.
If you want grounded, balanced interpretations of planets' movements, insights into how their energy is manifesting in world events, and clear instruction on using astrology in your personal life, you'll find it all in the weekly Planet Waves subscription service. We deliver kick-ass weekly and monthly horoscopes right to your inbox along with a relevant essay or two. Check out a sample of our Friday edition
here
.
It isn't cluttered with New Age fluff -- no faerie figurines mass-produced by underage workers in Southeast Asia here. It isn't a smoke-and-mirrors show filled with nonsensical affirmations (your inner child will be perfectly fine playing on her own for an hour while you have some grownup fun). It isn't for everyone (fresh local veggies don't excite your taste buds? Okay, your palette may not be developed enough for Planet Waves yet).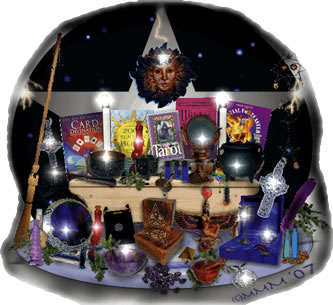 Attractive display from Ericís recent yard sale, also tended by Vestal virgins. Who knew they were so
good at making change?
It
is
useful and beautiful. Astrology News was created with you in mind. Each edition is thoughtfully written to help you make the most of each day. One subscriber writes, "Eric's amazingly insightful, clear, meaningful and practical horoscopes and interpretations of astrological events really have given me the guidance to be a creative force in my own life and understand events in my life."
Think you finally deserve something useful? Ready for beauty you can sink your teeth into?
A full 12 months will set you back the equivalent of about $1.69 per week. Seriously.
Just click here.
Prefer to pay in monthly installments like you do for PBS?
We have that option
, too (only you won't feel like you're paying for a bunch of shows you don't watch).
Go ahead: clear out all that stale incense and open a window wide to Planet Waves Astrology News. Now take a deep breath, because you're ready for it.
Yours & truly,
Amanda