There are some things I should not do first thing Friday morning, such as try to tell one product code from another. This letter has the correct product code. Hello again and thanks for enduring the second mailing. Also, I meant
naughty
, not
haughty
-- but we all know they're closely related.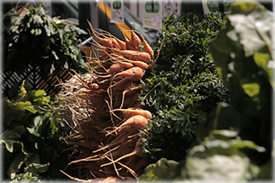 Photo by Eric Francis.
Today's edition of Planet Waves
has just the kind of conversation that today's conversation says you're likely to get a whole lot less of these days. It includes grown-up words like Saturn, Pluto and Hormone -- so make sure you eat your veggies so that you can have your dessert. (What I am saying here is that
today's edition
has certain words that are likely to be perceived as naughty by your Net Nannie or content filter, so I am sending out a cover letter instead.)
Also, this is just a friendly reminder that I can't wait to go to selling the annual edition by the method that makes Planet Waves and me a lot more money, but for now we're still offering
all 12 signs simultaneously
, which is precisely the way they are not written.
While I've got you're attention, we are offering
14 months for the price of 12
if you
renew early
. And make sure you watch your email next week for information about
gift subscriptions
.
Have yourself an absolutely awesome Sagittarius ingress, get ready for that galactic ride, and I will see you with the monthly horoscope on Tuesday.
Yours & truly,