Venus and Mars Play Gender Twister in Scorpio
Dear Fellow Seeker:
I wanted to give you a peek at what's in this week's
Planet Waves Astrology News
since you are not currently a subscriber. Now that we've just about sifted through the last of the Mercury madness and have turned the seasonal corner of the Libra equinox complete with a Full Moon, we can turn our attention to a pretty compelling meeting in Scorpio: Mars conjunct a retrograde Venus. This is an introspective and potentially unsettling focus of energy, bringing up themes of gender and relationship transformation on fairly deep levels -- both personal and cultural.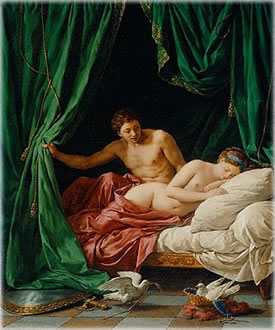 Louis Jean Francois Lagrenee's "Mars and Venus, Allegory of Peace" (1770), which is part of the Getty collection. Alternate title: "Morning After the New Year's Eve Party (Trying to Remember Her Name)."
To give you an idea what I mean, here is an excerpt from Eric's lead article in this week's edition: "All in all, this sounds like an astrological experiment in gender, sex roles and sexual orientation. I would imagine that this ongoing conjunction is having its influence on many or most relationships. Scorpio is sexual, and it's also hormonal, and emotional, and ties into reproduction and DNA. Scorpio is an energy field where power in nearly any form (biological, economic, emotional, erotic, relational) is transacted, exchanged and where it mutates into new forms. This astrology suggests strongly that relationships and the people in them are poised on the edge of some transformation that will occur as part of the conjunction, and as part of the Venus retrograde process. One question is whether we're willing to go along with the process, take it up consciously, or whether we are more prone to resist it."
"My take is that the evolution of consciousness requires a state of non-polarization leading to fusion of the opposites in the heart center," wrote Alan Oken in response to this week's edition. "This awakens true intuition, a state of being in which the Middle Path (love-consciousness-soul) becomes the dominant place of self-identification."
He continued, "There are quite a few androgynous heterosexual people -- more each day, and many, many homosexuals who are not androgynous in their consciousness at all! That said, on the level of pure sexuality, the approach to the collective state of androgyny (which I believe and hope is our evolutionary destiny) is expressed in large measure by this huge out-of-the-closet gay emergence."
Our current theme was also a highlight of this week's
free podcast
from Eric, a regular Wednesday feature on the blog. In an easy-to-use audio format, he covers the Libra equinox followed by the Full Moon, then a look at the Venus-Mars conjunction in Scorpio in consideration of the recent vote by the Senate to keep in place the "don't ask, don't tell" provision of military law.
Also, in case you missed the announcement a couple weeks ago, we're running a
Facebook recruitment campaign
, to build up membership to our fan page. If you would like to join our fan page,
use this link
. This isn't an endorsement for Facebook -- I know it may not be your thing for good reasons, but for those of you who are passionate users, we'd like to extend an invitation.
Last but not least, don't miss our
daily blog at PlanetWaves.net
. During the week, we usually update four times a day. Highlights from this past week have included extensive, heated discussions on the phenomenon of father-daughter 'purity balls' in certain churches and the curious rise of Christine O'Donnell in the political landscape. We've been featuring an
Intro to Tarot
series that has just expanded to twice-weekly, and of course we cover all the latest astrology as it's happening to you.
Wishing you a fine first weekend of this new season -- for Planet Waves, this is

Amanda Painter