Dear Friend and Reader:
We know resources are tight and the places to spend your resources are vast, so thank you for investing in Planet Waves -- and yourself.
As a reminder, your subscription with us has now expired. However, it's not too late to get your horoscopes, astrology news and resources for as little as $7.33 a month. To re-subscribe online,
click here
.
You can also email or give me a call at
1-877-453-8265
or
206-567-4455
.
Planet Waves is here for those who remember the miracle of communication. The ideal reader is someone who remembers the world as an experience of co-creation, and views reading our writing as a co-creative experience.
You are someone who knows that change is imminent in your own life, and somehow you feel a sense of progress radiating out all around you. Our article
Taurus: What is the Question?
struck a chord with many readers, eliciting responses about your struggles with the ethics of work. We heard how much it helped you.
You feel the world becoming more global: you sense the political, social and technological changes that are all around you, and you want to take part actively. The July article on
Buckminster Fuller
exemplifies this, showing you visions of the future from the perspective of technology and conservation. Our 2009 annual, Next World Stories, will be a continuation of this idea.
Our business model is that we are subscriber-supported. In our era when hidden interests and agendas control nearly everything you see, hear and touch, we are devising a way to keep the quest for truth alive. Read more about our
ad-free policy here
.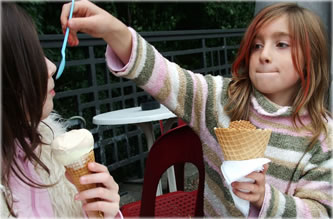 Nurturing. Photo by Deirdre Tanton.
You are how we are able to build our vision, and as a result, your own. It is in this spirit that I am inviting you to stay involved in sharing this mission, in taking up a piece of it spiritually and investing some of your life force energy. I am inviting you to continue supporting our work financially, as a subscriber or as an investor.
Your subscriptions build a vision that you can see and experience every day, and that reaches out with positive impact on an untold number of people both directly and indirectly.
We face the significant question of how to build the future -- that is, how to build the future right now. We invite you to join us in that experiment.
Here is how you can do that
.
You're welcome to
contact us
with any feedback so we can continue to provide you quality astrology news and services. We also provide custom subscription packages for those of you with more particular interests.
We hope you have enjoyed Eric's horoscopes, essays and insights, and we're looking forward to welcoming you back to the Planet Waves community.
Yours,