Dear Friend and Supporter of Planet Waves:
I'm here to thank you for your support of our publishing experiment and our exploration of a different kind of business model. I trust you've enjoyed what we offer to you while you've subscribed to Planet Waves Astrology News. I hope you'll take a moment to renew your subscription and continue help us weave our community of conscience, so that you and many readers can receive the benefits of what we are doing.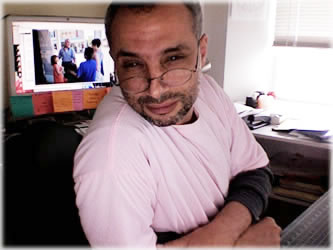 Eric Francis in his office, the Book of Blue Studio.
In a sentence, I see that as offering astrology, which is a spiritual medium, in the context of your personal growth and the events of the world that confront us all. We are doing this under a unique business model at a meaningful, challenging time in history. If you have a moment, I would like to explain that aspect of what we're doing directly, and where you fit in.
From shortly after I became an independent journalist in 1989, the story of how the mainstream media was concentrating into the hands of about five companies was well known and very distressing. Those of us who were involved in independent media wondered what would happen as a result. When today we look at the world and ask why so many people don't seem to care about the truth, or have a clue what it is, we can thank the fact that when media clusters into conglomerates, the range of available information becomes very narrow and at times utterly nonexistent.
If you were to watch cable TV with a stopwatch, you would see that approximately half the time is dedicated to advertising. It's amazing that anyone has the patience to watch. It's amazing that anyone pays for the privilege of watching mostly ads -- and if you've taken nothing more than Psych 101, you can see how manipulative they are.
Let's not forget that the astrological viewpoint is completely left out of anywhere but the horoscope page of a newspaper. We at Planet Waves think that astrology is worth more than a little corner of the comic section, and we do our best to give it a real voice. We cover what most of the other astrology websites do not: new planets, astronomy, psychology and relationships (as opposed to 'romance').
By participating in Planet Waves, you are not only informing yourself; you are supporting independent journalism, with a cosmic flare. You are helping to keep the spirit and the voice of independent media alive. We know you have a choice out there as to whom you go to get your information. We hope that you have chosen us because of the diverse subjects we offer.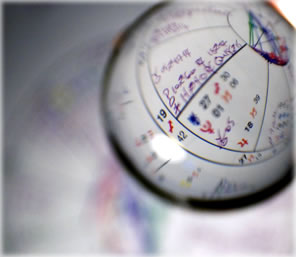 Photo by Danielle Voirin.
Our goal is to give you diverse subjects like astrology, social justice, environmental issues and sexuality; and at the same time, to use strong sources, to fact check our work, and present the ideas in an accessible, appealing way. We strive to give you astrology that is literate, traditionally grounded, innovative -- and useful in this time of shocking global changes and personal challenges. We offer our astrology only in the full context of, and in support of, the changes we are witnessing and experiencing personally.
We take no advertising, no corporate funding and we have no investors. We've built our editorial model with your subscriptions, going from a one-man operation to a worldwide network of staff and volunteers that creates what you read every day, and receive every Friday. We exist with your cooperation and we are beholden to nothing but what we perceive as reality, as judged by our own conscience and the readers we serve.
In gratitude for your support, I am here to offer you an opportunity to subscribe for a year at a 25% discount if you resubscribe.
Here is a link
to resubscribe at a reduced rate of $66 for a year of Planet Waves Astrology News. We are also offering a combined subscription offer: subscribe or extent for three months, and you can have
Next World Stories at its original introductory price
of $25. If you would like to renew at the full rate, you can
use this link
or call Chelsea at (877) 453-8265.
This link
includes an option for a quarterly recurring subscription at our regular rate. We have other options if you feel you'd like to make a larger contribution to our efforts. You may call Chelsea at the (877) number above to do that.
I would like to thank you again for being one of the people who has helped create and build Planet Waves. We are on a frontier together, cultivating some fertile territory of the soul -- far beyond the wasteland of television.
Peace & passion,